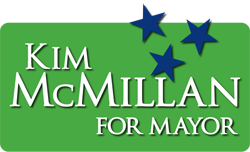 Nashville, TN – Governor Phil Bredesen has endorsed Kim McMillan for Clarksville Mayor. "Kim McMillan is a great leader and a great problem solver. She brings people together to get things done. That's why I chose her to serve in my cabinet and that's how I know she'll be a great mayor," said Governor Bredesen. "Kim knows protecting our economy is critical and she's developed innovative partnerships to keep it strong in these tough times," he continued. McMillan served as a Senior Advisor in Governor Bredesen's cabinet.
"I'm grateful for the encouragement we've gotten from so many people during our campaign for Clarksville Mayor and I'm especially pleased to receive Governor Bredesen's endorsement. To be supported by someone with his reputation as a great business leader and successful mayor and governor is a great honor," McMillan responded.
The McMillan campaign will begin airing advertisements featuring the Governor's endorsement. At the conclusion of the ad, Governor Bredesen makes a direct appeal to Clarksville voters on behalf of McMillan by urging them to "vote for Kim McMillan as your mayor, she'll work her heart out for you. You can count on that.
Editor's note: This is a news release from a political campaign, and our publication does not constitute an endorsement or political advertisement for the campaign. Any candidate for public office is welcome to submit campaign releases to news@clarksvilleonline.com. These are published as our schedule allows.
Sections
Politics
Topics
Clarksville Mayoral Candidate, Endorsement, Kim McMillan, Phil Bredesen