Clarksville, TN – On October 19th, 2010, around 8:39pm, the 911 Center received a call about a male juvenile that was outside and being forced to perform military drills for a long time. Another call to 911, a short time later, said the child was being chased on a 4 wheeler and could be heard screaming, "Call 911, help me" in the background.
When Officer Channing Bartel arrived on scene, he saw James Hart on an All Terrain Vehicle (ATV) driving on the road behind the juvenile and yelling at him to "Pick it Up".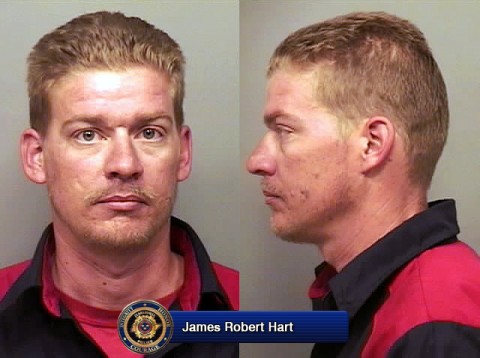 When Officer Bartel initially spoke with Hart he could smell an odor of alcohol. Hart told Officer Bartel that he was punishing his nephew for forgetting his home work at school. He also said that his nephew is autistic, slow to catch on, and would never learn anything if he wasn't hard on him.

There was a witness that saw the 13 year old being forced to perform wind sprints, jumping jacks, and push-ups for about 45 minutes. They also heard, what they construed as, loud and abusive language being used on the 13 year old as well as hearing the child crying and begging for mercy. The witness became very concerned when they heard the ATV start up and saw Hart take the juvenile out to the road.

Additionally, Hart was seen  following behind the 13 year old, on West Creek Drive, telling him to run faster or he would run him over. At one point, Hart was seen using the ATV to "Nudge" the young man as he ran.
James Hart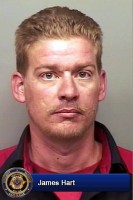 Name: James Robert Hart (W/M)
DOB: 6/22/81
Given Address: West Creek Drive, Clarksville, TN
Booked Into: Montgomery County Jail
Charged With: DUI, Reckless Endangerment, and Child Abuse and Neglect. 
Bond: $10,500.
Sections
News
Topics
ATV, Bond, Channing Bartel, Child Abuse and Neglect, Clarksville Police Department, CPD, DUI, James Robert Hart, Jumping Jacks, Juvenile, Montgomery County jail, Push-Ups, Reckless endangerment, West Creek Drive, Wind Sprints