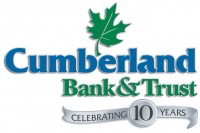 Clarksville, TN  – Cumberland Bank & Trust is proud to announce the expansion of our Mortgage Department to 1780 Madison Street. "Cumberland Bank & Trust has been in the mortgage business for nearly ten years in Clarksville and with the growth of the Hilldale area, we feel the need to expand to that side of town to better serve our customers." says Dawn Mulloy, Mortgage Originator for Cumberland Bank & Trust.


Cumberland Bank and Trust is committed to helping you find the right mortgage product for your needs. We understand that every borrower is different, and we offer a variety of products to meet your individual requirements. We make the process of securing a mortgage simple and straightforward by offering you the latest in financial tools that enable you to make sound financial choices. To speak to one of our mortgage experts call 931-245-0330 or visit our website.
Map
About Cumberland Bank and Trust
In May 2000 Ron Sleigh joined forces with Ross Hicks, Karyl Jean Beauchamp, Donald Jenkins, Kim McMillan, Anthony Moore, Brent Parchman, William Pollard, and Richard Swift, our Board of Directors, to found the Cumberland Bank and Trust which opened for Business on May 7th 2001. (Randy Clouser, EVP and Bryce Sanders, Jr. later joined the Board in March 2003 when Ross Hicks resigned to become judge). It was their goal to create a bank where the customers would be more than just account numbers, they would be friends.
Sections
Business
Topics
Anthony Moore, Brent Parchman, Bryce Sanders Jr., Cumberland Bank & Trust, Dawn Mulloy, Donald Jenkins, Karyl Jean Beauchamp, Kim McMillan, Mortgage Department, Randy Clouser, Richard Swift, Ron Sleigh, Ross Hicks, William Pollard