APSU Women's Volleyball

Clarksville, TN – Senior Jessica Mollmann was responsible for 20 points as Austin Peay State University's volleyball team posted a four-set victory (22-25, 25-17, 25-21, 25-17) against Jacksonville State in Ohio Valley Conference action, Friday night, at the Dunn Center.

Jacksonville State (12-11, 7-5 OVC) opened the match by winning a tightly fought first set that featured eight lead changes and 14 ties. Neither team led by more than three points until the Gamecocks broke a 21-21 tie with consecutive points on kills by Caitlin Vorbeck and Jen Meyer. After surrendering a point on a service error, Jacksonville State closed the set with consecutive kills by Meyer and Kara Slater. JSU scored 17 kills in the opening set while limiting APSU to 10 kills.

However, Austin Peay (19-6, 10-4 OVC) turned to its service game, which entered the night ranked third nationally in service aces, in the second and third sets. The Lady Govs recorded seven aces in the second set and added another six in the third to post nearly wire-to-wire victories.

In particular, Mollmann made a habit of posting service aces in the second set. Her two aces on her first turn at serve helped Austin Peay build a 5-2 lead. The second time up, Mollmann added another two service aces and the lead reached 18-12. The Lady Govs would hold that advantage the set's remainder, tying the match with a 25-17 victory.

"I believe the entire season we've seen a trend that we're really successful when we serve well," said Lady Govs head coach Haley Janicek. "The first thing we addressed is going after it behind the line, especially when the other team is passing well against us. We made that adjustment really quickly and it paid off."

Following the break, Austin Peay fought through four early ties but used a 6-2 run, with aces by sophomore Nikki Doyle and junior Kayla Grantham mixed in, to take a 10-6 lead. Jacksonville State would get as close as one point, 17-16, but Mollmann responded with two kills in the next three points as Austin Peay would stretch the lead back to 20-17. A service ace by senior Sarah Alisaleh pushed APSU to set point, 24-19, and they would close the set on a block by Doyle and senior Taylor Skinner, winning 25-21.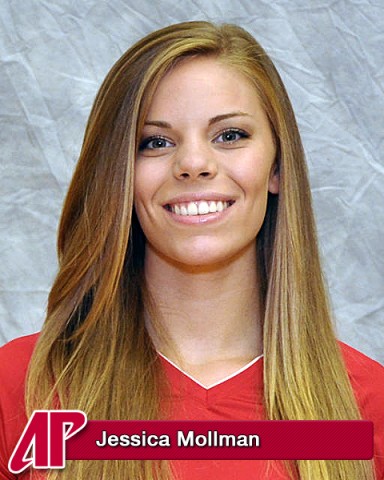 Mollmann was largely responsible for a 6-0 run in the fourth set that helped Austin Peay build a 10-point, 18-8 lead. She started by posting a kill to win the sideout and take a 13-8 lead. Then, her tough serving kept Jacksonville State off balance as she picked up two more aces and forced a pair of attack errors. The Gamecocks could only close to within seven points the rest of the way, losing the fourth set, 25-17.
Mollmann finished the match with 10 kills and a .350 attack percentage. After posting three attack errors in the first two sets, she finished the match by going errorless on her final 10 attempts, recording six kills. Mollmann added to her point total with a match-high seven service aces and added four blocks.
"Jessica didn't play well in the first half of the match and after the second game I told her I needed her to do better," said Janicek. "At that point she had three errors. So she was errorless in the last two sets and really pulled it out. After I pointed out she wasn't playing to her potential she stepped it up and played like a senior and it really helped."
She was not the only server to enjoy the night at the service line, Austin Peay finishing with 17 service aces in the four-set match. Doyle and Alisaleh each added three aces, Grantham finished with two and juniors Ilyanna Hernandez and Paige Economos each chipped in one.
Offensively, Austin Peay finished with 48 kills and a .217 attack percentage. Skinner and Doyle led the Lady Govs with 10 kills each. The APSU defense enjoyed the night, forcing a 65-65 tie in digs and winning the blocking battle by a 9-4 edge.
"It was a very balanced effort," Janicek said. "When we play like that, when we do good things all around, we show the potential of this team. Our hitters were efficient, our servers were aggressive, people like Paige and Ilyanna were getting digs and we blocked well tonight, that's big for us."
Alyx Schulte led Jacksonville State with 16 kills and a .310 attack percentage. Vorbeck and Slater ended the night with 11 and 10 kills, respectively.
Austin Peay closes out its fourth OVC weekend with a 2:00pm, Saturday contest against Tennessee Tech. Admission is free to all fans.
Sections
Sports
Topics
Alyx Schulte, APSU, APSU Women's Volleyballl, Austin Peay State University, Caitlin Vorbeck, Dunn Center, Gamecocks, Haley Janicek, Ilyanna Hernandez, Jacksonville State, Jen Meyer, Jessica Mollmann, Kara Slater, Kayla Grantham, Lady Govs, Nikki doyle, Ohio Valley Conference, OVC, Paige Economos, Sarah alisaleh, Taylor Skinner