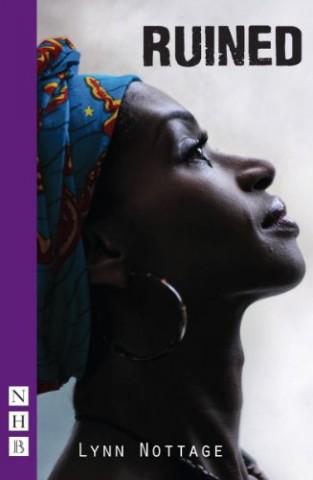 Nashville, TN – Tamara McMoore of Clarksville will star in the 2009 Pulitzer Prize winning play "Ruined" by Lynn Nottage. The play involves the plight of women in the civil war-torn Democratic Republic of Congo in Africa.
A rain forest bar and brothel in the brutally war-torn Democratic Republic of Congo is the setting for Lynn Nottage's much honored and acclaimed new play.  The establishment's shrewd matriarch, Mama Nadi both protects and profits from the women whose bodies have become battlegrounds between the government soldiers and rebel forces alike.

The play will run from November 11th to the 21st at the Tennessee State University Performing Arts Center – Cox/Lewis Theater.
Ruined was developed through the author's pilgrimage to Africa where countless interviews and interactions resulted in a portrait of the lives of the women and girls caught in this devastating and ongoing tragedy.
World Renowned Playwright Lynn Nottage a graduate of Brown University and the Yale School of Drama will be at the opening nights performance.
Tamara McMoore is a graduate of Kenwood High School and the daughter of Terry & Wanda McMoore.
About the Playwight
Lynn Nottage Pulitzer Prize Winning PlaywrightLynn Nottage is a playwright from Brooklyn, NY.  Her plays include Intimate Apparel, Fabulation, or the Re-Education Undine, Crumbs from the Table of Joy, and Las Menina.Nottage is the recipient of numerous awards including the MacAuthur Genius Award, Out Critics Circle Award, AUDELCO awards, among many others.  Her most recent play, Ruined,  has been hailed as one of the most powerful dramas to be produced in the last decade.  The play received the 2009 Pulitzer Prize for Drama. Most recently, also for Ruined, Nottage received the Horton Foote Prize for excellence in theatre, as well as the 2010 Steinberg Award, theatre's richest prize.  She is a graduate of Brown University and the Yale School of Drama where she is currently a visiting lecturer.
Sections
Arts and Leisure
Topics
Democratic Republic of Congo, Kenwood High School, Lynn Nottage, Pulitzer Prize for drama, ruined, Tamara McMoore, Tennessee State University, Tennessee State University Performing Arts Center, terry mcmoore, Wanda McMoore