APSU Women's Volleyball

Clarksville, TN – Austin Peay State University's volleyball team will seek to solidify its hold on second place in the Ohio Valley Conference when it closes out the road portion of its schedule this weekend. The Lady Govs first travel to Eastern Illinois for a 7:00pm, Friday contest before meeting Southeast Missouri in a 5:00pm, Saturday affair.

Austin Peay (20-6, 11-4 OVC) holds a two-match lead over third-place Eastern Kentucky entering this weekend's contests. The Lady Govs need one victory in their last three matches to guarantee a share of second place. However two victories also would guarantee Austin Peay the second-seed – and the corresponding first-round bye – in the upcoming OVC Volleyball Championship.

Lady Govs head coach Haley Janicek is aware of the possibility her team might look ahead to the tournament and has discussed with her team that the road ahead is not yet complete.

"We started (Wednesday's practice) with our pre-practice talk where we discussed having the same mental focus and wanting it just as badly as we did at the beginning of the season," said Janicek. "I believe everybody in the conference is tired – it's a long season – but the team that is least mentally exhausted is the team that's going to be able to sustain the drive needed to finish the season on a high note."

The Lady Govs cannot afford to overlook this weekend's opponents. Eastern Illinois (13-13, 6-8 OVC) won five of its eight October matches and opened November with a three-set victory against Southeast Missouri. That same Southeast Missouri (6-19, 3-11 OVC) squad finds itself in desperate need for victories, sitting three matches out of sixth place. However, the Redhawks have stunned third-place Eastern Kentucky twice this season and handed fifth-place Jacksonville State a five-set loss in Cape Girardeau.

"We've seen in this conference that anybody can beat anybody else," said Janicek. "At this point in the season I believe a lot of it has to do with mental focus. If you can maintain your mental composure in a match, whether it's the last-place or first-place team, you're going to have a better chance of winning."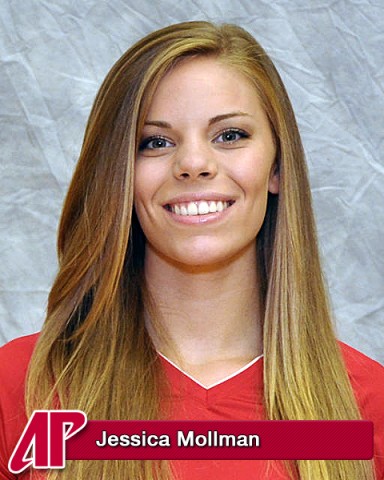 Austin Peay will look again to senior middle blocker Jessica Mollmann, who was the team's leader last week. In three matches she led the Lady Govs in kills (31), service aces (10) and blocks (11) as they went 2-1. Mollmann's most impressive outing was certainly the Jacksonville State match where she recorded 10 kills, seven aces and four blocks in APSU's four-set victory.
"Jessica has done a lot of really good things," Janicek said. "Even when she has not performed well, statistically-speaking, she has been our rock. As a captain she always says and does the right things. In the very rare time I take her out I am able to look at her and talk to her and say 'I need more from you' and she turns it on just that quickly. Even when she's not performing at her best, she's an asset to us on the court."
Friday's match at Eastern Illinois can be seen on www.OVCSports.tv.
Sections
Sports
Topics
APSU, APSU Women's Volleyball, Austin Peay State University, Eastern Illinois, Eastern Kentucky, Haley Janicek, Jessica Mollmann, Lady Govs, Ohio Valley Conference, OVC, OVC Volleyball Championship, Southeast Missouri