APSU Women's Soccer

Morehead, KY – Austin Peay State University women's soccer team saw its run at an Ohio Valley Conference Championship thwarted by No. 1 seed Morehead State, 2-1, Sunday, at Jayne Stadium.

"We had a tremendous year," head coach Kelley Guth said. "It's disappointing, but everything has to end. I thought our team came out played a heartfelt game. They laid it all on the line and we just came up one goal short. It's disappointing, but what a game."

Senior Carley Newman, along with freshmen Natalia and Tatiana Ariza, were all named to the OVC All-Tournament team. Newman made 17 saves and earned a shutout during the tournament, while both Arizas scored two goals each.

Tatiana, in fact, scored the Lady Govs only goal in the title game with a brilliant move in a one-on-one situation. Ariza fired from the left side, across the box and off the far post for the score.

Unfortunately, that goal was the equalizer as the Eagles' Giulena Lopez struck first in the 16th minute.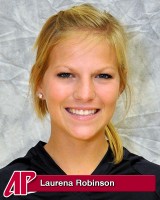 With the score evened at one goal each, Lopez headed a cross from Erin Adams past a diving Newman for what would become the gamewinner in the 30th minute.
Austin Peay saw its season injury toll add another, as freshman second-team All-OVC pick Joceline Quiceno suffered a knee injury in the fifth minute. Without Quiceno in the midfield, the Lady Govs were forced to use a number of personnel combinations.
Sophomore Laurena Robinson, for instance, started on defense and transitioned to forward midway through the first half. Sophomore Stephanie Weider, meanwhile, played 69 minutes on the back line, marking only the third time this season she has played more than 60 minutes in a game.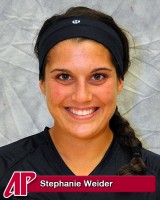 "We had a number of players step up for us today," Guth said. "(Robinson) battled through an injury to give us a full 90 minutes today; she's been one of our most versatile players this season. Jocelyn Murdoch really goes unnoticed, but she played excellent in the midfield for us. Our attacking midfield wouldn't be able to do what they do without Jocelyn winning the ball for us."
The second half became a possession battle, with neither team managing to gain a real scoring opportunity the rest of the way. Tatiana Ariza had a shot go wide in the 53rd minute and senior Samantha Northrup had a shot saved by Morehead State keeper Lily Meisner in the 65th minute.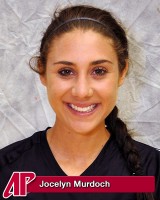 Morehead State held an 18-4 shot advantage, including 12 first-half shots.
"We were in that game until the last minute or so, I felt, but just couldn't get one," Guth said. "It's unfortunate that it had to end, but I couldn't be more proud of our team. To be where we are now, looking back to where we were last year, it's remarkable. I'm excited for the future of this program.
"It's sad to say goodbye to our seniors, they've been an integral part of this program and they've been through a lot. For them to be part of what we've done this year is a great tribute to them."
Sections
Sports
Topics
APSU, APSU Women's Soccer, Austin Peay State University, Carley Newman, Erin Adams, Giulena Lopez, Jayne Stadium, Joceline Quiceno, Jocelyn Murdoch, Kelley Guth, Lady Govs, Laurena Robinson, Lily Meisner, Morehead State, Natalia Ariza, Ohio Valley Conference, Ohio Valley Conference Championship, OVC, Samantha Northrup, Stephanie Weider, Tatiana Ariza