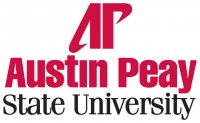 Clarksville, TN – Members of Austin Peay State University's student newspaper and yearbook staffs attended the 89th Annual National College Media Convention held by the Associated Collegiate Press and College Media Advisers from October 27th-31st in Louisville, KY.
Patrick Armstrong, editor in chief of The All State student newspaper, was the sole student member of a panel, titled "Study/Work Abroad Opportunities for Students," at the conference, which featured nearly 400 workshops for advisers, student journalists, newspapers, online outlets, broadcast stations, yearbooks and magazines. Armstrong also spoke at the closing session of the convention on behalf of students who participated in Main Street Stories, an intensive, hands-on workshop. The Main Street Stories video he produced with Chasity Webb, The All State features editor, and Brian Dulle, a student videographer for The Washburn Review at Washburn University, was shown at the closing session.
All videos from the project are online at www.cicmstreetstories.org.
Attending the conference with Armstrong and Webb were Gracie Fuqua, advertising manager for The All State, Brian Bigelow, staff writer for The All State, Sarah Smalley, editor-in-chief of The Monocle yearbook, Monique Freemon, writer for The Monocle, and Tabitha Gilliland, coordinator of student publications and adviser of the newspaper and yearbook.
In a college media research paper session, Gilliland presented research she completed in Spring 2010 for her master's thesis, titled "Effects of Strong Relationships with Student Staff Members on Student Media Advisers' Burnout Levels." Gilliland was one of the top three finalists for the annual College Media Advisers Ken Nordin award competition.
The All State is a student-run newspaper published each Wednesday during the fall and spring semesters. The All State's editors and staff are APSU students and are solely responsible for the newspaper's content. The university yearbook, The Monocle, resumed publication in 2008 after a 15-year absence. The 2008-09 and 2009-10 yearbooks, featuring the history of APSU in brilliant color photos and text, have been published in partnership with Jostens Inc.
For more information, contact Tabitha Gilliland at 931-221-7375.
Sections
Education
Topics
APSU, Associated Collegiate Press and College Media Advisers, Asutin Peay State University, Brian Bigelow, Brian Dulle, Chasity Webb, Gracie Fuqua, Ken Nordin, Monique Freemon, national college Media Convention, Patrick Armstrong, Sarah Smalley, Tabitha Gilliland, The All State, The Monocle