Call the Tennessee Tobacco QuitLine for Free Help to Kick the Habit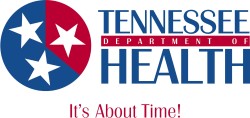 Nashville, TN – Tennessee smokers are urged to join the Great American Smokeout on November 18th, 2010, an opportunity to join millions of others in saying "no thanks" to tobacco for 24 hours. The Tennessee Department of Health encourages tobacco users to call the Tennessee Tobacco QuitLine at 1-800-QUIT-NOW (1-800-784-8669) to set a plan for how to quit.

"It's true that quitting tobacco use is not an easy feat, but the Great American Smokeout provides individuals the needed opportunity to get started," said Health Commissioner Susan R. Cooper, MSN, RN. "Research has shown those who have a quit plan and a support system have a much better chance of success, and the Tennessee Tobacco QuitLine provides this assistance and support at no charge."

The Tennessee Tobacco QuitLine offers personalized support for Tennessee residents who want to quit smoking by connecting them with trained quit coaches to guide them through the quitting process. Callers will receive ongoing professional coaching via individually scheduled calls with a quit coach personally assigned to them. This convenient and confidential service is free and available to Tennessee residents in both English and Spanish. The service is also available for the deaf and hard-of-hearing at TTY: 1-877-559-3816.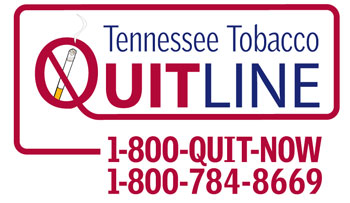 QuitLine callers also have complimentary access to relapse prevention techniques, printed resource materials, information on nicotine replacement therapies and other services to aid in the quitting process.

Smoking cessation services are also available at Tennessee's county health department clinics. All patients are screened for tobacco use and asked if they are interested in quitting. Those who want to quit are evaluated by medical professionals to determine the best course of treatment to help them stop smoking. These services are offered on a sliding fee scale based on income.

According to the Centers for Disease Control and Prevention, the adverse health effects from cigarette smoking account for an estimated 443,000 deaths, or nearly one of every five deaths, each year in the United States. Smoking also causes 90 percent of all lung cancer deaths in men and 80 percent of similar deaths in women.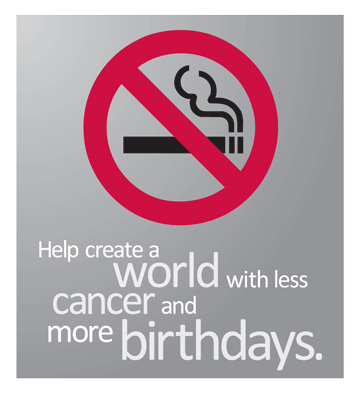 While quitting for at least one day for the Great American Smokeout, participants can think about the effects that happen almost immediately after quitting smoking. Within 20 minutes of quitting tobacco, heart rate and blood pressure drop. In 12 hours, the carbon monoxide level in blood drops to normal. Two weeks to three months after quitting, circulation improves and lung function increases. One year after quitting, the risk of coronary heart disease is cut in half.
 
The Tennessee Tobacco QuitLine (1-800-QUIT-NOW or 1-800-784-8669) is a statewide toll-free telephone tobacco cessation treatment program made possible through the Tennessee Department of Health. There is no charge to callers for services and callers have unlimited access to a quit coach through the QuitLine. Hours are Monday through Friday, 7:00am to 10:00pm, Saturday 9:00am to 6:00pm and Sunday 10:00am to 4:00pm Central time. Find more information online at http://health.state.tn.us/tobaccoquitline.htm.
Sections
News
Topics
cancer, Carbon Monoxide, Centers for Disease Control and Prevention, Great American Smokeout, Smoking, Susan R. Cooper, Tennessee Department of Health, Tennessee Tobacco QuitLine