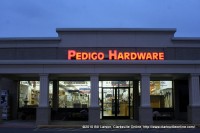 Clarksville, TN – People go to Pedigo Hardware for a level of service they just can't find anywhere else in Clarksville, a personal touch that you can only find when shopping at a locally owned business. Places where you are a customer, a friend, and not just another line in the accounting ledger.
Pedigo Harward has been a fixture in Clarksville since 1963 when it was founded in the shopping plaza where Wortham's Food Town was located on Madison Street. Originally founded by William Pedigo, it is currently owned by Stacy Salyer. She first started working at the store in 1984. Three years later she purchased the business on April Fools Day in 1987. In January 2003 it moved to its current location just down from Kroger's on Madison Street.
The Hardware store stocks just about everything you need for home and garden; hardware, paint, electrical, tools, lawn and garden. They also offer services such as knife sharpening, cut window glass, do lamp repair, and wedding rentals.
But their true niches are their cake decorating supplies and their winter storm center.
The largest supplier of cake decorating supplies in Clarksville. They have everything the budding cake boss will need. They also offer classes teaching you how to decorate cakes. If you need honey, they stock a selection from local beekeepers.
Thanksgiving is coming soon and for those wanting to have a holiday ham, Pedigo Hardware has lard cans available to cook your country hams in. They also offer a wide selection of potential gift choices for upcoming holiday season.
With Winter coming having the supplies on hand to deal with a sudden winter storm is important. Pedigo Hardware has everything you need including snow shovels, Salt, ice scrapers, deicer; and perhaps most importantly for families, Winter Sleds!
They also have a selection of testing kits for those concerned about Radon, Mold, Lead, Asbestos, or Carbon Monoxide.
Pedigo Hardware is located on Madison Street, next to Kroger's; a location with plenty of available parking. They have very competitive prices. Shopping at a store like Pedigo's is a more personal experience and you deal with local people you can know and trust. They are your neighborhood hardware store.
For more information contact Pedigo hardware at 931-648-0401 or 931-645-9808.
About Bill Larson
Bill Larson is  is politically and socially active in the community. Bill is a member of the Friends of Dunbar Cave.

You can reach him via telephone at 931-249-0043 or via the email address below.
Sections
Business
Topics
Cake Decorating Supplies, Electrical, Hardware, Honey, Knife Sharpening, Lamp Repair, Lard Cans, Lawn and Garden, Pedigo Hardware, Stacy Salyer, Tools, Wedding Rentals, William Pedigo, Window Glass, Winter Storm Center