APSU Men's Basketball
November 21st, 2010 | SIU Arena |Carbondale, IL
Governors set to open Chicago tourney at SIU

Carbondale, IL – Austin Peay will attempt to eradicate the bad taste of a disappointing 104-101 overtime loss from its mouth, 2:05pm, Sunday, when it opens the Chicago Invitational Challenge at Southern Illinois.

The Governors' attempt to open the season at 3-0 was derailed in Nashville, Thursday night, when they missed four free throws in the final 25 seconds, allowing Lipscomb to erase a five-point deficit and send the game to overtime. Lipscomb carried that momentum to open the extra session and the Governors were never able to recover.

As a result, Sunday's game will feature two teams attempting to erase painstaking defeats. SIU was part of ESPN's Basketball Marathon, Tuesday, and lost in overtime, 63-62, when the Salukis called a timeout with 2.1 seconds left in the extra session. The problem was, SIU was without a timeout, resulting in a technical foul and two subsequent free throws.

SIU will enter Sunday's game at an unfamiliar 0-2. In fact, the storied Salukis program has not started 0-2 since the 1963-64 season. However, despite the loss to Northeastern, SIU has enjoyed almost unmatched success in the newly renovated SIU Arena, owning a 45-6 mark at home since 1999.

Under seventh-year head coach Chris Lowery defense has been the Salukis trademark. In the previous five seasons, Lowery's Salukis have permitted less than 70 points per game in each, including three seasons where they held the opposition to fewer than 60 points per contest.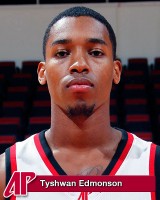 The 2010-11 SIU version is a team that owns little experience–just 10 seasons of Division I experience on the roster. However, senior forward Carlton Fay is a force, averaging 11.5 ppg while senior guard Justin Bocot comes in at 10.5 ppg. Sophomore center Gene Teague, at 6-9, 290 pounds, is averaging 8.5 ppg and 9.0 rpg. His bulk certainly is a cause of concern for APSU.
APSU comes into Sunday after watching six players score in double figures against Lipscomb. Junior guard Tyshwan Edmondson now is the Govs' leading scorer (17.3 ppg) while coming off the bench. Guard Josh Terry (15.7 ppg) and forward Anthony Campbell (15.7 ppg) round out the Govs' double-figure scorers.
What You Should Know
The Series: This is the 14th meeting between Austin Peay, a member of the Ohio Valley Conference, and Southern Illinois, a Missouri Valley Conference member, with the Governors trailing the series, 8-5. The two teams, however, have not met since December 20th, 1995, when the Governors carved out a 78-65 road win as Bubba Wells, current Govs' assistant coach, scored 27 points. That is APSU's only road win in the series in six previous opportunities.
Sections
Sports
Topics
Anthony Campbell, APSU, APSU Men's Basketball, Austin Peay State University, Bubba Wells, Chicago Invitational Challenge, Chris Lowery, Governors, Josh Terry, Lipscomb, Salukis, SIU, Southern Illinois, Tyshwan Edmondson