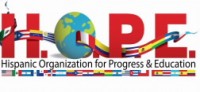 Clarksville, TN – Around 30 volunteers gathered in the basement of Forest Street United Methodist Church  yesterday to parcel out what will become a Thanksgiving bonanza for the poor and needy in our community. The Hispanic Organization for Progress & Education (H.O.P.E.) each year prepares and distributes Thanksgiving food baskets to people who applied at the Community Action Agency and other area organizations. "Applicants received food baskets custom tailored to their specific families needs." said H.O.P.E. President Elizabeth Vasquez-Adamski.
Assistance was provided directly to individuals, and throughout our community by various groups including  the Montgomery County Safe House, Altrusa, Forrest Street United Methodist Church, L.E.A.P., The Light House, The Fire Station Day Shelter, Faith Outreach Church, The Hispanic Community, and Head Start.
Some of the poorest residents of our county received help including the elderly community, and residents of the trailer park located on Powers Street where during the afternoon H.O.P.E. President Elizabeth Vasquez-Adamski along with several other volunteers distributed food baskets and Thanksgiving Turkeys. One of the recipients told Clarksville Online, "It is a great thing that they are doing, the people in this neighborhood really needed some help this Thanksgiving," she said.
Over 130 Boxes of food and frozen turkeys were given out, each one ready to provide food for between 3 and 8 family members. Approximately $3,500 in food was distributed yesterday, including items donated by people from the community. H.O.P.E. especially wanted to thank the Walmart corporation for their gracious donations that helped make this day possible.
At the end of the day all of the remaining food items was donated by H.O.P.E. to the Salvation Army Homeless Shelter on Kraft Street. This included a large box full of assorted canned goods, bags of white beans, bags of pinto beans, bags of rice, half a dozen boxes of instant stuffing, and a variety of breads.
This year the food baskets were sponsored by Altusa USA, B. R. Miller & Company Inc., Clarksville Mayor Johnny Piper, Cunningham Mitchell & Rocconi, Faith Outreach Church, Forest Street United Methodist Church, Herb Baggett, Hubert Smith, James Chavez, LEAP.org, Leo Millan, Mayor Elect Kim McMillan, Mercado Juarez, Montgomery County Mayor Carolyn Bowers, Montgomery County Trustee Kellie Jackson, Montgomery County Sheriff Norman Lewis, NAI Clarksville, Neal Tarpley Funeral Home, Rio Nazas, The Light House, Thomas & Jennifer Bradley, TLC Home Inspection, and Walmart.
""The generosity shown by H.O.P.E., these hardworking volunteers, and the various sponsors will prevent these families from going hungry on a day that should be a celebration of America's bounty." said Clarksville Resident Valerie Guzman who was busy helping out as a volunteer for both H.O.P.E. and Altrusa USA.
Photo Gallery
About Bill Larson
Bill Larson is the Creator and Publisher of Clarksville Online, and works as a network administrator for Compu-Net Enterprises. He is politically and socially active in the community. Bill serves on the board of the Clarksville Community Concert Association, and is a member of the Friends of Dunbar Cave.

You can reach him via telephone at 931-249-0043 or via the email address below.
Sections
News
Topics
Altusa USA, B. R. Miller & Company Inc., Carolyn Bowers, Cunningham Mitchell & Rocconi, Elizabeth Valdez-Adamski, Faith Outreach Church, Forest Street United Methodist Church, H.O.P.E., Herb Baggett, Hispanic Organization for Progress & Education, Hubert Smith, James Chavez, Jennifer Bradley, Johnny Piper, Kellie Jackson, Kim McMillan, LEAP.org, Leo Millan, Mercado Juarez, Norman Lewis, Powers Street, Rio Nazas, The Light House, Thomas Bradley, TLC Home Inspection, Valerie Guzman, Walmart