Clarksville, TN – On December 1st, 2010, around 8:23pm, the 911 center received a call that a 21 year old male had been threatened over the phone earlier in the evening.  According to the victim, the caller, Allen J. Barron told him that he was going to kill him;  Barron believed that the 21 year old had hurt his dog. Officers received a description of a Chevy Impala which Barron was allegedly driving. 
Officer Justin Doolittle located Barron driving the vehicle in the area where the victim lives and made a traffic stop; there was a headlight out on the vehicle. Officer Doolittle noticed a large amount of mud and debris under and on the vehicle. After Officer Doolittle approached the car and spoke with Barron, he smelled a strong odor of alcohol.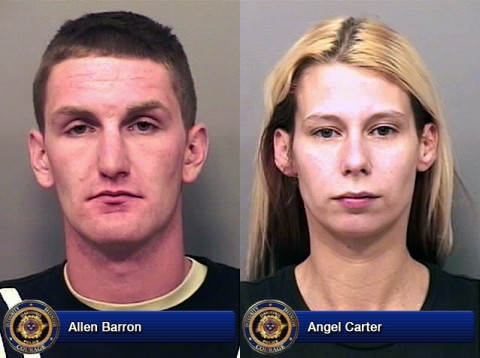 When asked about the debris on the car, Barron told the officer that he had ran off the road earlier. Officer Doolittle conducted field sobriety tests at the scene. Barron did poorly on the tests. He  was taken into custody at that time. 

Barron informed the officer that his 2 year old son and dog were in the back seat of the car and his girlfriend was in the front seat. Officer Doolittle found the girlfriend and the child's mother, Angel Carter, to be intoxicated, could not stand without swaying, and had no family or friends in Tennessee. She was also taken in custody. 

Department of Children Services was notified and took custody of the child and Animal Control was called to pick up the dog.
Allen Barron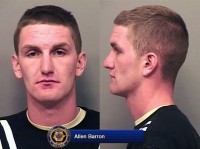 Name: Allen Joseph Barron (W/M)
DOB: 1-2-90
Given Address:  Fort Campbell, KY
Charged With: DUI, Child Abuse/Neglect, and Possession of Alcohol by a Minor
Bond: $20,750. 
Angel Carter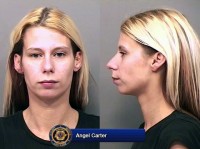 Name: Angel Cherokee Carter (W/F)
DOB: 8-28-81
Given Address: Martinsville, IN 
Charged With: Public Intoxication and Child Abuse/Neglect
Bond: $20,422.
Sections
News
Topics
Allen Joseph Barron, Angel Cherokee Carter, Bond, Child Abuse and Neglect, Clarksville Police Department, CPD, DUI, Justin Doolittle, Possession of Alchohol by a Minor, Public Intoxication