APSU Women's Basketball

Clarksville, TN – Austin Peay State University women's basketball team allowed 14 three-point field goals and dropped a 69-42 non-conference contest to Bowling Green, Saturday, at the Dunn Center.

Bowling Green (10-1), ranked No. 2 in the www.CollegeInsider.com Mid-Major Poll, ran its win streak to 10 games primarily on the back of its three-point shooting. The Falcons shot more three-point field goals (30) than they did two-point field goals (26). However, it worked out for the visitors as they made 46.7 percent from outside compared to just 38.5 percent inside.

Austin Peay (2-9) lost its third consecutive game and remained winless at the Dunn Center in three tries this season. The Lady Govs again suffered through a seven-minute scoreless streak in the first half and another six-minute drought in the second half, allowing the Falcons to build double-digit margins each time.

The Lady Govs did open each half impressively, scoring seven of the game's first 10 points in the opening 3:34. APSU's second half start was even better, a 9-0 burst over the first 3:32 that cut the lead to seven points, 34-27. However, they went into their second-half drought right after scoring their ninth point of the frame.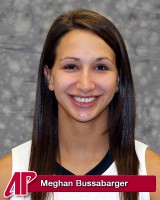 Sophomore Meghan Bussabarger led the Lady Govs with 14 points and seven rebounds, reach double-digits in scoring for the fourth consecutive game. However, she was the only Lady Govs player to reach double-digit territory.
Austin Peay was held to a season-low 26.9 percent (14-of-52) from the field, including just 23.1 percent (3-of-13) from three-point range.
Senior Lauren Prochaska – the two-time Mid-American Conference Player of the Year – rebounded from a five-point first-half effort to finish with a game-high 22 points. Jen Uhl scored 14 points, all in the first half.
Austin Peay returns to action with a 2:00pm, Sunday, December 19th contest against Eastern Kentucky.
Box Score
Bowling Green vs Austin Peay
12/11/10, 5:15pm at Clarksville, TN (Dunn Center)
Bowling Green 69
 
 
 
Total
3-point
 
Rebounds
##
Player
p
fgm-fga
fgm-fga
ftm-fta
off-def
tot
pf
tp
a
to
blk
stl
min

02 

PROCHASKA, Lauren 

f 

8-13 

6-9 

0-0 

1-1 

2 

2 

22 

1 

4 

0 

1 

33 

04 

HENNEGAN, Maggie 

f 

1-4 

0-0 

0-0 

1-3 

4 

4 

2 

3 

6 

2 

2 

16 

24 

UHL, Jen 

f 

5-9 

2-3 

2-2 

0-4 

4 

1 

14 

4 

2 

1 

3 

28 

05 

PONTIUS, Tracy 

g 

1-6 

1-5 

2-2 

1-2 

3 

2 

5 

4 

1 

0 

1 

26 

21 

STEFFEN, Chrissy 

g 

3-9 

3-8 

0-0 

0-5 

5 

0 

9 

2 

1 

2 

2 

34 

11 

HALFHILL, Jillian 

– 

2-2 

1-1 

0-0 

0-0 

0 

0 

5 

1 

1 

0 

0 

5 

13 

YODER, Noelle 

– 

0-0 

0-0 

0-0 

0-0 

0 

1 

0 

0 

0 

0 

0 

3 

14 

SLAGLE, Jessica 

– 

1-4 

0-1 

0-0 

0-1 

1 

1 

2 

4 

1 

0 

2 

16 

15 

ALBERT, Chelsea 

– 

0-0 

0-0 

1-2 

1-1 

2 

1 

1 

0 

0 

0 

0 

4 

20 

PAPENFUSS, Allison 

– 

0-2 

0-1 

0-0 

1-5 

6 

0 

0 

0 

0 

1 

0 

10 

22 

ELI, Simone 

– 

0-1 

0-1 

0-0 

0-0 

0 

0 

0 

0 

0 

0 

0 

2 

40 

STEIN, Jill 

– 

0-2 

0-0 

0-0 

0-2 

2 

3 

0 

0 

0 

1 

0 

4 

42 

HAVEL, Danielle 

– 

2-3 

0-0 

2-2 

1-3 

4 

1 

6 

1 

0 

0 

0 

12 

44 

ZUERCHER, Kelly 

– 

1-1 

1-1 

0-0 

0-0 

0 

1 

3 

0 

1 

0 

0 

7 

TM 

TEAM 

– 

– 

– 

– 

1-0 

1 

– 

– 

– 

– 

– 

– 

– 

 

Totals………….. 

– 

24-56 

14-30 

7-8 

7-27 

34 

17 

69 

20 

17 

7 

11 

200 

 

42.9% 

46.7% 

87.5% 

 
Team summary:
 
FG
3FG
FT
 
1st Half: 
 

11-28 

7-17 

5-6 

 

39.3% 

41.2% 

83.3% 

 
2nd Half: 
 

13-28 

7-13 

2-2 

 

46.4% 

53.8% 

100 % 
Austin Peay 42
 
 
 
Total
3-point
 
Rebounds
##
Player
p
fgm-fga
fgm-fga
ftm-fta
off-def
tot
pf
tp
a
to
blk
stl
min

43 

BUSSABARGER, Meghan 

f 

4-9 

1-2 

5-7 

1-6 

7 

3 

14 

1 

1 

0 

2 

25 

00 

RAYNER, Jasmine 

c 

0-5 

0-0 

0-0 

5-1 

6 

2 

0 

0 

5 

0 

0 

17 

02 

WARNER, Darcie 

g 

1-2 

0-0 

3-4 

0-0 

0 

1 

5 

1 

0 

0 

1 

24 

05 

OLSZEWSKI, Nicole 

g 

2-8 

1-2 

0-2 

0-2 

2 

0 

5 

5 

3 

0 

0 

34 

12 

HANLEY, Whitney 

g 

3-10 

0-6 

2-2 

1-3 

4 

3 

8 

0 

5 

1 

3 

32 

01 

RICHARDSON, Salem 

– 

2-4 

1-1 

0-0 

0-2 

2 

0 

5 

1 

1 

0 

0 

8 

14 

SMITH, Neika 

– 

1-4 

0-1 

1-2 

0-3 

3 

2 

3 

0 

2 

0 

0 

21 

23 

FAULKNER, Brooke 

– 

0-1 

0-1 

0-0 

0-2 

2 

0 

0 

0 

1 

0 

0 

10 

30 

TALLEY, Nikki 

– 

0-4 

0-0 

0-0 

1-2 

3 

0 

0 

0 

1 

0 

0 

12 

41 

THOMAS, Dalila 

– 

1-5 

0-0 

0-0 

1-0 

1 

1 

2 

0 

4 

0 

1 

14 

42 

HILL, Kaitlyn 

– 

0-0 

0-0 

0-0 

0-0 

0 

0 

0 

0 

0 

0 

0 

3 

TM 

TEAM 

– 

– 

– 

– 

5-5 

10 

– 

– 

– 

1 

– 

– 

– 

 

Totals………….. 

– 

14-52 

3-13 

11-17 

14-26 

40 

12 

42 

8 

24 

1 

7 

200 

 

26.9% 

23.1% 

64.7% 

 
Team summary:
 
FG
3FG
FT
 
1st Half: 
 

8-28 

1-5 

1-2 

 

28.6% 

20.0% 

50.0% 

 
2nd Half: 
 

6-24 

2-8 

10-15 

 

25.0% 

25.0% 

66.7% 
| | | | | |
| --- | --- | --- | --- | --- |
| Score by Periods |  1st   |  2nd   |  Total  |   |
| Bowling Green   | 34  | 35  | 69  | Record: (10-1)  |
| Austin Peay   | 18  | 24  | 42  | Record: (2-9)  |

Officials: Troy Winders (R), Randy Robertson, Alycia Dukes
Technical fouls: Bowling Green-None. Austin Peay-None.
Attendance: 843    
Sections
Sports
Topics
APSU, APSU Women's Basketball, Austin Peay State University, Bowling Green, Dunn Center, Eastern Kentucky, Falcons, Jen Uhl, Lady Govs, Lauren Prochaska, Meghan Bussabarger