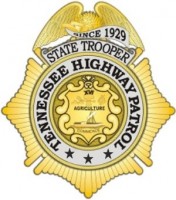 Nashville, TN – A Monday morning crash sent two law enforcement officers, including Trooper Fidencio Medina of the Tennessee Highway Patrol, to a pair of hospitals in Nashville. The crash occurred at approximately 7:13am on Interstate 40 westbound near mile marker 192 in Davidson County.
A preliminary investigation indicates Trooper Medina was responding to a non-injury, single-vehicle crash, when a 2004 Chevy Silverado, driven by Anthony Gene Baker, Jr., lost control and collided into his patrol car. The impact pushed the Trooper's car into a Metro Police Department patrol unit, which had arrived on scene to take over the initial property crash investigation.
Standing outside of his vehicle, Trooper Medina was discussing the crash with Metro Officer Cesar Castillo, who had not yet exited his patrol car, when the westbound pickup struck the vehicles.
Medina suffered a broken leg, four broken ribs, as well as a collapsed lung. He was transported to Vanderbilt Medical Center and is scheduled to undergo surgery this afternoon. Officer Cesar Castillo, who is assigned to the West Precinct, was taken to Saint Thomas Hospital for a non-critical back injury.
Baker, 35, of New Johnsonville, Tennessee, was not cited. THP Lieutenant Michael Hamilton investigated the crash and the Critical Incident Response Team (C.I.R.T.) was called to the scene.
Trooper Medina, 55, began his career with the Tennessee Highway Patrol in April of 1977. He is currently assigned to Cheatham County.
During the 24-hour period, from Noon, Sunday, December 12th to Noon, Monday, December 13th, the THP Nashville District investigated 122 crashes without injuries, 42 crashes with injuries, and assisted 47 motorists.
About The Tennessee Department of Safety

The Tennessee Department of Safety's mission is (www.TN.Gov/safety) to ensure the safety and general welfare of the public.  The department encompasses the Tennessee Highway Patrol, Office of Homeland Security and Driver License Services. General areas of responsibility include law enforcement, safety education, motorist services and terrorism prevention.
Sections
News
Topics
Anthony Gene Baker Jr., Cesar Castillo, Critical Incident Response Team, Davidson County, Fidencio Medina, I-40, Interstate 40, Michael Hamilton, Nashville TN, Saint Thomas Hospital, Tennessee Department of Safety, Tennessee Highway Patrol, THP, Vanderbilt Medical Center, Vehicle Crash