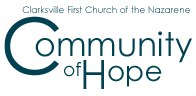 Clarksville, TN – Radical Missions Compassionate Ministries will be hosting their annual Warm Souls event, which is a free event for the homeless and low income families in our community. The event will take place on December 24th, at the Hilldale Baptist Church Family Life Center on 250 Old Farmers Road. Doors open at noon (12:00 pm) and the program will start at 1pm. Attendees will be entertained with live music along with a home-cooked meal and a free gift.
Over 450 guests and 100 volunteers were involved in last year's Warm Souls event. "This year we are estimating that over 650 guests and at least 100 volunteers will be in attendance" says Brett Smith, pastor of Radical Missions.  "With this event, we aim to attract individuals from diverse backgrounds who experienced a challenging year. We want to let them know that our community cares."
Each individual in attendance will receive a free gift. Males 13 years of age and older will receive a sweatshirt. Scarves, caps and clothing will be given to the women and each child will receive a free toy. If you are interested in helping you can donate frozen turkeys, ham, non perishable canned foods and toys. Donation drop boxes are available at every Clarksville F&M Bank including the main office. Any cash donations will be accepted by F&M Bank tellers or at First Church of the Nazarene (Richview Rd, across from CHS).
This is event is slated to be a great success for the Clarksville community. If you have questions please feel free to contact Emman Chapman at 931-302-4002.
Sections
Events
Topics
Christmas, Clarksville First Church of the Nazarene, Community of Hope, Emman Chapman, F&M Bank, Hilldale Baptist Church, Hilldale Baptist Church Family Life Center, Radical Mission Compassionate Ministry, Warm Souls