Clarksville, TN – An early morning crash on December 26th sent a woman to the hospital in critical condition. Around 2:50am, Olegraio Martinez-Casimiro, 43, of Clarksville was driving a 2004 GMC Envoy North on Providence Blvd (Boot Hill), crossed over into the southbound lanes, and collided head-on with a 2007 Ford Focus driven by Whitney Bouie, 21, of Clarksville.

Officer John Reyes was the lead investigator and determined Martinez-Casimiro had consumed five beers prior to driving the vehicle and that his license was suspended for previous traffic-related charges. Initially, Martinez-Casimiro did not want medical attention, but after being transported to Montgomery County Jail, he complained of neck pain. He was taken to the hospital and medically cleared. Martinez-Casimiro was wearing a seat belt.

Whitney Bouie sustained multiple injuries to include head injury, broken bones, and a collapsed lung. Bouie was taken by ambulance to Vanderbilt where she is in Critical, but stable condition. It was determined that Bouie was not wearing a seat belt.

On December 26th, Martinez-Casimiro was booked into Montgomery Jail and charged with Driving on a Suspended License. On December 28th, while still in the Montgomery County Jail, he was served with a Vehicular Assault warrant.
Olegraio Martinez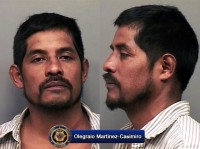 Name: Olegraio Martinez-Casimiro (H/M)
DOB: 3/6/67
Given Address: Clarksville, TN
Booked Into: Montgomery County Jail
Charged With: Driving on a Suspended License; Vehicular Assault
Bond: $50,500.
The lead investigator is Officer John Reyes, 931-648-0656.
Photo Gallery
Sections
News
Topics
Bond, Clarksville Police Department, CPD, Driving On A Suspended License, John Reyes, Montgomery County jail, New Providence Blvd, Olegraio Martinez-Casimiro, Vanderbilt Hospital, Vehicular Assault, Whitney Bouie