Box Set Features All 163 Episodes of the Classic TV Series with Special Features and Collectibles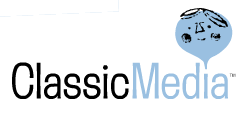 Frostbite Falls, MN – And now, here's something we hope you'll really like!  On January 4th, 2011, Classic Media, a global media company with a portfolio of some of the world's leading family entertainment brands, and Bullwinkle Studios, announced the release of Rocky & Bullwinkle & Friends™ : The Complete Series on DVD in a collectible edition box set ($99.98 SRP).

Rocky & Bullwinkle & Friends: The Complete Series is the first-ever complete collection of the classic animated TV series, with all 163 squirrely episodes of the famous Moose and Squirrel, along with other fan favorites, Boris & Natasha, Peabody's Improbable History, Fractured Fairy Tales, Dudley Do-Right of the Mounties, and Aesop and Son. That's the whole shebang—91 trips in the W.A.B.A.C. time machine, 39 attempts to catch Snidely Whiplash, and 50 bits of wisdom from Mr. Know-it-All.

Hokey Smoke!  In addition, the 18-disc collection includes a number of special features, such as "Goof Gas Outtake" (a.k.a. "The Longest Laugh in History"), an on-camera interview with actress June Foray (a.k.a. the voice of Rocky), and more.  There are also collectibles, including Frostbite Falls Field Guide to a Moose, a Squirrel and a Royal Canadian Mountie, by Keith Scott, and a "Loyal Viewer" award.

Heralded by TV Guide® as one of the best television shows of all time, Rocky & Bullwinkle & Friends is also considered one of the most original and groundbreaking television programs in history.  When the series debuted in 1959, no person or organization was safe from Bullwinkle & Company's satire—from the United States government and Russian spies, to world leaders, network censors, Hollywood celebrities and more.

"My Dad would be ecstatic with the release of the Rocky & Bullwinkle & Friends:  The Complete Series box set," said Tiffany Ward, daughter of the visionary producer, the late Jay Ward. "He would have said that this is an incredible opportunity to corrupt a whole new generation!"

"We are very excited to bring fans the first-ever Complete Series box set of Rocky & Bullwinkle & Friends," said Robert Mayo, SVP & General Manager, US Home Entertainment, Classic Media. "The box set includes exciting special features and collectibles that fans—of all generations—will enjoy."
Rocky & Bullwinkle & Friends: The Complete Series Box Set Includes:
Frostbite Falls Field Guide to a Moose, a Squirrel and a Royal Canadian Mountie, by Keith Scott
Exclusive "Loyal Viewer" Collectible
Special features, including "Goof Gas Attack" Outtake (a.k.a. "The Longest Laugh in History"), On-camera Interview with June Foray (a.k.a. the voice of Rocky), Best of Bullwinkle Follies, and more!
Spanish Language Audio Tracks
About Rocky & Bullwinkle
Hey Rock! Watch me pull a rabbit out of my hat!™ For fifty years, the two friends, Bullwinkle J. Moose and Rocky (a.k.a. Rocket J. Squirrel), have starred in comic books, TV shows, album recordings, a mixed live-action and animated feature film, and DVD collections. Produced by Jay Ward, "The Rocky & Bullwinkle Show" enjoyed great popularity on television during the 1960s. Rocky & Bullwinkle celebrated their 50th Anniversary in 2009.
ROCKY AND BULLWINKLE AND FRIENDS TM & © Ward Productions, Inc.  Licensed by Bullwinkle Studios, LLC.  All rights reserved.
About Bullwinkle Studios
Bullwinkle Studios is a joint venture between Classic Media and Jay Ward Productions, Inc., producers of Rocky & Bullwinkle™, George of the Jungle™, Tom Slick™, and Superchicken™, among others.
About Classic Media
Classic Media, one of the world's largest independent entertainment companies, is a leader in reinventing the classics of yesterday and creating the entertainment classics of tomorrow. The Company owns and manages a globally-recognized portfolio of well-known family and pop-culture entertainment brands, including Casper the Friendly Ghost®, Where's Waldo?®, The Lone Ranger®, Lassie®, Postman Pat®, and new global brands Tinga Tinga Tales® and Guess with Jess®. Big Idea, a member of the Classic Media family, is the leading faith-based studio and producer of children's programming, including the best-selling animated series, VeggieTales®. More than 3,600 hours of Classic Media programming is distributed in more than 170 territories worldwide and showcased in multiple formats, including TV, film, home video, consumer products, publishing, digital, and music.  Visit us at http://classicmedia.tv.
Sections
News
Topics
Aesop and Son, Boris & Natasha, Bullwinkle Studios, Classic Media, Dudley Do-Right of the Mounties, Fractured Fairy Tales, Jay Ward, Keith Scott, Mr. Know-it-All, Peabody's Improbable History, Rocky & Bullwinkle, TV Guide