Written by Story by U.S. Army Sgt. Luther L. Boothe Jr.
Task Force Currahee Public Affairs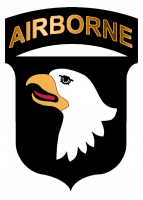 Paktika Province, Afghanistan — U.S. Army Soldiers from 4th Battalion, 320th Field Artillery Regiment, 4th Brigade Combat Team, 101st Airborne Division, conducted a live fire with forward observers from 2nd Kandak, 2nd Infantry Brigade, 203rd Corps, Afghan National Army, at Forward Operating Base Sharana January 31st.

The 4th Bn., 320th FAR has been training the ANA forward observers for nearly two months on the basics and this live fire was a good way to gauge their progress.

"The class started on December 1st and we plan on continuing the training throughout the deployment," said U.S. Army Sgt. 1st Class Chad Copsick, the FO instructor/trainer with 4th Bn., 320th FAR, and native of Binghamton, NY "What we have been doing the past two months is teaching them map reading, land navigation, call for fire and the adjustments for indirect fire and this gives them the opportunity to practice."

Forward observers provide an invaluable asset to military fires cells by increasing their capabilities.

"(They) help with the long-range fight," said Copsick. "If you don't have FOs you are only going to shoot what you can see. FOs go further out and use the full capabilities of the guns to shoot 14 or 15 (thousand meters) out there instead of two (thousand meters)."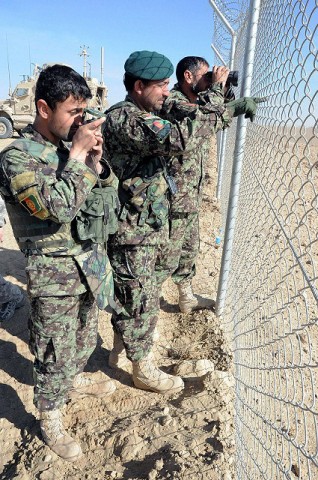 The trainers have developed a program that aims at longevity and continuity.
Copsick said the course will end in early April and another class is planned to begin immediately.
"The second class will be the exact same course, but we are going to take one (ANA) soldier from the first class and he is going to conduct the second class," said Copsick. "We will be standing by in case he needs assistance, but they will teach it for the most part. Once they learn that, they will be able to teach it well after we (have redeployed)."
So far, the ANA FOs seem eager to learn more and ready to contribute to the security of their country.
"The training is really good and we hope to continue it for a long time," said ANA 2nd Lt. Shamsu Rahman, a forward observer with 2nd Kandak, 2nd Inf. Bde., 203rd Corps. "This is our duty and we will try to get going as soon as we can and I will do my best."
"The more training and the more classes the better," said ANA 1st Lt. Mohamad Raza, another 2nd Kandak forward observer. "We want to do all we can to help (Afghanistan) and I am looking forward to making a difference."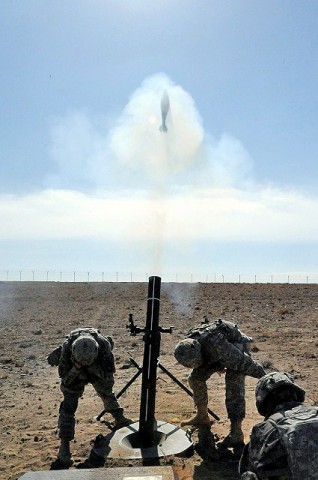 Now that the ANA FOs have completed the basics and shown competency in the practical setting they will begin the advanced portion of the course.
"After these shoots, we will get into crater analysis, how to determine a crater on the ground and find out where the round actually came from so they can locate the enemy by where they shot," said Copsick.
Overall, the training went well and the FOs demonstrated their ability to learn and successfully put into practice what they learned.
"I shot the registration round and after that they shot the rest," said Copsick. "I am supervising and double checking, but so far so good—no mistakes so far and they are even calling it up themselves and saying it in English."
Sections
News
Topics
101st Airborne Division, Afghan National Army, Afghanistan, Chad Copsick, Fort Campbell KY, Forward Operating Base Sharana, Luther L. Boothe Jr., Paktika Province, Task Force Currahee