APSU Women's Tennis

Clarksville, TN - Austin Peay State University women's tennis team remain undefeated in Ohio Valley Conference play with a  5-2 win at Southeast Missouri, Saturday.

The Lady Govs (5-3; 2-0 OVC) return to Clarksville for a Monday, home match against Kennesaw State before hitting the road for five-straight road contests.

In a change of pace, the Lady Govs used different doubles pairings against Redhawks and came away with a pair of 8-2 wins. Austin Peay is 3-3 in winning the doubles point, this being the first doubles win since playing at Miami (Ohio).

Junior Vanja Tomic teamed with freshman Kimberly Loo for the win at No. 1 doubles, while sophomore Carolin Weikard and freshman Andra Cornea won at No. 2. Previously, Weikard and Loo had played No. 1, while Tomic and Cornea paired up for No. 2.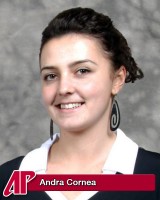 Southeast Missouri (0-5; 0-2 OVC) was no match in singles, as the Lady Govs went on to win four of five singles matches. Tomic won in three sets at No. 1; dropping the second set but rebounding to win the third, 6-1.
Cornea blanked Laura Garcia at No. 3, while Loo and Margolies won at Nos. 4 and 5, respectively. Weikard, meanwhile, lost her second-straight at No. 2.
Austin Peay 5, Southeast Missouri 2
Singles competition
TOMIC, Vanja (APSU) def. Nikole Novikova (SEMO) 6-2, 4-6, 6-1
Elizabeth Nyenwe (SEMO) def. WEIKARD, Carolin (APSU) 7-6, 6-4
CORNEA, Andra (APSU) def. Laura Garcia (SEMO) 6-0, 6-0
LOO, Kimberly (APSU) def. Ashton Hartley (SEMO) 6-0, 6-1
MARGOLIES, Rachel (APSU) def. Lauren Schaper (SEMO) 6-0, 6-1
NaJeana Henderson (SEMO) def. No player (APSU), by default
Doubles competition
TOMIC, Vanja/LOO, Kimberly (APSU) def. Nikole Novikova/Elizabeth Nyenwe (SEMO) 8-2
WEIKARD, Carolin/CORNEA, Andra (APSU) def. Ashton Hartley/Laura Garcia (SEMO) 8-2
Lauren Schaper/NaJeana Henderson (SEMO) def. No player/No player (APSU), by default
Sections
Sports
Topics
Andra Cornea, APSU, APSU Women's Tennis, Austin Peay State University, Carolin Weikard, Kennesaw State, Kimberly Loo, Lady Govs, Laura Garcia, Miami Ohio, Ohio Valley Conference, OVC, Southeast Missouri, Vanja Tomic