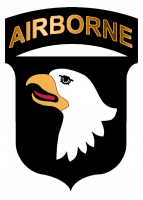 Fort Campbell, KY – On Saturday 252 soldiers with the  1 BCT and the 101 HHB arrived home on a wet and windy day. As the 15 minute warning for the arrival of the returning soldiers, families gathers outside to watch for the airplane holding there umbrellas and signs. After waiting and watching for some time, the plane took many by suprise as it approached the runway from the opposite direction than all the other flights.
Once in sight the rain could not drown out all the cheer and tears of happiness as soldiers with the 1st Brigade Combat Team and Headquarters and Headquarters Battalion returned to Campbell Army Airfield.
Once the soldiers formed up and marched inside hanger 3, Brigadier General Jeffrey N. Colt welcomed everyone home in a short speech to the soldiers. Afterwards everyone was allowed 15 minutes of family time before heading to their units to turn in their equiptment. 
Phillis Johnson-Birdsong  was here to welcome home her daughter  PV2 Ashley Johnson-Walker. She flew across country to be here today, after she dropped off her son and Ashley's twin brother Brandon Johnson from Fort Sill Oklahoma early in the morning for deployment to Afganistan. As they stood in the middle of the hanger floor, Phillis was holding a newspaper article where they had welcomed home her  husband from a Humanitarian mission back in June 1995.
Be sure to check the website for future flights. None are posted at time of this story.  If you wish to attend a Welcome Home Ceremony, check the flight schedules online, as times are subject to change at any time. When arriving to Fort Campbell, enter via Gate 7; if you don't have installation stickers on your vehicle, you will be required to get a visitor pass. From there just follow the signs to the ceremony parking. Waiting buses transport the Family members safely to the hanger.
About Roland Woodworth
My name is Roland Woodworth, a professional REALTOR® with the experience & knowledge to assist you with all your real estate needs. My main area of focus is Clarksville TN , Oak Grove KY and the surrounding areas. I have over 12 years experience in the Real Estate industry and I'm a full time Realtor licensed in both Tennessee and Kentucky. I'm also a NAR Certified Short Sale & Foreclosure Resource.

I moved to Clarksville while stationed in the US Army at Ft Campbell, KY in 1992. I have been in sales in the area since 1996. I received my Real Estate license in 1999.   I have been involved in many community organizations including the Clarksville Area Chamber of Commerce where I was a Chamber Ambassador for 5 years. I was the Fair Chairman for the 2002 North Tennessee State Fair in Clarksville, TN, and also president of Fair Inc which is the governing board consisting of members of the Clarksville Jaycees, City of Clarksville and Montgomery County. I'm  also a member of the Clarksville Jaycees Volunteer Col. Corp. a past member of the Clarksville Jaycees and the Downtown Kiwanis Club. I participated in the 2005 and 2009 Clarksville Extreme Makeover Home Edition builds here in Clarksville – Montgomery County.

Web Site: http://www.ClarksvilleHomeInformation.com
Email: RolandWoodworth@Gmail.com
Sections
News
Topics
101st Airborne Division, 1st Brigade Combat Team, Campbell Army Airfield, Fort Campbell KY, Headquarters and Headquarters Battalion, Jeffrey N. Colt, Phillis Johnson-Birdsong, PV2 Ashley Johnson-Walker, Welcome Home Ceremony