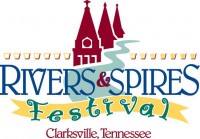 Clarksville, TN – On Thursday, April 14th 2011, The Bucket Boys performed on the Public Square Stage at the Rivers and Spires Festival.
The Bucket Boys are a progressive percussion duo, combine high-energy rhythm and mediocre comedy to deliver an interactive performance of sight, sound and laughter. From witty creators Vince Romanelli and Mitch Martin, The Bucket Boys use a mobile collection of ordinary items to crash, bang, and pound out extraordinary cadences. Using trash cans, pots and pans, garbage barrels, and – of course – buckets, the duo creates hip-hop, funky dance beats.
Originally from Chicago, 25 year olds Vince and Mitch have been passionately involved with music for over 16 years. The Bucket Boys have toured extensively with highlighted performances in Times Square with The Naked Cowboy and the AVP Volleyball Tournament for Olympic gold medalists. The Bucket Boys have headlined the Illinois State Fair by capturing the attention of thousands with their unique percussion antics and, they have inspired students in schools all over the United States.
For more information on The Bucket Boys, visit their website: www.bucketboys.net [1]
Video