Clarksville, TN - On April 26th, around 1:00am, officers were slammed answering weather related calls for service when Officer Nelson Rodriguez notified dispatch of a burglary in progress and that he was chasing the suspect.
Officer Rodriguez had refueled his vehicle and was returning to his assigned patrol area in north Clarksville, when he heard an alarm coming from a business at 801 North 2nd Street. He spotted a male, later identified as, James Allen Ford, standing at the front door of the business.
As soon as Officer Rodriguez pulled onto the lot, Ford, took off running. Rodriguez quickly caught up to Ford and took him into custody. An investigation by Detective Dave Bramel determined that Ford approached the business from the rear, walked around the side of the building to the front door, and used a screwdriver to break the glass.

That's when Officer Rodriguez spotted him and took him into custody a short time later. The approximate cost to repair the door is $1,000.
James Ford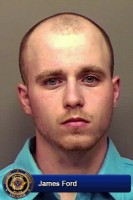 Name: James Allen Ford (W/M)
DOB: 7-23-91
Given Address: 2190 Memorial Drive, Apt D-87, Clarksville TN
Arresting Officer: David Bramel
Booked Into: Montgomery County Jail
Charged With: Criminal Attempt Burglary and Evading
Bond: $1,500.
Sections
News
Topics
Bond, Clarksville Police Department, Clarksville TN, CPD, Criminal Attempted Burglary, David Bramel, Evading Arrest, James Allen Ford, Memorial Drive, Montgomery County jail, Nelson Redriguez, North 2nd Street