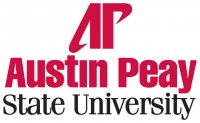 Clarksville, TN –  Dr. Sergei Markov, associate professor of biology, was named the recipient of Austin Peay State University's prestigious Richard M. Hawkins Award during a ceremony on April 26th. The award is presented every spring in recognition of exceptional scholarly and creative work produced by a faculty member.
Markov has earned an international reputation in recent years for his groundbreaking biofuel research. Aside from being published in more than 70 research publications, he has been profiled by media outlets across the globe, and just last month, the industry trade publication Biodiesel Magazine wrote a feature on the work he is doing at Austin Peay.
Markov began his impressive scholarly career at Losmonosov Moscow State University, where he earned his Ph.D. in microbiology and started his initial research into biofuels. From 1991 until 1995, he worked in England at King's College London and at Ecotec, Research and Consulting. Later, he was invited to the U.S. to join the National Renewable Energy Laboratory of the U.S. Department of Energy in Golden, CO.
In 2006, Markov joined the biology faculty at APSU, and he quickly set to work bringing national prominence to that department. His work in developing both hydrogen fuel sources and biofuels from microalgae was noticed by the National Science Foundation, which awarded him a $107,000 grant. The grant advanced Markov's research on whether hydrogen could be manufactured more efficiently for use as a biofuel, providing a possible alternative to traditional petrol.
This component of his work also attracted the attention of the U.S. Environmental Protection Agency, which awarded Markov a $10,000 grant to pilot a training project with undergraduate students. In 2010, he contributed nine articles on alternative fuels and biofuels to the scholarly "Encyclopedia of Global Warming."
Markov has served as a faculty adviser for APSU's Presidential Research Scholars Program, and earlier this year, a paper he co-authored with two of students – Jared Averitt and Barbara Waldron – was published in the International Journal of Hydrogen Energy. That paper, "Bioreactor for Glycerol Conversion into H2 by Bacterium Enterobacter aerogenes," could open more opportunities for biofuel production in the future, further limiting the public's dependence on oil.
For more information on the Hawkins Award, contact Charles Booth with the APSU Office of Marketing and Public Relations at 931-221-7597.
Related Images:
Sections
Education
Topics
APSU, APSU Office of Marketing and Public Relations, APSU Presidential Research Scholars Program, Austin Peay State University, Barbara Waldron, Charles Booth, Jared Averitt, National Science Foundation, Richard M. Hawkins Award, Sergei Markov, U.S. Department of Energy, U.S. Environmental Protection Agency