Special Weather Statement In Effect ... [Click here for more information]

Clarksville, TN – A woman was charged with three counts of Child Abuse and Neglect after leaving three children unattended in a Dodge Durango in the parking lot of a business at 1626 Fort Campbell Blvd., without the air condition running and with the inside temperature of the vehicle reaching between 106 and 154 degrees.
On July 2nd, around 1:00pm, 911 received a call about three small children being left in a vehicle, with one of the children screaming, and no adult supervision in sight.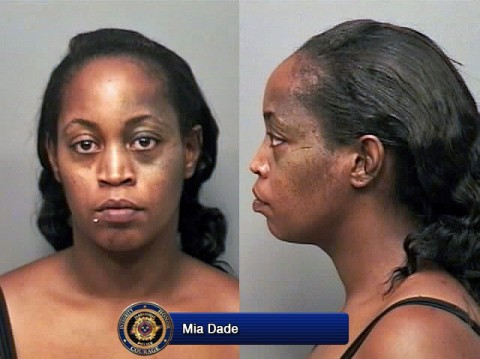 When officers arrived they found three children, two males both 8 weeks old and a female 5 years old, had been left in the back seat of a Dodge Durango without air conditioning running and the windows cracked open about 6-8 inches. The outside temperature was 92 degrees. A heat sensor was used to check the inside temperature of the vehicle and it registered 106 degrees in the steering wheel area and 154 degrees from the dash.

One of the bystanders reached through the cracked window and opened the vehicle's door and removed one of the children from the vehicle to check on their welfare and found the child sweating and very hot. The exact time the children were left unattended was unknown, but after reviewing video surveillance, it appears as though the children were left alone for approximately 14 minutes.   
Mia Dade
Name: Mia Jenille Dade (B/F)
DOB: 12/14/79
Given Address: 703 Eva Drive, Clarksville, TN
Arresting Officer: Brian Mayes
Charged With: Three Counts of Child Abuse and Neglect
Booked Into: Montgomery County Jail
Bond: $15,000.
The children were checked out by medical personnel and were unharmed. The children were turned over to DCS, but later turned over to family members.
The lead investigator was Officer Brian Mayes.
Sections
News
Topics
911 Call, Bond, Brian Mayes, Child Abuse and Neglect, Clarksville Police Department, Clarksville TN, CPD, Eva Drive, Fort Campbell Blvd, High Temperatures, Mia Jenille Dade, Montgomery County jail