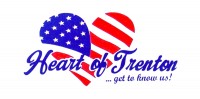 Who would get up at 5:00am to travel from Springfield, Tennessee to Trenton, Kentucky for a street festival? I would—and so would my 86-year-old mother!
That's exactly what happened Saturday when the Heart of Trenton Main Street Festival took place. We arrived just after it began around 8:00am. At least, that was the announced time, but we were late! Hundreds of people were already parked along the long street of beautiful houses and shops that grace Trenton. Workers had been in place since 4:30am that morning and the fun was in high gear.
Downtown Trenton had a quilt show with 125 handmade quilts on display. In front of Golden Threads where the free quilt show was taking place was an ice cream booth featuring seven kinds of homemade ice cream, an especially popular place as the heat began to rise to 97 degrees.
We found a free parking spot (and there were no parking places where you had to pay!) behind the Methodist Church, a central location. Literally scores of yard sales were everywhere throughout the town. All up and down Main Street were venders with everything from fine antiques to new socks to sculpture to knives to books to clothing and anything else you can think of.
The prices were phenomenally low! The most expensive it I bought was a piece of original metal sculpture that came from Kansas at an outdoor art show where it cost $50.00; I paid $3.00 for it. My husband, who has been a sculptor for nearly 50 years, believes it was a maquette (scale model) for a larger piece of sculpture.
I also bought an Ideal googly-eyed doll for $1.00 and an entire bag of antique glassware (including an old button hook, a Homer Laughlin covered vegetable dish, a Limoges jar with attached lid, and several other items) for $3.00. My mother bought a Heisey round butter dish for $1.00. Such deals you would not believe!
One of the perks of attending the street festival was the golf cart delivery you could take advantage of if you didn't want to walk.
One vendor was pulling a trailer on which all kinds of soft drinks and water were available for a nominal price. Food aromas were everywhere. People were barbecuing chickens, preparing homemade potato chips, and cooking all kinds of other delicious treats throughout the area. If you weren't hungry when you arrived, you would be within minutes of breathing in these mouth-watering offerings. You could also buy fresh produce in many locations—tomatoes, cabbage, corn, peppers, strawberries and all kinds of other vegetables and fruits.
Bargains everywhere, free entertainment starting around 11:30am with bluegrass and gospel music, what wasn't to enjoy!
Be sure to put Heart of Trenton Main Street Festival on your calendar for next Fourth of July celebrations. It's well worth the 40-minute drive from Clarksville.
As you leave Trenton, just a few miles towards Guthrie on your right is a daylily and strawberry farm. Another stop on the way back from Trenton is a produce stand at a farm on your right.
We were fortunate enough to see a horse-driven Amish buggy proceeding down the highway in front of us on the way home. This view into another way of life reminds us that it's time to get off the racetrack of life occasionally and enjoy a more leisurely way home.
Day tripping to Trenton can be not only a time to enjoy some homemade ice cream and some old-fashioned Fourth of July fun but a time to remember how fortunate we all are to live in this country and experience the wealth of freedoms we have.
Happy Fourth of July!
Photo Gallery
About Sue Freeman Culverhouse
Author of Tennessee Literary Luminaries: From Cormac McCarthy to Robert Penn Warren (The History Press, 2013) Sue Freeman Culverhouse has been a freelance writer for the past 36 years. Beginning in 1976, she published magazines articles in Americana, Historic Preservation, American Horticulturist, Flower and Garden, The Albemarle Magazine, and many others. Sue is the winner of two Virginia Press Awards in writing.

She moved to Springfield, Tennessee in 2003 with her sculptor husband, Bill a retired attorney. Sue has one daughter,  Susan Leigh Miller who teaches poetry and creative writing at Rutgers University.

Sue teaches music and writing at Watauga Elementary School in Ridgetop, Tennessee to approximately 500 students in kindergarten through fifth grade. She also publishes a literary magazine each year; all work in the magazine is written and illustrated by the students.

Sue writes "Uncommon Sense," a column in the Robertson County Times, which also appears on Clarksville Online. She is the author of "Seven keys to a sucessful life", which is  available on amazon.com and pubishamerica.com; this is a self-help book for all ages.

Web Site: http://culverhouseart.com/
Email: cuverhouse@comcast.net
Sections
News
Topics
Amish Buggy, Antiques Shopping, day trip, Fourth of July Celebrations, Fourth of July Festivals, Golden Threads, Heart of Trenton Main Street Festival, Heisey Glass, Homemade Ice Cream, Homer Laughlin China, Limoges China, Quilt Show, Trenton