APSU Sports: Women's Soccer

Clarksville, TN – Senior Jocelyn Murdoch scored twice as Austin Peay State University took a neat 5-0 exhibition win against Freed-Hardeman, Friday night, at Morgan Brothers Soccer Field.

With nearly two weeks of practice behind them, it was no surprise that head coach Kelley Guth's team was anxious to get on the field against a team wearing different jerseys. It took only three minutes for the Lady Govs to get on the board when Ole Miss transfer Morgan Zigelsky scored on a combination play in the middle of the field.

"It was a good start to the season," Guth said. "It took a while for to get settled in, but we looked okay. Our possession game was okay, but we still have improvements to make. We did what we had to do; put the ball in the back of the net."

That set the tone for two more first-half goals, including scores by sophomores Andy Quiceno and Tatiana Ariza. All three early goals were a result of Austin Peay's attacking midfield and solid play by the young backline.

The second half was an opportunity for Guth to rest some players and spread minutes amongst the team. Because it was an exhibition, both coaches had agreed to unlimited substitutions and took advantage of the ability to rotate players on and off the field.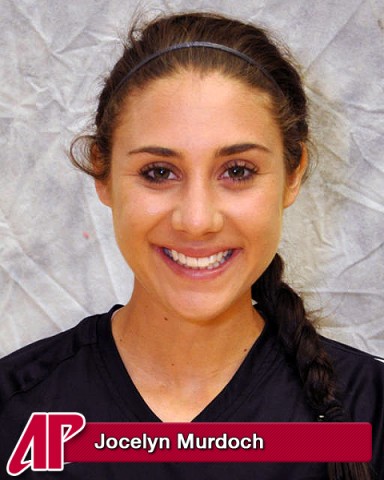 Both of Murdoch's goals came in the second half, with the highlight coming on a set play off a corner kick. Sophomore Emily Kink went short to Tatiana Ariza for a service into the box. Murdoch played a perfect header off the service to beat the keeper.
"Jocelyn made an impact today with the way she attacked," Guth said. "Typically, that's not her role. She's a ball-winner, she anchors the defensive part of our midfield and she's a great distributor. I told her at halftime that I like the fact she was exploiting opportunities to be threatening and dangerous with the ball. When she can do that, it adds another threat to our team from the midfield."
The Lady Govs had their way FHU, dominating the ball all 90 minutes. While they outshot the Lions 35-1, Austin Peay also held an 11-0 advantage on corner kicks. Murdoch led the Lady Govs with seven shots, while Natalia and Tatiana Ariza each had six.
It was the first of two exhibitions for Austin Peay with the second set for 2:00pm, Sunday, against St. Louis.
"It was good to be able to get a lot of players into the game and try to get rid of the jitters," Guth said. "Now we have to get ready for Sunday and see how we match up there."
Sections
Sports
Topics
Andy Quiceno, APSU, APSU Athletics, APSU Sports, APSU Women's Soccer, Austin Peay State University, Emily Kink, Freed-Hardeman, Jocelyn Murdoch, Kelley Guth, Lady Govs, Morgan Zigelsky, Natalia Ariza, Ole Miss, St. Louis, Tatiana Ariza