Donations Accepted Through September 11th as Part of Hands-On Clarksville's Serve to Remember Volunteering Project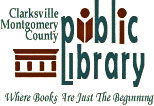 Clarksville, TN – The Clarksville-Montgomery County Public Library will be accepting food donations of single packaged items suitable for use in the F.U.E.L. program, which serves 1,700 children in Montgomery County.
These children's only source of food may be that served during the school lunch program. Items will be placed in children's backpacks at school each Friday to help feed them over the weekend.
Suggestions for desired food items for F.U.E.L. are multi-packs of raisins, cheese crackers and the like. The F.U.E.L. food drive drop box is located near the circulation desk at the Public Library.
For further information contact:
Martha Hendricks, Interim Director, Clarksville-Montgomery County Public Library
931-648-8826 x61402
martha@clarksville.org
Sections
News
Topics
Clarksville-Montgomery County Public Library, donations, Hands on Clarksville, Martha Hendricks, Montgomery County, Project F.U.E.L., School Lunch Program, Volunteering