Man claims to have been robbed after not receiving Drugs and is arrested for False Report

Clarksville, TN – On October 13th, 2011, approximately 9:49pm, officers responded to a robbery which occurred in the parking lot of Wal-Mart, 1680 Fort Campbell Boulevard.
The victim, Timothy Wayne Vestal Jr., alleged that an unknown male assaulted him and took $150.00 and left the scene in a car. Vestal got into his own vehicle, followed the alleged robber, and called 911 providing a vehicle description, and the location of the vehicle.
Officers stopped the vehicle around Carpenter Street and conducted a felony takedown of the suspect's vehicle and detained the occupants. Vestal positively identified one of the vehicle occupants as the person that robbed him.
As the investigation progressed, Detective Fontella Jones, was able to determine that Vestal was not actually robbed. The real story turned out to be that Vestal attempted to purchase marijuana from the man who then took his money and then left without giving him any drugs.
Timothy Vestal Jr.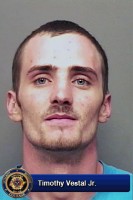 Name: Timothy Wayne Vestal Jr. (W\M)
DOB: 7/29/89
Given Address: 4188 Lylewood Road, Indian Mound TN
Arresting Officer: Zachary Beilfuss
Charged With: False Report;
Booked Into: Montgomery County Jail
Bond: $3,000.