Ice Storm Warning In Effect ... [Click here for more information]
Tuesday, October 25th, 2011 at 7:00pm CT at Bridgestone Arena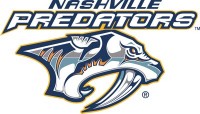 Nashville, TN – The Predators kick-off a three-game homestand tomorrow tonight against the San Jose Sharks after spending last week in Western Canada. Nashville went 2-0-2 against San Jose in 2010-11, tying its best record against the club in franchise history, the Predators also garnered six points against the Sharks in 2005-06 (2-0-2) and 2006-07 (3-1-0).
All four games last season – and 12 of 14 games between the clubs dating back to February 9th, 2008 – have been decided by one goal. Four of those 12 have needed extra time, including the last two.
Nashville's two wins in 2010-11 came in-large part due to the work of Sergei Kostitsyn, who scored the game winner on January 8th at San Jose to give Nashville its first regulation win at HP Pavilion since December 7th, 2002 (2-1), and notched the game-tying goal at 16:44 of the third before Colin Wilson notched the game winner 44 seconds later (17:28) in a 3-2 come-from-behind victory at Bridgestone Arena on December 15th. In the following meeting on February 9th, Pekka Rinne stopped a career-high 48 of 50 shots he faced.
In sum during the 2010-11 series, the Preds outscored San Jose 3-0 in the third period despite being outshot 52-34. The power play converted three times on 10 opportunities.
Kostitsyn's two goals last season came on just three shots… Shea Weber paced the team in scoring against San Jose in 2011-12 with four points (1g-3a) in four games.

David Legwand also produced at a point-per-game clip against the Sharks, with three points (1g-2a) in three games. Cal O'Reilly posted his first career three-assist/point outing (done twice) on February 6th, 2010 vs. San Jose.
Rinne is 3-1-3 with a .948 save percentage in eight career games against San Jose. Last season he went 1-0-2 and stopped 120-of-126 shots against the Sharks, good for a .952 save percentage and a 1.92 goals-against average.
Rinne Ties Record
Nashville Predators netminder Pekka Rinne turned aside all 33 shots he faced in Saturday's 2-0 victory at Calgary, his 21st career shutout and his first-ever win over the Flames, the final Western Conference team he was winless against. In just his 184th career contest, Rinne has tied the franchise's shutout record previously held by Tomas Vokoun, who needed 383 games to reach 21 whitewashes.
Since posting his first career shutout on Dec. 1, 2008, no goaltender has more than Rinne – Vokoun and Philadelphia's Ilya Bryzgalov are tied for second with 19. Rinne is also closing in victories benchmark – he is just two wins away from 100, and his 97 wins since the start of the 2008-09 campaign rank eighth among all goalies (he had one win in two appearances in 2005-06).
Kostitsyn Scores Again
Sergei Kostitsyn scored the Predators insurance marker in their 2-0 victory on Saturday, giving him points in all but one game this season (2g-4a-6pts). Kostitsyn – who ranks second on the club in points to David Legwand (2g-6a-8pts) – became the first Nashville skater to start the season with points in his first five games since Dan Hamhuis in 2007-08. The second-year Pred didn't record his sixth point of the 2010-11 campaign until Game No. 25 on December 4th vs. Carolina.
Last Time Out
Nashville 2, Calgary 0 at Scotiabank Saddledome
Nashville's first goal – the game-winning goal – was a product of three players recording their first points with the team. Niclas Bergfors collected his first goal of the season in his third game, while Jack Hillen and Brian McGrattan, both in their fifth game with the club, assisted on the marker.
Matt Halischuk and Craig Smith assisted on the Kostitsyn goal. It gave Halischuk points in back-to-back games, and Smith his first point since coming out of the gate with four (2g-2a) in his first two NHL outings on Oct. 7-8.
Jonathon Blum once again tied for the team lead in blocked shots (3), something he has done in all but one game this season. He entered Monday's games ranked second in the League in the category (25).
Ryan Suter led the Predators in ice time for the seventh straight time (27:41), and is second in the League in average ice time (27:50).
The Predators were perfect on the penalty kill for the first time in four games (four-for-four).
Nashville was outshot for the seventh time in seven games this season, 14-33. On average, the Predators are being outshot 34-23.
The Predators won their first of three matinee games in 2011-12, and improved to 21-7-7 in afternoon games since the start of the 2003-04 season.
Home Success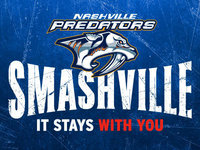 The Nashville Predators look to continue their success on home ice in 2011-12 after finishing last season with a 24-9-8 record (56 points) at Bridgestone Arena, making them one of just three teams (Conference-winners Vancouver and Washington) to amass more than 55 points and have less than 10 regulation losses on home ice.
2010-11 marked the sixth consecutive season Nashville has posted at least 23 home victories, making it the only franchise to do so. Since the start of the 2005-06 campaign, the Predators have posted a 155-67-25 record at Bridgestone Arena, good for the fourth-most home wins in the League (155) behind Detroit (161), tonight's opponent, San Jose (157), and New Jersey (156).
Countdown To Nashville's 1,000th Game
The Nashville Predators will celebrate their 1,000th NHL regular season game on Saturday, November 12th vs. Montreal. Leading up to this game – and all season long – we will look back on some of the most memorable moments in Predators history to date.
October 25th, 2005: Preds win their eighth straight to open the 2005-06 season
After the NHL lockout year of 2004-05, Nashville returned to the ice in the fall of 2005 with a vengeance. The Predators won their first eight games of the season, claimed points in nine straight and posted an overall record of 8-1-1 in October 2005. Not only was the eight-game run a franchise record for the longest winning streak, at the time it tied the Predators for the third-best start in NHL history, behind only the 1993-94 Toronto Maple Leafs and the 2006-07 Buffalo Sabres.
"The guys are playing with a lot of confidence," Scott Hartnell said in the midst of the winning streak. "Everyone is doing their best every night to keep the streak alive."
The stretch included three shootout victories against Western Conference foes Anaheim, Phoenix and St. Louis, and three additional one-goal wins against San Jose (twice) and Colorado. The Predators were most clutch during crunch time, outscoring their opponent 11-4 in the third period.
"We are getting big goals when we need them, and are doing just enough to win," head coach Barry Trotz said. "We have gotten great goaltending, and really good performances from a lot of the straight-line gritty guys."
Remembering Wade Belak
The Nashville Predators are honoring former teammate and club employee Wade Belak – who died tragically on August 31st – in several ways throughout the 2011-12. There are two logos being used to remember Belak – a No. 3 logo which is in the bottom left of each players' helmet – and an internal logo which can be found on the wall of the Predators dressing room and on team apparel.
The team also has a firefighter helmet which goes to the player of the game after a win, as selected by the previous player who had it. Belak was a member of the Williamson County (Nashville suburbs) Fire and Rescue Squad.
Tickets
For information on tickets and all season ticket packages, visit www.nashvillepredators.com/seasonticket or contact a ticket representative at 615.770.7800.
Sections
Sports
Topics
Barry Trotz, Brian McGrattan, Bridgestone Arena, Buffalo Sabres, Cal O'Reilly, Calgary Flames, Carolina Hurricanes, Colin Wilson, Craig Smith, Dan Hamhuis, David Legwand, HP Pavilion, Ilya Bryzgalov, Jack Hillen, Jonathon Blum, Matt Halischuk, Nashville Predators, Nashville TN, National Hockey League, NHL, Niclas Bergfors, Pekka Rinne, Power Play, Ryan Suter, San Jose Sharks, Scott Hartnell, Sergei Kostitsyn, Shea Weber, Tomas Vokoun, Toronto Maple Leafs, Wade Belak