Transition for Former First Federal Savings Bank Now Underway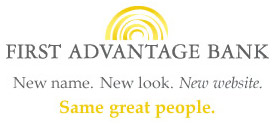 Clarksville, TN – First Advantage Bank, formerly First Federal Savings Bank of Clarksville, Tennessee, has begun the process of implementing its new name and has revealed its new look. The transition will be completed within a few weeks as signage and other visible materials are updated with the new brand name, logo and colors.
"We are the same bank, same great people, just with a new name and new look. It is a better reflection of where we are today; we are committed to supporting our community with exceptional customer service and comprehensive financial products and services. More importantly, this new name and new look is a representation of our aggressive vision for the future. We intend to be the most innovative and progressive institution in this area and to offer the very best experience to our customers. We're not just a bank – we've been a trusted financial partner since 1954," said Earl O. Bradley, III, Chief Executive Officer of First Advantage Bank.
Changes taking place include updated signage at all First Advantage Bank locations and ATMs, a new website, new social media sites, new marketing materials and much more. Personal and business customers will receive direct communications from the bank detailing the transition. Bank officials assure the transition will be handled for all customers in a seamless manner.
"We are excited to reveal our fresh new name and new look to our customers and community. We believe it will generate a lot of excitement among our shareholders, customers and employees," said Bradley.
First Advantage Bank carved a local niche in the Clarksville area in mortgage lending during its early years as First Federal Savings Bank and has expanded to offer an array of financing, commercial lending, and personal banking products and services. The bank's network currently includes five full-service branch locations in Clarksville, as well as an office dedicated exclusively to mortgage lending.
About First Advantage Bank

First Advantage Bank was founded in 1954 as First Federal Savings Bank. As an independent community bank with five full-service offices, First Advantage Bank has the strength and capacity to support the financial well-being of customers and communities across the state with a broad range of financial products and services.
With deep roots in commercial and mortgage lending, First Advantage Bank is a trusted financial partner for businesses, individuals and families. First Advantage Bank, a wholly owned subsidiary of First Advantage Bancorp (Nasdaq: FABK), is an Equal Housing Lender and Member FDIC.
For more information visit www.firstadvantagebanking.com or follow the company on Facebook, Twitter or YouTube.
Earl O. Bradley, III
Chief Executive Officer
(931) 552-6176
Bonita H. Spiegl
Chief Financial Officer
(931) 552-6176
Legal Notices
Forward-Looking Statements
Statements in this news release regarding future events, performance or results are "forward-looking statements" within the meaning of the Private Securities Litigation Reform Act of 1995 ("PSLRA") and are made pursuant to the safe harbors of the PSLRA.
These forward-looking statements are based on assumptions and may describe future plans, strategies, and expectations of First Advantage Bancorp.  Actual results could be materially different from those expressed or implied by the forward-looking statements.
The Company's ability to predict results or the actual effect of future plans or strategies is inherently uncertain.
Factors which could have a material adverse effect on the operations of the Company and its subsidiary include, but are not limited to, changes in interest rates, national and regional economic conditions, legislative and regulatory changes, monetary and fiscal policies of the U.S. government, including policies of the U.S. Treasury and the Federal Reserve Board, the quality and composition of the loan or investment portfolios, demand for loan products, deposit flows, competition, demand for financial services in First Advantage Bank's market area, changes in real estate market values in First Advantage Bank's market area, changes in relevant accounting principles and guidelines and the inability of third party service providers to perform.
Additional factors that could cause actual results to differ materially are disclosed in First Advantage Bancorp's recent filings with the Securities and Exchange Commission, including but not limited to its Annual Report on Form 10-K for the year ended December 31, 2010, Quarterly Reports on Form 10-Q and Current Reports on Form 8-K.
These risks and uncertainties should be considered in evaluating forward-looking statements and undue reliance should not be placed on such statements. Except as required by applicable law or regulation, the Company does not undertake, and specifically disclaims any obligation, to release publicly the result of any revisions that may be made to any forward-looking statements to reflect events or circumstances after the date of the statements or to reflect the occurrence of anticipated or unanticipated events.
Sections
Business
Topics
Earl O. Bradley III, First Advantage Bank, First Federal Savings Bank, rivate Securities Litigation Reform Act of 1995