Special Weather Statement In Effect ... [Click here for more information]
Essay Written by Skyler Johnson of  Mahaffey Middle School
As part of the Clarksville Kiwanis Club's Memories of Service and Sacrifice Project "Interview a Veteran" Contest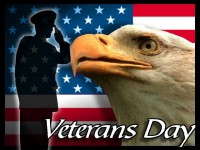 My grandfather, James Harvey Johnson, was just a young man, straight out of a small town high school in southeastern Kentucky, when he voluntarily joined the U.S. Army. James made several sacrifices while he served, which has allowed him to be awarded not only a Bronze Star, but also a Purple Heart and many more medals.

It was Friday, May 28th 1966, the last day of high school, when James knew what he had to do; join the Army. That was his only choice since he and his family didn't have enough money to send him straight to college. When he informed his parents on the decision he was making, they weren't very emotional because they knew that was what he had to do. Then on June 1st, he went and enlisted in the Army.

He said he joined the Army so that he would have the benefits to go to college later on. Then, a little after he enlisted, they sent him to serve in the Vietnam War. He was placed in the 2nd Battalion, 327th Infantry, 101st Airborne Division. James was also part of the Tet Offensive in 1968. The Tet Offensive was a North Vietnam military campaign during the Vietnam War. The purpose of this was basically to gain military command over South Vietnam and spark an uprising that would then end the war in a single blow. Over 16,500 men died, but fortunately, James was only injured along with many other men. That is why he was awarded a Purple Heart.

An article about him in his local news paper states, "While he was pinned down by enemy fire, the citation states:"
Johnson 'advanced on the enemy with disregard for his own safety, ran through a hail of machine gun and mortar fire, and destroyed two enemy bunkers, killing at least eight Viet Cong'.
He fought off the enemies until his men could reach safety and reinforcements. That is how he got the Bronze Star.
After James returned home from Vietnam, he was stationed at Fort Knox, Kentucky. That spring his younger brother Willy Johnson was sent to Vietnam and fought as well. Then in 1968, James was honorably discharged from the Army due to medical reasons. He said looking back on it; he wishes he could have stayed in the Army. He then attended Southeast Community college in Cumberland, Kentucky. After that, he worked a few jobs such as a correction officer, for the postal service and a few other jobs.
I am very appreciative and thankful, that there are brave people here in the U.S. that serve and sacrifice their lives for the safety of others like James did. It makes me especially proud of him since he is my grandfather and of my father as well who currently serves in the Army. James is very active with a group of veterans and he believes that they stick together now more than ever because our nation was and still is in a state of war. He also stated, "The most important thing we need to do now is educate the people about what a veteran means, what he is, and what he stands for today. That is freedom and sacrifice-we paid the price."
Sections
Arts and Leisure
Topics
101st Airborne Division, 2nd Battalion, 327th Infantry Regiment, Bronze Start, Clarksville Kiwanis Club, Cumberland KY, essay, Fort Campbell KY, Fort Knox KY, Interview A Veteran Essay Contest, James Harvey Johnson, Mahaffey Middle School, Memories of Service and Sacrifice Project, North Vietnam, Purple Heart, Skyler Johnson, South Vietnam, Tet Offensive, U.S. Army, Veteran, Viet Cong, Vietnam War