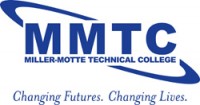 Clarksville, TN – Few experiences in one's lifetime can be described as sublime, but a day of spa treatments at Miller-Motte Technical College was a sublime experience for me.
Let's just start out by saying it had been a rough week. Not only had I taught four days of classes for elementary students, but I had also had three rehearsals with 72 fifth graders and we had given a Veterans Day program for several hundred people. Oh, yes, I was stressed!
My spa day at Miller-Motte was one I'll never forget.
My Saturday at Miller-Motte on Dunbar Cave Road in Clarksville started out with an hour-long massage by massage therapy student, Tina Ellis.
Tina, who will finish her years at Miller-Motte in December, said that she wishes she had done this 20 years ago. Mother of two teenagers, Tina had been in health services prior to her training in massage; she feels—and so do I after her wonderful treatment—that she has now found her true calling. My massage was highly professional and I was thoroughly relaxed by the time she completed her work.
As I told Tina, the only bad thing about a massage is that it has to end!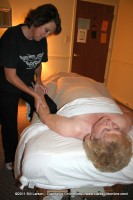 I feel confident that I can judge someone's abilities with therapeutic massage because years ago, I was in an automobile accident where I acquired a neck and back injury, the pain of which was eventually relieved (in spite of other treatments that failed to do so) by a weekly massage. After that, I took classes in massage therapy myself and was licensed in Virginia as a therapist (although I never worked professionally in that field).
Tina is extremely competent and I'm looking forward to future massages with her before she leaves school.
By the way, an hour-long massage at Miller-Motte is only $30 (half the price most other therapists charge.)
After lunch, I was put in the capable hands of Renee Drake for a facial, microdermabrasion treatment, paraffin wax for my hands, and make-up session. Renee also massaged both my hands and feet. What bliss! Although she's still a student, she is a pro in my book!
In case you are not familiar with microdermabrasion, it is a procedure during which the skin is exfoliated. Renee told me the tool had diamond tips and a vacuuming device. I felt absolutely no pain, just a bit of pressure as the tool was moved across the skin. After the facial and microdermabrasion, I was told by several people that I looked 10 years younger. Whether or not that was accurate, I know that my skin felt extremely smooth.
These procedures are very affordable at Miller-Motte. A customized facial (products are chosen especially for your type of skin) is only $20.00 (again, at least half the going rate). Microdermabrasion is $40.00 with six sessions costing $200.00. A make-up application is only $10.00.
Outside the school, it is not uncommon for one season of microdermabrasion to cost in excess of $100.00.
Other services include dermal flash peel ($25), purifying back treatment ($30.00), herbal body wrap ($20.00), individual eyelashes ($10.00), and many types of waxing from $6.00 (eyebrow/lip, chin or nose wax) to $60 (whole leg wax). Appointments can be made by calling 931.553.8820.
My day was completed with a manicure and hair style by Elyse Riley in the cosmetology department. My nails—a horrible mess when I walked in—were perfectly beautiful when Elyse finished with them—and my hair was much improved after having been encased in towels while I was having other services.
Here are the inexpensive costs of cosmetology services: manicure, $7.00; haircut and blow dry, $12.00; haircut only, $6.00; conditioning treatment, $18.00; roller set, $6.00; up-style (for the prom, girls!), $25.00. Chemical treatments include a cut and basic style! A chemical texture is $35.00; samples of other services are basic color, $35.00; corrective color, $55.00; a full-head foil, $60.00; cap highlights, $30.
Miller-Motte also has rates for special events. Of course, all parties of three or more require appointments. Option 1 includes a mini manicure and mini facial for $10.00 per guest. Option 2 has a mini manicure, mini facial and make-up application for only $15.00 per guest. Option three has a customized facial OR herbal body wrap followed by a conditioning treatment and hair style for only $30.00 per guest.
A Girl Scout troop was having a special event during the time I was in the spa—and I believe they were thoroughly enjoying it!
Miller-Motte Technical College is not just a school for beauty service training. Their web site reveals a 15,000 square foot main campus building as the center of the Clarksville campus. In addition, the college has a two story Massage Therapy instructional facility and clinic next door to the main campus, a 5,000 square foot Cosmetology building and an Allied Health building, located on Alpine Drive.
Classes are available in accounting, cosmetology, esthetics technology, health care assistance, health care technology, management, massage therapy, medical assistance, training to be a medical office assistant, microcomputer network administration, network administration, training to become a paralegal, polysomnography (sleep study therapy), respiratory therapy, security and investigation, sterile processing and surgical technology.
Financial aid is available for those who qualify.
http://www.youtube.com/watch?v=DluWmFmTK2w
Although I don't anticipate applying as a student there, I am planning on being a regular customer beginning in the near future. Even on a teacher's salary, I can afford these professional-quality services at the student-provided rate.
By the way, no tips are allowed!
Keep in mind: these services are not just for us ladies, men can and do benefit as well.
See you at Miller-Motte!
Photo Gallery
About Sue Freeman Culverhouse
Author of Tennessee Literary Luminaries: From Cormac McCarthy to Robert Penn Warren (The History Press, 2013) Sue Freeman Culverhouse has been a freelance writer for the past 36 years. Beginning in 1976, she published magazines articles in Americana, Historic Preservation, American Horticulturist, Flower and Garden, The Albemarle Magazine, and many others. Sue is the winner of two Virginia Press Awards in writing.

She moved to Springfield, Tennessee in 2003 with her sculptor husband, Bill a retired attorney. Sue has one daughter,  Susan Leigh Miller who teaches poetry and creative writing at Rutgers University.

Sue teaches music and writing at Watauga Elementary School in Ridgetop, Tennessee to approximately 500 students in kindergarten through fifth grade. She also publishes a literary magazine each year; all work in the magazine is written and illustrated by the students.

Sue writes "Uncommon Sense," a column in the Robertson County Times, which also appears on Clarksville Online. She is the author of "Seven keys to a sucessful life", which is  available on amazon.com and pubishamerica.com; this is a self-help book for all ages.

Web Site: http://culverhouseart.com/
Email: cuverhouse@comcast.net
Sections
Business
Topics
Aesthetics, Clarksville TN, Cosmetology, Esthetics, European facial, facial, Manicure, Massage Therapy, microdermabrasion, Miller-Motte Technical College, Network Administration, paralegal training, polysomnography, Respiratory Therapy, sleep study therapy, surgical technology