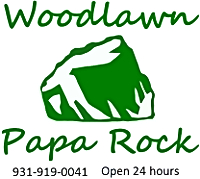 Woodlawn, TN – The Woodlawn Papa Rock Travel Center to show their appreciation for their customers arranged to have Santa Claus on come to the store on December 17th for a visit. After spending a few minutes with each child Santa provided them with a small gift. These included eight families that the store adopted this Christmas season to provide extra assistance for them  during this difficult time of the year.
The Woodlawn Papa Rock also jumped up on board to help Gary Caudell in his mission to provide Christmas to area kids who are in need of toys. "The money the Woodlawn Papa Rock Travel Center provided helped us out a lot, and we were able to add more locations to our itinerary this year," Caudell said. Mr. Caudell helps Santa distribute gifts to children. "We greatly appreciate all they have done to help bring a great Christmas to kids in our area! Without organizations like Papa rock we wouldn't be able to do all we are currently doing in the community," he said.
Photo Gallery
About Bill Larson
Bill Larson is  is politically and socially active in the community. Bill is a member of the Friends of Dunbar Cave.

You can reach him via telephone at 931-249-0043 or via the email address below.
Sections
News
Topics
Christmas, Gary Caudell, Philanthropy, Santa Claus, Woodlawn Papa Rock Travel Center, Woodlawn TN