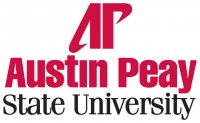 Clarksville, TN – It isn't unusual to find a preschool-age child singing aloud or coloring a picture he or she painted. That's how young children have acted for centuries.

"In my opinion, children are innately musical and artistic at that age," Eric Branscome, assistant professor and coordinator of music education at Austin Peay State University, said. "They love drawing, they love coloring, they love singing, they love painting."

But with several preschools and child care centers doing away with music and arts programs, today's youngsters aren't getting much of an opportunity to delve into creative activities. A new APSU-sponsored program is looking to remedy this problem.

Beginning at 4:30pm on February 7th, APSU faculty and students will host the Children's Arts InterAction Program in the Children's Library of the Clarksville-Montgomery County Public Library. The program, which is free and open to all pre-school and early elementary aged children, will continue on the first Tuesday of each month throughout the semester.

"The program is basically targeting younger children, preschool-aged children, early elementary school-age children," Branscome said. "It will have music, singing time, music activities. A lot of our student organizations will be going over to perform for the kids. And at the end of the time, the (APSU) art education students will lead a craft or related art activity for the kids."

The activities will all be focused around literacy concepts developed by the library staff.

In addition to providing a valuable service for the community, the Children's Arts InterAction program will also help prepare APSU students for their future careers.

"One of the main reasons we wanted to start this, in addition to community outreach, was so that our students in music education and art education could get extra experience working with these young kids before they go out and do student teaching," Branscome said.
The program will meet at 4:30pm at the library on the following days:
February 7th
March 6th
April 10th
May 8th
For more information on Children's Arts InterAction, contact Branscome at branscomee@apsu.edu or Jennifer Snyder, APSU assistant professor of art education, at snyderj@apsu.edu.
Sections
Education
Topics
APSU, APSU Faculty, APSU Students, Austin Peay State University, Children's Arts InterAction Program, Clarksville-Montgomery County Public Library, Eric Branscome, Jennifer Snyder