Written by Doug Brumley
Nashville Predators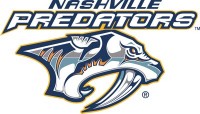 Nashville, TN – The Nashville Predators recorded a big division win over the St. Louis Blues Saturday night, recording a 3-1 win at Bridgestone Arena to leapfrog the Blues into fourth place in the Western Conference standings.

The hard-hitting affair was replete with momentum changes and an epic goaltender battle that was ultimately won by Nashville's Pekka Rinne. The Finnish netminder recorded his 11th consecutive win, extending his own franchise record.

Martin Erat and Mike Fisher scored first period goals to give Nashville a 2-0 lead, but the home club's effort to extend that margin in a strong second period was stymied by St. Louis goaltender Jaroslav Halak. That allowed Chris Porter's goal at 4:01 of the third to cut his team's deficit to 2-1. That's when Rinne stepped to the fore, standing tall until Sergei Kostitsyn could salt the game away with an empty net goal with 22.1 remaining.

Now the Predators remain at home for a Tuesday night battle with the Vancouver Canucks, the first visit by the playoff rival to Nashville since ending the Preds' playoff run in 2011. Game time is 7:00pm at Bridgestone Arena.
Three Musings
Tide Turner: The St. Louis Blues got the road start they wanted, coming out of the gate fast. St. Louis forward Vladimir Sobotka (only 5'10″ and 198 pounds) knocked three Predators–Ellis, Bouillon and Spaling–off the puck forcefully on his first shift, and the Blues went on to fire eight shots to Nashville's two. Four of those Blues shots came in a 59-second span that saw the Preds under pressure and stuck out on an extended shift.
The tide turned, however, when Blues forward David Perron–just seconds after a good scoring chance on goaltender Pekka Rinne–took an offensive zone hooking penalty at the 6:28 mark. Martin Erat scored a power-play goal 31 seconds later on Nashville's next shot.
Goaltender Battle: Blues goaltender Jaroslav Halak had a truly outstanding second period, stopping all 17 shots he faced as the Predators swarmed in full-on attack mode. Nashville looked to blow the game wide open with numerous quality chances, but Halak thwarted them at every turn. The Predators' frustration built throughout the period, culminating in forward Colin Wilson snapping his stick over his knee after being stopped by Halak with less than a minute to play in the second frame.
The tables turned in the third, however, with Nashville's Pekka Rinne turning aside 19 shots and allowing just one goal on a defenseman's turnover in the slot. With Nashville up 2-1, Rinne made a highlight-reel save just over 11 minutes into the final stanza, recovering enough from a scrambly play to make an arm stab toward the right post in time to knock down an otherwise open-mouth goal by Blues defenseman Kris Russell.
Choosing His Spot: Brian McGrattan's first hit on Ryan Reaves was credited by the official scorers at 2:32 of the first period. But it wasn't the last. Just over 13 minutes into the second period, the two started jawing along the boards near the Predators bench at then end of a play. The conversation continued for several seconds until the ensuing face-off at center ice, when both combatant's gloves flew as the puck hit the ice.
It was McGrattan's sixth fight of the season, his first since a December 10th bout with Anaheim tough guy George Parros. When leading a game 2-0, a coach may frown on his player giving the opposing team a window of opportunity to turn the momentum. But Predators head coach Barry Trotz said in his post-game press conference that he was fine with McGrattan accepting the challenge from Reaves at that point: "Big Earn is as tough as they come and he's not going to lose too many."
Indeed, with McGrattan's track record this season (four decisive wins and a draw, per www.hockeyfights.com) plus a home crowd behind him, he didn't have much to lose by dropping the gloves in that situation.
Three Quotes
Martin Erat (on the key to beating St. Louis): "It's always a one or two goal difference. I don't count the empty netter. It's been that way the last four games we've played them. They are hard games, and right now we are winning more, maybe scoring more on the power play and getting better goaltending. "
Pekka Rinne (on his key third-period save on Kris Russell): "It's just desperation. It was nice to get that obviously, it was a big save at the time. It was one of those saves that was a sure goal, I guess. Everything happens so quick on the ice. You don't have time to think. That's the best feeling when you don't need to think, you just react and that was just one of those things."
Trotz (on the play of Martin Erat): "The thing I like with Marty is Marty is scoring in different ways. How many slapshots have you seen Marty take in the 14 years that I've been here? Not a lot. But he's doing that more. He wired that. He was wiring them in practice today. Even [Pekka Rinne] would tell you that, that Marty was really getting a hold of it. A couple of things he did early, using a power move to the net and creating some offense–I like the fact that Marty is really not just playing one way. He's adapting to the game."
Three Stars
F, Martin Erat: 1 goal, 2 assists, +2
G, Pekka Rinne: 42 saves (season high) on 43 shots, 11th consecutive win (extends franchise record)
G, Jaroslav Halak: 34 saves on 36 shots, stopped all 17 Predators shots in second period
Box Score
St. Louis Blues vs. Nashville Predators
Saturday, February 4th, 2012
Final
1 – 3
| | | | | |
| --- | --- | --- | --- | --- |
| Final | 1 | 2 | 3 | T |
| Blues | 0 | 0 | 1 | 1 |
| Predators | 2 | 0 | 1 | 3 |
Scoring Summary
Penalty Summary
1st Period
06:28
STL
David Perron : Hooking – 2 min
08:07
NSH
Jordin Tootoo : Tripping – 2 min
2nd Period
06:59
STL
Scott Nichol : Hooking – 2 min
13:27
NSH
Brian McGrattan : Fighting (maj) – 5 min
13:27
STL
Ryan Reaves : Fighting (maj) – 5 min
3rd Period
08:49
NSH
Craig Smith : Delaying Game-Puck over glass – 2 min
Shots on Goal
| | | | | |
| --- | --- | --- | --- | --- |
| | 1st | 2nd | 3rd | T |
| St. Louis | 16 | 7 | 20 | 43 |
| Nashville | 14 | 17 | 6 | 37 |
Saves
| | | | | |
| --- | --- | --- | --- | --- |
| | Goalies | Total | Sv% | TOI |
| St. Louis | 41 – J. Halak (L) | 34 – 36 | .944 | 59:29 |
| Nashville | 35 – P. Rinne (W) | 42 – 43 | .977 | 60:00 |
Sections
Sports
Topics
Barry Trotz, Brian McGrattan, Bridgestone Arena, Chris Porter, Colin Wilson, David Perron, Doug Brumley, George Parros, Jaroslav Halak, Kris Russell, Martin Erat, Mike Fisher, Nashville Predators, Nashville TN, Pekka Rinne, Predators, Ryan Reaves, Sergei Kostitsyn, St. Louis Blues, Vancouver Canucks, Vladimir Sobotka, Western Conference