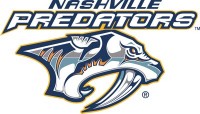 Nashville, TN – The Nashville Predators are coming off of a disappointing "shoot-out" loss to the St. Louis Blues Thursday night when they host the San Jose Sharks at 7:00pm Saturday in "Smashville."

Saturday night, the Sharks visit the Music City for the second and final time this season.  Nashville is 1-1-0 against San Jose this season after going 2-0-2 against San Jose in 2010-11, tying its best record against the Sharks in franchise history – the Predators also garnered six points against the Sharks in 2005-06 (2-0-2) and 2006-07 (3-1-0).

Close games has been the trend between these two clubs as of late, as 13 of the last 16 games – dating back to February 9th, 2008 – have been decided by one goal. Five of those 14 have needed extra time, including the three of the last four.

These teams last met in San Jose on November 5th, as the Predators overcame a two-goal deficit to win by a 4-3 score. David Legwand notched two-goals, including the overtime winner, to lift the Predators to victory. Ryan Suter and Patric Hornqvist also scored for the Predators, and Pekka Rinne turned away 35 shots in the win. In the first match-up at Bridgestone Arena on October 25th, San Jose jumped out to an early lead and held it until the 13:12 mark of the third, when rookie Craig Smith scored his third goal of the season. The Sharks tallied two unanswered goals however, to take home the 3-1 win.

Shea Weber has seven points (1g-6a) in Nashville's last six games against San Jose… Legwand has five points (3g-2a) in his last five games against the Sharks… Rinne is 4-2-3 with a 2.47 GAA and a 931 save percentage in 10 career games against San Jose.

Entering tonight's game the Predators have won 15 of their last 19 games on home ice, going 15-2-2 in that span. Additionally, the Preds have not lost in regulation on Bridgestone Arena ice in 10 contests (8-0-2). Nashville ranks among the League's best on home ice since the beginning of the 2005-06 campaign, compiling 174 home victories – tying them with San Jose (174) for second behind only Detroit (184) in that span. Additionally, the Predators are the only team in the League to post at least 23 home victories in six consecutive seasons.

A factor in the Predators' success has been the atmosphere in Bridgestone Arena. The Predators have sold out Smashville for 16 of their 31 home games this season –  that total matches the number of sellouts from a season ago, and puts them on pace to break the franchise record of 20 sellouts established during the 1999-2000. Bridgestone Arena is averaging 16,601 fans per home game this season – 97 percent capacity. The highest average attendance for a season in franchise history occurred during the 1999-2000 season, when the Predators averaged 16,600 fans per game.

Nashville has posted a 17-5-3 record in its last 25 games, outscoring the opposition 74-54 (plus 20), despite being out shot 767-694 (minus 73). In its last 24 games, it has averaged 2.96 goals per game, while allowing just 2.16 goals per game. Those totals have pushed Nashville's goals per game average from 2.60 prior to the stretch to 2.74 (11th) currently, while its goals-against average has fallen from 2.80 to 2.52 (10th).  The Predators' current streak includes outscoring foes 59-42 at even strength. They were outscored 72-54 at even strength in the first 36 games of 2011-12.

The line of Martin Erat, Mike Fisher and Sergei Kostitsyn continues to be the driving force behind the Predators' offense of late. Since the calendar flipped to 2012, Fisher has posted 22 points (11g-11a) in 22 games, and his 11 markers since the first of the year rank among the NHL's Top 15 players. He has already posted 37 points (18g-19a) on the season, surpassing his total from his 2010-11 campaign (19g-17a-36pts, 82gp). Fisher leads the team with 18 markers on the year and he is now just one goal shy of matching his total from a season ago. For the season, Nashville is 20-2-3 when Fisher records a point and 11-0-3 when he scores a goal.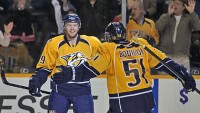 The defensive pairing of Ryan Suter and Shea Weber continues its all-star caliber play on the Predators blue line. Since returning from injury on January 23rd, Suter has posted 11 points (2g-9a) in 13 games. He is now tied with Dan Boyle for seventh among NHL blueliners with 36 points (7g-29a), putting him on pace to surpass his career-high 45 points (7g-38a) set during the 2008-09 season. The Madison, WI, native is third among NHL blueliners in power-play points and assists (3g-18a-20pts), and ranks fourth in the League in average ice time (26:39), 16 seconds ahead of Weber (26:23).
In his last 41 games, Weber has 30 points (11g-19a), putting him second in team scoring (12g-26a-38pts). He is second among NHL defensemen in power-play goals (7), third in goals (12) and shots on goal (170), and fourth in points (38). He also ranks among the League's Top 10 d-men in power-play points (7g-10a-17pts) and among the Top 15 in plus/minus (+18).  He is also the only blueliner to post multiple shorthanded goals (2) this season. Since October 25th, Weber has not gone more than two games without a point.
The Sharks enter Saturday night's game 1-3-1 in their last five games.  Action begins at 7:00pm at the Bridgestone Arena.
About Hank Bonecutter
Hank Bonecutter is a forty year broadcast veteran and former radio station owner. His career included, talk-show host, journalist, writer, and producer.  He is president of Bonehead Promotions, an advertising consulting and media firm. He is the owner of www.clarksvillesportsnetwork.com and www.nashvillesportsnetwork.com, and is a contributing author/journalist for Clarksville Online.

Hank worked at several Nashville radio stations, including WKDF, WLAC, WKQB and WKDA.

He hosted and produced Clarksville's longest running morning talk-show, "The Bone Show," from 1994-2012.

Hank is also a stand-up comedian, having performed at some of the top comedy clubs in Tennessee, Kentucky and Georgia.

Hank produced a series of stand-up comedy shows, "Comedy on the Cumberland, " in Clarksville to benefit local charities.

You can follow Hank on Facebook and Twitter, @bonecutter01 and @boneheadnews.

Web Site: http://www.clarksvillesportsnetwork.com/
Email: hbonecutter@clarksvilleonline.com
Sections
Sports
Topics
Bridgestone Arena, Craig Smith, Dan Boyle, David Legwand, Madison WI, Martin Erat, Mike Fisher, Music City, Nashville Predators, Nashville TN, National Hockey League, NHL, Patric Hornqvist, Pekka Rinne, Predators, Ryan Suter, San Jose Sharks, Sergei Kostitsyn, sharks, Shea Weber, St. Louis Blues