Winter Weather Advisory In Effect ... [Click here for more information]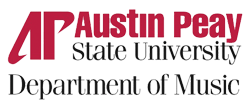 Clarksville, TN – One afternoon several years ago, the prominent Hungarian composer György Kurtág watched as a group of children banged away at a piano. They were playing with the instrument as if it were a toy, and Kurtág was struck by how much fun they seemed to have.

That observation inspired him to compose his solo piano pieces, "Játékok" (Games), which captures the playful freedom of childhood with its sometimes frenetic sounds. At 7:30pm on March 12th, Austin Peay State University professor of music Dr. Jeffrey Wood will present the little-heard piece in a concert filled with works all denoting childhood.

In addition to the Kurtág, the program will include American composer John Cage's "Suite for Toy Piano," Wood's own compositions "Children" and "Oliver Singing," as well as Samuel Barber's "Knoxville: Summer of 1915."

The Barber work is an adaptation of a short story by James Agee, in which a child narrator describes a summer evening in the American south.

Guest soprano Marcella Calabi will accompany Wood for this concert. She is a Harvard-educated recitalist who performs a diverse repertoire of opera, oratorio, chamber music, and early and contemporary music, in which she has been heard across the country and in Italy.

The concert, which is free and open to the public, will be in the APSU Music/Mass communication Building's Concert Hall. For more information, contact the APSU Department of Music at 931.221.7818.



Sections
Events
Topics
APSU, APSU Department of Music, APSU Music/Mass Communication Building Concert Hall, Austin Peay State University, Concert, Gyorgy Kurtag, Jeffrey Wood, John Cage, Marcella Calabi, Suite for Toy Piano