Special Weather Statement In Effect ... [Click here for more information]
Written by Sgt. Richard Daniels Jr.
1st Brigade Combat Team, 101st Airborne Division (AA) Public Affairs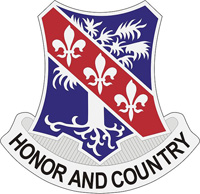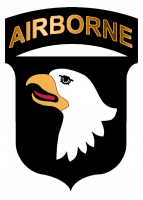 Fort Campbell, KY – The whirling blades picked up speed creating nearly deafening sound and incredible swirling winds as the soldiers charged in and secure a ride their next objective.

Attending the corresponding school is definitely a bonus, but with or without it, soldiers continue to train to do air assaults in preparation for future deployments at Johnson Field, here, February 22nd.

The soldiers of 1st Squadron, 32nd Cavalry Regiment, 1st Brigade Combat Team, not only train to the standards of the Screaming Eagle Division, but they also add realism with a bit of flair.

"We are going to be doing an air assault to an objective, then we are going to move into a support by fire. The intent of our mission is to attack to deny," said Spc. Brandon Martinez, M240 machine gunner with 3rd Platoon, Company A. "So another platoon is going to be hitting an objective and when their reinforcements come in, we are going to have an ambush set up to deny them the ability to reinforce their objective."

Even if soldiers have multiple deployments or are battle ready, they still require the training to maintain their skills and to ready the new soldiers in the unit.

"Me? Honestly this is going to be my first one," said Martinez referring to air assaults. "I've been on plenty of birds but this is going to be my first air assault."

After their sixth iteration of loading and offloading the helicopters, the Bandit soldiers were still excited. They knew their next load meant the mission was about to begin.

"Training is important because we have a lot of guys who have never been on a bird so it will get them a little comfortable with them," said Martinez. "So on the deployments, doing air assaults; it helps to have some time here in garrison to become familiar with the aircraft and the way it works."

"We are going to be using helicopters to move around in country," said 1st Lt. Thomas McShea, 3rd Platoon leader with Company A. "We are going to be doing a lot of air assault missions … and this is the best way to prepare us."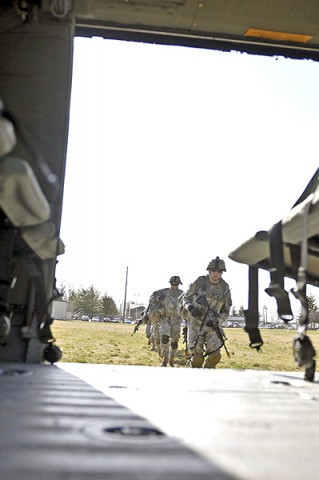 Since arriving back home in early 2011, the unit continues to train. Now they utilize platoon sized elements to accomplish their training missions after retraining from the ground up.
McShea explained that previously, his unit worked on individual training with events such as the Expert Infantry Badge competition late last year. Then his unit focused on team level tasks with exercises and live fire lanes.
"Then we went into squad level and now we are moving into platoon level," said McShea. "That's why we are doing the air assault right now. It's the first time we've had the platoons out in the field working together."
With future deployments always over the horizon, the Bandit soldiers continue to train to face their upcoming challenges and their next rendezvous with destiny.
"I am very excited," said Martinez. "This is probably going to be the most fun I'll have in training."
Sections
News
Topics
101st Airborne Division, 1st Brigade Combat Team, 32nd Cavalry Regiment, Afghanistan, Brandon Martinez, Expert Infantry Badge, Fort Campbell KY, Johnson Field, M240 Machine Gun, Richard Daniels Jr, Screaming Eagles, Thomas McShea