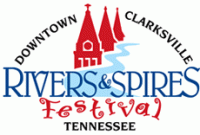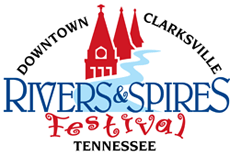 Clarksville, TN – Rivers and Spires Festival organizers announced today the addition of a new event for 2012. In recognition of the Festival's 10th anniversary, Brewfest, an event where attendees can sample a variety of craft beers, has been added to the spring Festival's celebrations.
According to Rivers & Spires Festival manager Doug Barber, it was Jeff Turner of Ajax Distributing Company who encouraged the city to add the new event.
"Coors Light has been the Festival's lead sponsor for several years.  We wanted to add something new to the 2012 Festival to celebrate our 10th anniversary," Barber said.  "Jeff generously offered to help us organize and launch a craft beer festival."
Craft beer festivals, which have long been popular throughout Germany and other European countries, are now one of the fastest growing events in the United States. Numerous festivals have sprung up in Middle Tennessee over recent years.
"Our company has observed the growth of beer festivals throughout the area," Turner said.  "We thought it was a perfect event to add to Rivers & Spires.  We are glad to be a part of bringing this type of celebration to Clarksville."
Brewfest will have a designated area on the corner of Third and Main Streets. About 25 brewers are expected to participate in Brewfest and provide tastings of more than 50 different craft beers. In addition to the opportunity to sample a variety of beers, there will be entertainment, beer and food paring presentations, beer educational sessions conducted by brew masters, and drawings for great prizes.
"Brewfest is an event for both the serious beer lover and the festival attendee looking for a new experience," Barber said.
Brewfest will be held Friday, April 20th, from 6:00pm to 9:00pm, and on Saturday, April 21st, from 4:00pm to 8:00pm.  Brewfest tickets are $20.00 a day. Tickets for Friday and Saturday admission go on sale Saturday morning, March 10th, at 10:00am. Tickets can be purchased online at www.riversandspires.com [1].
Organizers say there are a limited number of tickets available for both Friday and Saturday. They expect tickets to sell out quickly based upon the popularity of this type of event in other Middle Tennessee cities.