Cunningham, TN – The Cunningham Volunteer Fire Department held their Annual Easter Egg Hunt on Saturday March 31st at the Montgomery Central Middle School.  A total of 5,000 eggs were scattered into 4 separate lanes on the field. Each lane also had two special eggs containing grand prizes tickets.  Each child was given a ticket for a chance to win door prizes at the end of the hunt.
Captain William Jackson from the Cunningham Volunteer Fire Department was among the organizers for the event, "I enjoy doing this, especially getting to watch the kids as they gather the easter eggs." He continued, "We have been doing this since 1999, and it has grown a lot since then. The ultimate goal of events like the Easter Egg Hunt is community outreach, getting the community to become more involved in supporting their Volunteer Fire departments, and events like this are successful at doing that."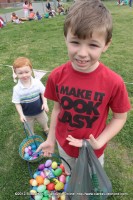 The kids participating in the easter egg hunt were divided into four age groups; ages 2 and under, 3-5, 6-8, and 9-11. Around 100 area children took part in the event. When it was all said and done each one had a pile of eggs, and all of them had a great time.
Cunningham Volunteer Fire Department volunteers were also selling hot dogs for $1.50, and soft drinks for $1.00 to raise funds for Relay for Life. All six Volunteer Fire Stations in Montgomery County joined together to create and support one team, and they were working to raise funds to support that great cause.
If you wish or become involved in either the Cunningham Volunteer Fire Department, or supporting the Relay For Life team contact them by phone at 931.387.3015, or via email at cfdept@montgomerycountytn.org
Photo Gallery
About Bill Larson
Bill Larson is the Creator and Publisher of Clarksville Online, and works as a network administrator for Compu-Net Enterprises. He is politically and socially active in the community. Bill serves on the board of the Clarksville Community Concert Association, and is a member of the Friends of Dunbar Cave.

You can reach him via telephone at 931-249-0043 or via the email address below.
Sections
Arts and Leisure
Topics
community outreach, Cunningham TN, Cunningham Volunteer Fire Department, Door Prize, Easter egg hunt, Montgomery Central Middle School, Montgomery County, Relay for Life, William Jackson