Tuesday, April 3rd, 2012 at 7:00pm CT
Nashville, TN | Bridgestone Arena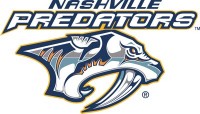 Nashville, TN – The Minnesota Wild makes its final trip of the 2011-12 season to the Music City tonight at Bridgestone Arena. The Nashville Predators hold the 2-1 advantage in the season series thus far. All-time, the Predators are 20-15-8 against the Wild.
These teams last met on January 31st, in both teams returned from the All-Star Break. Minnesota jumped out to a 3-0 lead through the first 21 minutes of the game, before Matt Halischuk cut the Wild lead to two.  Early in the third, Minnesota regained the three-goal margin.
With less than 11 minutes remaining, Nashville tallied four unanswered goals, as Brandon Yip, Patric Hornqvist and Mike Fisher – who tallied the game-tying and game-winning goal with just 21 second remaining – all got on the board for the Preds.  Pekka Rinne added his 10th consecutive win as the Predators completed their seventh come-from-behind victory of the season.
Rinne is 8-3-1 all-time vs. Minnesota with three shutouts… Hornqvist has six points (3g-3a) in 11 career games against Minnesota… Nick Spaling has seen more offensive success (4g-1a-5pts) against the Wild than any other club.
Nashville has been one of the League's best teams on home ice since the beginning of the 2005-06 season, compiling 179 home victories – ranking it third behind only the Detroit Red Wings (189) and the San Jose Sharks (181) in that span. The Predators are the only team in the NHL to post 23 home victories in seven consecutive seasons.
The Predators have gone 20-5-2 in their last 26 home games, and have only been dealt three regulation loss at Bridgestone Arena since January 5th (13-3-2). The Predators have sold out Bridgestone Arena for six consecutive games leading into tomorrow nights tilt, giving them a franchise-record 23 sellouts this season – surpassing the previous record of 20 sellouts established during the 1999-2000 campaign. Bridgestone Arena is averaging 16,669 fans per home game this season – 97.4 percent capacity.
As the Predators ready themselves for the 2012 Stanley Cup Playoffs, the defensive pairing of Ryan Suter and Shea Weber continues its all-star caliber play on the Predators blue line.
With his third two-goal performance of the season on Saturday night against Chicago, Weber is now just one point shy of cracking the 50-point plateau for the second time in his career. The Sicamous, B.C., native ranks fifth among blueliners with 49 points on the year (19g-30a), while his 19 goals are tied for first among d-men. He is just one marker shy of becoming the fifth Predator ever to post 100 career goals.
Weber has already posted a career-high 22 power-play points (10g-12a) this season – he ranks among the Top 10 d-men in power-play points and leads all NHL d-men with 10 PPGs on the year, which ties his career high (2008-09). Weber is now plus-19 on the season – that ties him with Alex Pietrangelo for fourth among defensemen with at least 40 points this season.
Suter notched his second career three-assist effort on Saturday against the Blackhawks, giving him a career-high 46 points (7g-39a) on the season, surpassing his previous career highs in points and assists (7g-38a-45pts) set in 2008-09.  Those totals are tied for eighth among NHL blueliners this season.
Suter's three helpers on Saturday also gave him 200 career assists – he is just the fourth player in franchise history to hit the mark. The Madison, WI, native is third among NHL blueliners in power-play points and assists (3g-22a-25pts), and ranks third in the League in average ice time (26:38), 22 seconds ahead of Weber (26:16), who ranks fifth.
Weber and Suter are one of just three defensive tandems to post at least 40 points apiece this season. St. Louis' Blues' Alex Pietrangelo (12g-38a-50pts) and Kevin Shattenkirk (9g-33a-42pts) and the Vancouver Canucks' Alexander Edler (11g-37a-48pts) and Kevin Bieksa (8g-34a-42pts) are the others.
Last Time Out
Predators 4, Chicago 5 at Bridgestone Arena
The Predators finished their divisional play with the second-best intra-division record in the Western Conference (16-5-3, .729) and the third-best in the League thus far, behind only the Boston Bruins (17-4-1, .795) and Vancouver (17-4-1, .795). The team is also 37-19-5 against the Western Conference in 2011-12.
Nashville rallied from a 4-0 deficit to tie the game in the third period before relinquishing the game winner at 8:19 of the third period.
Andrei Kostitsyn notched an assist on Weber's first goal of the game. He has points in back‐to‐back games (2a), giving him 10 points (4g-6a) in 16 games as a Predator.
Alexander Radulov scored giving him six points (3g-3a) in six games with Nashville this season.
The Predators won 42-of-62 faceoffs on the night (68 percent). Paul Gaustad went 14 for 18 in the faceoff circle (78 percent), Mike Fisher won 14-of-20 draws (70 percent) and Nick Spaling won five-of-eight draws (68 percent).
Nashville was shorthanded more than four times for the first time in 14 games. The Predators have been shorthanded the seventh-fewest times in the League (235). They have the League lowest penalty minutes per game (8.4).
Quick Hits
Nashville has posted a 27-12-4 record in its last 43 games, outscoring the opposition 131-104 (plus 27), despite being outshot 1,301-1,205 (minus 96).

Nashville is one of only four teams to rank in the League's Top 10 in both goals per game and goals-against per game – Boston, Detroit and Vancouver are the others.
The Predators are 32-3-4 when scoring first – the League's second-best winning percentage in that situation.
The Predators have scored 227 goals for the season – that is the fourth-highest total in club history – 272 (06-07), 259 (05-06), 230 (07-08).
With 42 victories on the year, Pekka Rinne holds the franchise record and leads the League in the category. He also leads the League in saves (1,949), shots against (2,115), and appearances (71). Nashville is 14-0-2 this season when Rinne makes 35 saves or more.
With his next victory, Head Coach Barry Trotz will move into third place in wins with a single franchise, passing Toe Blake (500), and into 15th on the all-time wins list, tying Pat Burns.  Trotz became just the fifth bench bosses to post 500 wins with a single franchise (Al Arbour, NYI; Lindy Ruff, BUF; Billy Reay, CHI and Toe Blake, MTL) last Friday with the Preds win over Detroit.
On Saturday night against the Chicago Blackhawks, Martin Erat, David Legwand and Kevin Klein set career numbers, while Mike Fisher approached two career milestones.
With his power-play goal in the second period, Erat notched his career-high 58th point of the season (19g-39a) in his 69th game. Erat is the only player in franchise history to post at least 50 points more than three times in his career. He is just two points shy of becoming the first Predator to record 60 points since J-P Dumont notched 65 points (16g-49a) during the 2008-09 season. The Trebic, Czech Republic native has been the offensive catalyst for the Preds as of late, posting 35 points (11g-24a) in his last 36 games.
Legwand became the first Predator to post 500 career points with two assists in the third period on Saturday.  He has posted 52 points (18g-34a) on the season, and is just two helpers shy of tying his career-high 36 posted during the 2006-07 season. He has tallied four points (4a) in his last four outings.
Klein tallied an assist on Alexander Radulov's third-period goal, giving him a career-high 19 points (4g-15a) on the year. He has already tied his career-high four goals and is just one assist shy of his career-high in helpers (16).
Fisher posted his 50th point (24g-26a) of the season with an assist on Erat's power-play goal. It is just the second time he has broken the 50-point plateau and he is now three points shy of his career-high 53 points (25g-28a) set during the 2009-10 season. He is also one goal and two assists shy of tying his career high numbers in both categories set in 2009-10. Fisher has posted 27 points (16g-11a) in his last 32 games.
The Nashville Predators take on the Minnesota Wild Tuesday night at Bridgestone Arena. The puck his the ice at 7:00pm.