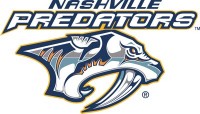 Nashville, TN – And Smashville can let out a big exhale of relief.
After a tight defensive battle, the Alexander Radulov's shootout goal and Anders Lindback's three-for-three showing on the other end, including a reaction right pad save on a quick Mikko Koivu snapper, the Nashville Predators emerged victorious, 2-1, to leapfrog the Detroit Red Wings into the No. 4 seed in the Western Conference, two points ahead of No. 6 seed the Chicago Blackhawks with four more nights of games remaining in the regular season.
The game was a very "Predators-type" of win, with Nashville getting solid shifts from all four forward lines, all three defensive pairings, and strong special teams play.
The PK: Nashville's penalty kill unit deserves major kudos tonight, shutting down all four Minnesota power-play attempts, including 1:48 of four-on-three time to open the overtime period. Not only did they successfully negate Minnesota's PP unit, but Nashville's penalty kill prevented the Wild from using the power-play to generate momentum; the PK unit limited Minnesota to seven shots on goal during its four power-plays, including just one during the four-on-three. Paul Gaustad played a whopping 5:31 shorthanded ice time tonight, followed by Kevin Klein at 5:17, Hal Gill at 4:57, and Nick Spaling with 4:33.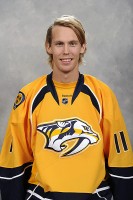 Super Sub: Anders Lindback was near perfect tonight, turning aside 25-of-26 shots plus a perfect three-for-three showing in the shootout, making a tremendous save on Dany Heatley in a four-on-four situation with 7:06 left in regulation and a highlight reel shootout stop on Mikko Koivu in the second round of the shootout. After not seeing much action through long stretches of the season sitting behind Pekka Rinne, Lindback has now strung together two straight strong starts; Lindback stopped 30-of-31 shots two-and-a-half weeks ago for a 3-1 road win at the Anaheim Ducks.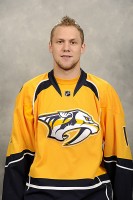 Quick Steal: Nick Spaling created two great scoring chances for the Preds in the second period on nearly identical forecheck plays, stripping the Minnesota defenseman clean both times. The first one resulted in a video review turned up no-goal for the Preds (off a scrum in the crease). The second one resulted in Gabriel Bourque's seventh goal of the season, giving the Preds a 1-0 lead at the time. The Spaling, Bourque, Hornqvist line was Nashville's most effective line for all three periods tonight. They recorded nine of Nashville's 24 shots on goal and the team's lone goal through regulation.
Post-Game Quotes
Nashville Predators Coach Barry Trotz
On the importance of Lindback having a solid game so close to the playoffs…


It was really huge for us. Anders didn't get a lot of games this year. We [played] [Rinne] really hard right before the All‐Star break – really hard in terms of the 25 game stretch where he was going really well and we were going really well and we felt we could do that and get ourselves a little separation.

He's come up with a couple big wins for us. The last two starts he's only given up two goals. He's been really, really solid.

On Nick Spaling playing well on both sides of the ice…
It really allows us some flexibility. [Spaling] has had different segments of the year where he was really good and segments where he fell off a little bit. When Nick Spaling is playing that hard, in your face game, and you add a Gabriel Bourque, everybody knows how hard [Hornqvist] is. As a line, they can really make it tough on you. That's a really good line in terms of coming at you. They're not going to back off anybody. When they're all in playing that way, it's a good thing. They were our best line tonight.

On Nashville choosing to allow Minnesota to shoot first in the shootout…
[It's because] we have good goalies. We've talked many times with our group. First or last? Mitch Korn studies the shootout and looks at the goaltenders and who should shoot. He said it was like baseball – you want to have last bat sometimes. So, we've opted that way, and we've had decent success with it. Today was a little bit tough because it was [Lindback]'s first one in a while and I wasn't sure if he wanted to go first or second.

On Radulov converting in the shootout…
[Radulov] really converted. I saw his move on the replay, and that's hard because you're coming in and he changes direction, and that elevation so quickly is almost impossible to stop.
Goaltender Anders Lindback
On the shootout…
I've just won one, and it was preseason, shootouts. I felt good. I was focused. I only had to make two saves there, and Rads [Alexander Radulov] threw down one. It was good.
On playing a slower, more defensive game…
I believe Minnesota did also. I think it was a little different game from the Chicago game – a little slower – but I think we did a good job at our own end. I didn't have to take a lot of rebounds; the guys did a good job in front of me. We found a way to win and that's what's important.
Forward Nick Spaling
On assisting on the lone goal…


I think we got a little fortunate. The puck bounced on them, but it was a good for check before and a little pressure we kept on them. We got fortunate on the play with the puck bouncing on their d men.

On how it feels to see a lot of time on the ice toward the end of games…
It's great to be out there in tight games, in tight situations – at the end of games as well. I think we had a of couple penalties too, which we've got to try to eliminate, especially at those times. But it was a great job killing them off.

On the success of his line…
They make it real easy. They're two energy guys that I know that they're going to be at the net or trying to win the puck back in the corner. It makes it easy for me knowing where they are the whole time.
Defenseman Shea Weber
On the Predators reaching 100 points…
The win is the most important thing. Obviously, we're somewhat in control of where we can finish. We can guarantee ourselves fifth. We've got to keep going.
On the play of Radulov…
He's an exciting player. He lives and thrives on those types of situations. The other night that was a goal‐scorers goal, and tonight he just was patient and found a hole to slip through.
On the play of Lindback…
He's played great the last few games. He's been put in some tough situations this year. Going against the top teams in the East, teams he hasn't see a whole lot, on a lot of days rest. I think he's feeling good about himself, and we're lucky to have him.
Three Stars
1) NSH G Anders Lindback – 25 saves on 26 shots, plus 3-for-3 on the shootout
2) NSH F Alexander Radulov – shootout winner, 19:28 ice time; was the most creative and dangerous offensive player on the ice tonight; made several key "hustle plays"
3) MIN G Niklas Backstrom – 23 saves on 24 shots
Next Game
The Nashville Predators take on the Dallas Stars Thursday night at Bridgestone Area. This is the last regular season home game for the Predators. The puck hits the ice at 7:00pm.
Box Score
Minnesota Wild 1 – 2 Nashville Predators
Tuesday, April 3rd, 2012
| | | | | | | |
| --- | --- | --- | --- | --- | --- | --- |
| FINAL SO | 1 | 2 | 3 | OT | SO | T |
| Minnesota Wild | 0 | 1 | 0 | 0 | 0 (0-3) | 1 |
| Nashville Predators | 0 | 1 | 0 | 0 | 1 (1-2) | 2 |
Scoring Summary
1st Period
none
2nd Period
12:31
NSH
Gabriel Bourque (7) Wrist Shot – Assists: N. Spaling (11)
17:53
MIN
Dany Heatley (23) Tip-In – Assists: N. Prosser (11) & M. Koivu (31)
3rd Period
none
OT Period
none
Shootout
Penalty Summary
1st Period
07:25
NSH
Ryan Suter : Cross checking – 2 min
10:56
MIN
Justin Falk : Interference – 2 min
16:42
NSH
Brandon Yip : Roughing – 2 min
16:42
MIN
Erik Christensen : Roughing – 2 min
18:53
NSH
David Legwand : Interference – 2 min
2nd Period
none
3rd Period
00:42
NSH
Martin Erat : Tripping – 2 min
11:54
NSH
Nick Spaling : Hooking – 2 min
11:54
MIN
Jed Ortmeyer : Diving – 2 min
19:48
NSH
Andrei Kostitsyn : Tripping – 2 min
OT Period
none
Shots on Goal
| | | | | | |
| --- | --- | --- | --- | --- | --- |
| | 1st | 2nd | 3rd | OT | T |
| Minnesota Wild | 12 | 5 | 7 | 2 | 26 |
| Nashville Predators | 10 | 6 | 7 | 1 | 24 |
Saves
Skater Stats
| | | | | | | | | | | | |
| --- | --- | --- | --- | --- | --- | --- | --- | --- | --- | --- | --- |
| Minnesota Wild | Pos | G | A | P | +/- | PIM | Shots | EV TOI | PP TOI | SH TOI | TOI |
| 4 C. Stoner | D | 0 | 0 | 0 | -1 | 0 | 1 | 17:40 | 00:00 | 01:13 | 18:53 |
| 6 M. Scandella | D | 0 | 0 | 0 | 0 | 0 | 0 | 18:38 | 02:02 | 00:47 | 21:27 |
| 9 M. Koivu | C | 0 | 1 | 1 | 0 | 0 | 4 | 16:43 | 05:49 | 00:43 | 23:15 |
| 10 D. Setoguchi | R | 0 | 0 | 0 | 0 | 0 | 3 | 16:45 | 05:49 | 00:00 | 22:34 |
| 14 D. Powe | C | 0 | 0 | 0 | 0 | 0 | 0 | 13:22 | 00:00 | 00:53 | 14:15 |
| 15 D. Heatley | L | 1 | 0 | 1 | 0 | 0 | 3 | 16:26 | 05:49 | 00:00 | 22:15 |
| 16 J. Zucker | L | 0 | 0 | 0 | 0 | 0 | 2 | 11:51 | 00:58 | 00:00 | 12:49 |
| 19 S. Veilleux | L | 0 | 0 | 0 | 0 | 0 | 1 | 10:52 | 00:06 | 00:24 | 11:22 |
| 20 K. Foster | D | 0 | 0 | 0 | 0 | 0 | 2 | 09:35 | 04:22 | 00:00 | 13:57 |
| 21 K. Brodziak | C | 0 | 0 | 0 | 0 | 0 | 0 | 14:03 | 01:07 | 00:00 | 15:10 |
| 22 C. Clutterbuck | R | 0 | 0 | 0 | 0 | 0 | 3 | 14:06 | 02:05 | 00:43 | 16:54 |
| 25 N. Johnson | R | 0 | 0 | 0 | 0 | 0 | 2 | 11:27 | 00:00 | 00:00 | 11:27 |
| 26 E. Christensen | C | 0 | 0 | 0 | 0 | 2 | 0 | 10:40 | 01:59 | 00:00 | 12:39 |
| 39 N. Prosser | D | 0 | 1 | 1 | 1 | 0 | 0 | 19:53 | 00:13 | 00:47 | 20:53 |
| 41 J. Ortmeyer | R | 0 | 0 | 0 | 0 | 2 | 1 | 10:19 | 00:06 | 00:24 | 10:49 |
| 43 W. Peters | C | 0 | 0 | 0 | 0 | 0 | 3 | 11:05 | 00:06 | 00:53 | 12:04 |
| 44 J. Falk | D | 0 | 0 | 0 | 1 | 2 | 0 | 21:24 | 01:40 | 00:00 | 23:04 |
| 77 T. Gilbert | D | 0 | 0 | 0 | -1 | 0 | 1 | 22:59 | 06:01 | 01:13 | 30:13 |
| Nashville Predators | Pos | G | A | P | +/- | PIM | Shots | EV TOI | PP TOI | SH TOI | TOI |
| 6 S. Weber | D | 0 | 0 | 0 | -1 | 0 | 2 | 23:31 | 01:35 | 02:57 | 28:03 |
| 8 K. Klein | D | 0 | 0 | 0 | 0 | 0 | 1 | 13:20 | 00:00 | 05:17 | 18:37 |
| 10 M. Erat | R | 0 | 0 | 0 | 0 | 2 | 1 | 18:18 | 01:23 | 00:15 | 19:56 |
| 11 D. Legwand | C | 0 | 0 | 0 | 0 | 2 | 3 | 15:12 | 00:44 | 00:28 | 16:24 |
| 12 M. Fisher | C | 0 | 0 | 0 | -1 | 0 | 1 | 19:58 | 01:16 | 01:30 | 22:44 |
| 13 N. Spaling | L | 0 | 1 | 1 | 1 | 2 | 0 | 11:48 | 00:00 | 04:33 | 16:21 |
| 15 C. Smith | C | 0 | 0 | 0 | 0 | 0 | 0 | 06:36 | 00:00 | 00:00 | 06:36 |
| 18 B. Yip | R | 0 | 0 | 0 | 0 | 2 | 0 | 06:54 | 00:00 | 00:43 | 07:37 |
| 20 R. Suter | D | 0 | 0 | 0 | -1 | 2 | 1 | 24:23 | 01:16 | 02:01 | 27:40 |
| 27 P. Hornqvist | R | 0 | 0 | 0 | 0 | 0 | 5 | 07:44 | 01:23 | 00:00 | 09:07 |
| 28 P. Gaustad | C | 0 | 0 | 0 | 0 | 0 | 1 | 09:31 | 00:00 | 05:31 | 15:02 |
| 46 A. Kostitsyn | L | 0 | 0 | 0 | 0 | 2 | 0 | 14:40 | 00:37 | 00:00 | 15:17 |
| 47 A. Radulov | R | 0 | 0 | 0 | 0 | 0 | 1 | 18:51 | 00:37 | 00:00 | 19:28 |
| 51 F. Bouillon | D | 0 | 0 | 0 | 0 | 0 | 1 | 19:41 | 00:00 | 00:06 | 19:47 |
| 57 G. Bourque | L | 1 | 0 | 1 | 1 | 0 | 4 | 09:49 | 00:00 | 00:00 | 09:49 |
| 59 R. Josi | D | 0 | 0 | 0 | 1 | 0 | 2 | 17:41 | 00:25 | 00:42 | 18:48 |
| 74 S. Kostitsyn | L | 0 | 0 | 0 | -1 | 0 | 1 | 18:27 | 00:44 | 01:12 | 20:23 |
| 75 H. Gill | D | 0 | 0 | 0 | 1 | 0 | 0 | 11:24 | 00:00 | 04:57 | 16:21 |
Other Facts
| | |
| --- | --- |
| Attendance | 17113 |
| Referees | Ghislain Hebert, Dave Jackson |
| Linesmen | Don Henderson, Tony Sericolo |
Sections
Sports
Topics
Alexander Radulov, Anaheim Ducks, Anders Lindback, Barry Trotz, Bridgestone Arena, Chicago Blackhawks, Dallas Stars, DAny Heatley, Detroit Red Wings, Gabriel Bourque, Hall Gill, Kevin Klein, Mikko Koivu, Minnesota Wild, Mitch Korn, Nashville Predators, Nashville TN, National Hockey League, NHL, Nick Spaling, Niklas Baackstrom, Patric Hornqvist, Paul Gaustad, Pekka Rinne, Predators, Shea Weber