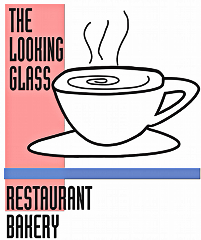 Clarksville, TN – Having lunch at The Looking Glass Restaurant and Gourmet Bakery is a pleasure fit for any one with a discriminating palate. Rated five stars by both Orbitz and Yahoo.com,  the restaurant began its life as an art gallery that served a light gourmet menu and specialty coffees.
Entering the restaurant, you see a beautiful Zen garden that features a huge rock fountain, a Japanese coy pond, luscious flowering plants and diverse seating options. To your right is the recently opened additional dining room featuring mauve and shades of purple walls and exquisitely set tables. To your left is the main dining room with a display of bakery goods to tempt any bread- or sweets-lover's appetite.
Linda Eddington, owner, has chosen Tom Noerr, manager; Francisco Estrada, executive chef; Brian King, culinary chef; and Oliver Nguyen, pastry chef, to oversee the magnificent offerings on a daily basis. The menu actually changes every month and special evening menus are chosen from Tikki shrimp, curry lamb, black and blue steak tips, duck breast, Caribbean chicken and shrimp, Hawaiian rib-eye, coconut encrusted cordova, and other entrees that vary daily.
Bill Larson and I recently had the opportunity to enjoy a lunch at the Looking Glass between writing assignments for Clarksville Online. It was an especially busy day because the temperature was soaring to 80 degrees, and a number of ladies' groups had chosen The Looking Glass for a meeting spot. Waiters were valiantly attempting to keep up with a full house.
Our choices turned out to be excellent. The Spinach and Artichoke dip was superb.
Bill had his own version of Seafood Fra Diavlo for which he requested a bisque rather than marinara sauce listed on the menu. The dish did not include the shrimp usually offered but had a generous serving each of scallops and mussels. Since the dishes are made fresh, substitutions are generally not a problem.
I enjoyed the chicken salad platter. Little did I expect to see all the other side offerings on the platter. The generous chicken salad featured celery, mandarin oranges and nuts on a large bed of miscellaneous greens. I chose a raspberry vinaigrette on the side. One one corner of the platter was a small scoop of delicious potato salad; on another was pasta salad—scrumptious! The third corner had sliced cucumbers in yogurt and the fourth consisted of a sliced tomato with what appeared to be pickled onion slices. (I avoid fresh onions, if possible, so did not taste them.)
The meal began with four slices of freshly baked bread that I insisted Bill consume since I recently discovered a dietary need to omit gluten. He said it was fantastic!
We decided against all the dessert temptations because our meals were quite filling. Next time we'll order less and plan on dessert for sure.
The offerings at The Looking Glass are so numerous that it is difficult to decide on one thing only. Sandwiches (grilled pimento cheese, chicken salad, marinated chicken in Italian pita, smoke salmon, or grilled cheese) range from $8 to $8.95. Appetizers (spinach and artichoke dip, chicken tenders, grilled chicken quesadilla, chips and guacamole, and "Old Smokie"—tortilla chips with sour cream, salsa and chili) begin at $4.75 and end at $10.95.
The Chef's daily soup in a bread bowl is $5.00. Salads (grilled chicken salad, Mediterranean, tuna or chicken salad platter, spinach crepe or shrimp crepe, Caesar, or crab cake) start at $7.00 and range to $10.95.
Entrees at lunch are numerous and run from $10.50 to $21.00 for the Hawaiian rib-eye steak. Other entrees are Five Pepper Chicken, Seafood Pasta, Chicken Alfredo, Coconut-Pecan Chicken, Salmon Wellington, Coconut Shrimp, Seafood Fra Diavlo, and Portabello Garden. Side dishes (all $2.99 each) are Yukon Gold Garlic Mashed Potatoes, Side Salads, Potato Salad, Marinated Tomatoes, Sweet Potato Fries, Cucumber Salad, Rotini Salad, Waffle Fries, and, a scrumptious Macaroni and Cheese made with five cheeses. What a selection!
Also available are wraps (ten choices) plus one side dish for only $8.00.
Four different pizzas have six listed additions plus various vegetables. A medium pizza is from $8.75 to $9.00 with large pizzas only $16.00 or $17.00 each.
Then the "guilt free" desserts (only $4.75 a piece) are Carrot Cake, Tiramisu, Chocolate Decadent Cake, Lemon Cake, Red Velvet Cake, Black Forest Cake, Coconut Cake, and a delicious Crème brûlée. Other choices are also available depending on what day you choose to dine at The Looking Glass.
An extensive list of beverages is also available as is catering. Numerous brides choose to hold their receptions at this lovely location as well.
The Looking Glass Restaurant is located at 329 Warfield Blvd, Suite J.  You can reach them by phone at 931.552.6344.  Their Hours are Monday through Thursday from 7:00am to 9:00pm and Friday and Saturday from 7:00am until 10:00pm Dinner is served from 5:30pm until closing.
Dining is somewhat like walking into a little piece of Wonderland when you dine at The Looking Glass. Over your head in the main dining room are fanciful kites. The walls and sideboards are filled with interesting artworks—sculpture and paintings. A large aquarium graces one area and a large colorful sculptured lizard hangs from a baker's rack on the other side of the room.
Don't miss out on enjoying a special meal at The Looking Glass, After all where else in Clarksville can you dine on black linen tablecloths, and have a meal you will want to remember forever?
Photo Gallery
Map
About Sue Freeman Culverhouse
Author of Tennessee Literary Luminaries: From Cormac McCarthy to Robert Penn Warren (The History Press, 2013) Sue Freeman Culverhouse has been a freelance writer for the past 36 years. Beginning in 1976, she published magazines articles in Americana, Historic Preservation, American Horticulturist, Flower and Garden, The Albemarle Magazine, and many others. Sue is the winner of two Virginia Press Awards in writing.

She moved to Springfield, Tennessee in 2003 with her sculptor husband, Bill a retired attorney. Sue has one daughter,  Susan Leigh Miller who teaches poetry and creative writing at Rutgers University.

Sue teaches music and writing at Watauga Elementary School in Ridgetop, Tennessee to approximately 500 students in kindergarten through fifth grade. She also publishes a literary magazine each year; all work in the magazine is written and illustrated by the students.

Sue writes "Uncommon Sense," a column in the Robertson County Times, which also appears on Clarksville Online. She is the author of "Seven keys to a sucessful life", which is  available on amazon.com and pubishamerica.com; this is a self-help book for all ages.

Web Site: http://culverhouseart.com/
Email: cuverhouse@comcast.net
Sections
Business
Topics
5 Star Restaurant, Bill Larson, Brian King, Catering, catering service, Francisco Estrada, Japanese coy, Linda Edington, Oliver Nguyen, The Looking Glass and Gourmet Bakery, Tom Noerr, Zen garden