Ice Storm Warning In Effect ... [Click here for more information]
Written by Jay Levin
Nashville Predators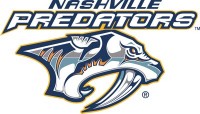 Nashville, TN – A very strange, very un-Nashville Predators/Detroit Red Wings type of game — 14 power-play chances, only half the game was played five-on-five (actually 34:58, but close enough), both teams enjoying a five-on-three, both teams struggling to generate speed through the neutral zone — but that's playoffs hockey.
And, despite having its top two lines held off the score sheet, Nashville skated away with the win.
Pekka Rinne was outstanding, especially in the second and third periods, Ryan Suter and Shea Weber showed why they are both Norris-caliber defensemen, and the Preds team depth up front pulled it through. In short, it was Smashville hockey.
Peks Takes Over: As the game went on, Pekka Rinne continued to get stronger. He made five saves in the first period, 15 in the second, and another 15 in the third period. In the third, Rinne was sensational, making several highlight-reel caliber stops, but perhaps none better than his sprawling stop of Henrik Zetterberg around 1:40 into the third period.
While Nashville was the benefactor of two quirkier goals, Rinne didn't allow the Wings any similar opportunities — made all the saves, the easy one, the tough ones, the ones off the bad bounces, the ones while set up, the ones while scrambling. He was the backbone for the Preds tonight.
Blue Collar Win: Nashville's blue collar lines — Nick Spaling centering Gaberiel Bourque and Patric Hornqvist and Paul Gaustad centering Matt Halischuk and Brandon Yip — carried the way tonight. Bourque scored two goals, redirecting one high under nearside crossbar and snapping the other inside the far post, and Gaustad scored the other. Beyond the goals, those two lines drew most of Nashville's power-plays and created a strong majority of the team's best scoring chances.
Interestingly, during his morning skate press conference Detroit's Coach Babcock commented on how he liked his third and fourth lines against Nashville's Spaling and Gaustad lines; tonight that battle was decidedly in Nashville's favor.
The Goose: Tonight was the reason why David Poile was willing to part with a first round pick to grab Paul Gaustad at the trade deadline. Gaustad was a game-changer tonight — and he didn't need the goal to be a game-changer, although it was a well deserved bonus (his first goal as a member of the Preds none-the-less).
[320right]His attention to detail, his defensive play (he saw 6:27 of shorthanded ice time), and his dominance in the faceoff circle (he won 12-of-20 draws) was what set Gaustad apart tonight. He won arguably the three biggest faceoffs of the night — the win with under 6 seconds left in regulation closed out the win, his win on the draw just before that (with 23 second left) allowed the Preds to get an easy clear and run more time off the clock, and his win on the three-on-five penalty kill was paramount the Preds ability to kill off the two-man portion of the penalty.
Game Quotes
Nashville Head Coach Barry Trotz
On the number of penalties called in the game…
I'm pretty surprised.
On the special teams play tonight…
We talked about that. That's an area that you have to… when you're playing Detroit, you just can't lose the special teams battle. They got both of their goals on special teams today. We've got to be better.
On line matching with home-ice advantage…
I felt I had a couple lines that were going okay. It wasn't as big a deal as I probably thought it might be. Tonight, I could have played [the Spaling line] against anybody – they were good. I wasn't too worried
about hard, hard matches.
On goals from Paul Gaustad and Gabriel Bourque [seven goals combined in the regular season for the Predators]…
You always talk about how you're going to need contributions right through your whole lineup. The bottom part of our lineup did a pretty good job today. We had a little bit of fortune – we threw pucks to the net and they went in. We need to do more of that – we need to have more net presence. I thought we managed the game pretty well in the first 30 minutes; in the second 30 minutes I didn't think we managed the game as well as we need to – we recognize that; we know the next game's going to be a lot harder than this one.
On going 0-for-6 on the power play…
If you look at our first couple of power plays, we had some great looks. We had some really, really good scoring chances, even on the five-on-three. Right off the bat we knew exactly… you pre-scout a team for Game One, and you know what they do on the five‐on‐threes. We did what we wanted to, but just missed the spot. The first shot we took was there – I was at the bench and I thought it was going in; it missed it by about two inches. We had some good looks. Maybe we didn't have the zone time that we needed but, when we did get in the zone and establish our power play, it was getting some looks. They did a good job – their penalty kill has been good down the stretch as [Detroit Head Coach Mike
Babcock] has said and watching it, pre-scouting it, it has been.
Forward Nick Spaling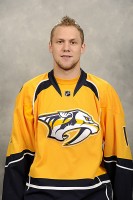 On the high number of penalties called…
They're going to call it tight this time of year, so we have to make sure we are keeping the sticks down, checking with our feet, and just playing a faster game.
On his assist on the third goal…
We were able to create some speed coming to the neutral zone there. Gabe [Gabriel Bourque] did a good job driving to the net, and I was just trying to put it through, to get it to the net. Luckily he got a good stick on it there.
On how the number of penalties affected the game-plan…
It's different. Every game is going to be different – settling into the game. Today was more special teams, so you just have to change your game and adjust.
On the importance of protecting home ice…
It was big to come out. I thought we came out pretty well today. We have to continue to do that. We're just looking on to the next game.
Forward Paul Gaustad
On the importance of winning the first game…
We're happy with our performance and the win obviously, but again it's a long series. We've got to just get the next one.

On the volume of penalties…
You kind of had a feeling they were going to start calling things right away – just to set the tone – and they did.
They set the tone and guys have to adjust. That's the biggest thing – adjusting. Just adjust to that and stay out of
the box as much as possible.
Goaltender Pekka Rinne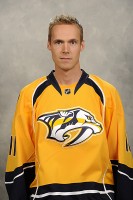 On his performance…
It felt good. We had some great blocks from our players too. Kevin Klein saved one from the goal and some other huge blocks. We had to kill a lot of penalties but it just felt good and [we're] obviously really happy with the result
On the atmosphere made by the fans…
It was amazing. It's unbelievable. These guys they always have that next gear. For sure, we try to take advantage
of it.
On his acrobatic save against Henrik Zetterberg…
Just desperation. You just always need luck too when you make that kind of save. They made kind of a criss-cross kind of pass. First to [Pavel] Datsyuk and Datsyuk – amazing player – found [Henrik] Zetterberg and I was able to reach my hand. Big save at the time, but got a little lucky too. I knew half the net was open. I just needed to dive there and use my soccer goalie skills.
Three Stars
NSH G Pekka Rinne – 35 saves, 14 saves on the penalty kill
NSH F Paul Gaustad – 1 goal, +1 plus/minus; 12-of-20 on faceoffs, 6:27 shorthanded ice time, won both faceoffs in the final 30 seconds of play to allow the Preds to run down the clock
NSH F Gabriel Bourque – 2 goals, +2 plus/minus; GWG, team-high 4 shots on goal
Next Game
The Nashville Predators and the Detroit Red Wings will play Game 2 of the Western Conference Quarterfinals Friday, April 13th at Bridgestone Arena. The puck hits the ice at 6:30pm.
Box Score
Detroit Red Wings 2 – 3 Nashville Predators
Wednesday, April 11th, 2012
| | | | | |
| --- | --- | --- | --- | --- |
| FINAL | 1 | 2 | 3 | T |
| Detroit Red Wings | 0 | 1 | 1 | 2 |
| Nashville Predators | 1 | 1 | 1 | 3 |
Scoring Summary
Penalty Summary
1st Period
01:59
NSH
Brandon Yip : Roughing – 2 min
03:32
DET
Johan Franzen : Roughing – 2 min
08:50
NSH
Gabriel Bourque : Boarding – 2 min
12:10
DET
Cory Emmerton : Interference – 2 min
16:20
DET
Jonathan Ericsson : Tripping – 2 min
17:06
DET
Justin Abdelkader : Hi-sticking – 2 min
2nd Period
01:10
NSH
Roman Josi : Cross checking – 2 min
04:23
DET
Henrik Zetterberg : Tripping – 2 min
09:28
DET
Kyle Quincey : Holding – 2 min
13:50
NSH
Martin Erat : Roughing – 2 min
19:54
NSH
Patric Hornqvist : Hi-sticking – 2 min
3rd Period
05:06
NSH
Roman Josi : Hooking – 2 min
05:06
DET
Jiri Hudler : Diving – 2 min
14:52
NSH
Jack Hillen : Interference – 2 min
16:08
NSH
Ryan Suter : Slashing – 2 min
19:37
NSH
Martin Erat : Holding – 2 min
20:00
NSH
Shea Weber : Roughing – 2 min
Shots on Goal
| | | | | |
| --- | --- | --- | --- | --- |
| | 1st | 2nd | 3rd | T |
| Detroit Redwings | 5 | 16 | 16 | 37 |
| Nashville Predators | 13 | 6 | 7 | 26 |
Saves
Skater Stats
| | | | | | | | | | | | |
| --- | --- | --- | --- | --- | --- | --- | --- | --- | --- | --- | --- |
| Detroit | Pos | G | A | P | +/- | PIM | Shots | EV TOI | PP TOI | SH TOI | TOI |
| 5 N. Lidstrom | D | 0 | 0 | 0 | -1 | 0 | 2 | 13:37 | 11:06 | 00:00 | 24:43 |
| 8 J. Abdelkader | L | 0 | 0 | 0 | -1 | 2 | 2 | 09:14 | 00:00 | 02:37 | 11:51 |
| 11 D. Cleary | R | 0 | 0 | 0 | 0 | 0 | 2 | 11:33 | 00:06 | 04:10 | 15:49 |
| 13 P. Datsyuk | C | 0 | 0 | 0 | -1 | 0 | 3 | 10:35 | 07:17 | 03:32 | 21:24 |
| 18 I. White | D | 0 | 0 | 0 | 0 | 0 | 2 | 12:45 | 02:29 | 00:31 | 15:45 |
| 20 D. Miller | L | 0 | 0 | 0 | 0 | 0 | 1 | 08:40 | 00:00 | 03:32 | 12:12 |
| 23 B. Stuart | D | 0 | 0 | 0 | -3 | 0 | 1 | 12:39 | 00:09 | 06:56 | 19:44 |
| 26 J. Hudler | C | 0 | 0 | 0 | -1 | 2 | 2 | 09:25 | 04:32 | 00:00 | 13:57 |
| 27 K. Quincey | D | 0 | 1 | 1 | 0 | 2 | 2 | 10:24 | 01:01 | 02:56 | 14:21 |
| 40 H. Zetterberg | L | 1 | 0 | 1 | -1 | 2 | 5 | 13:35 | 09:13 | 03:00 | 25:48 |
| 43 D. Helm | C | 0 | 0 | 0 | 0 | 0 | 0 | 01:58 | 00:00 | 01:10 | 03:08 |
| 44 T. Bertuzzi | R | 0 | 0 | 0 | -1 | 0 | 2 | 12:17 | 00:12 | 00:00 | 12:29 |
| 48 C. Emmerton | C | 0 | 0 | 0 | -1 | 2 | 0 | 02:52 | 00:00 | 00:00 | 02:52 |
| 51 V. Filppula | C | 0 | 1 | 1 | -1 | 0 | 1 | 13:59 | 04:37 | 00:45 | 19:21 |
| 52 J. Ericsson | D | 0 | 0 | 0 | -1 | 2 | 1 | 14:33 | 00:09 | 05:05 | 19:47 |
| 55 N. Kronwall | D | 0 | 0 | 0 | -1 | 0 | 2 | 11:10 | 09:38 | 05:48 | 26:36 |
| 93 J. Franzen | R | 0 | 0 | 0 | -1 | 2 | 4 | 12:20 | 03:59 | 00:00 | 16:19 |
| 96 T. Holmstrom | L | 1 | 0 | 1 | -1 | 0 | 5 | 03:55 | 07:15 | 00:00 | 11:10 |
| Nashville | Pos | G | A | P | +/- | PIM | Shots | EV TOI | PP TOI | SH TOI | TOI |
| 6 S. Weber | D | 0 | 0 | 0 | 0 | 2 | 3 | 11:09 | 07:50 | 08:28 | 27:27 |
| 8 K. Klein | D | 0 | 0 | 0 | 1 | 0 | 1 | 15:51 | 00:08 | 04:25 | 20:24 |
| 10 M. Erat | R | 0 | 0 | 0 | 0 | 4 | 1 | 11:43 | 06:52 | 00:28 | 19:03 |
| 11 D. Legwand | C | 0 | 0 | 0 | 0 | 0 | 0 | 14:37 | 03:37 | 00:35 | 18:49 |
| 12 M. Fisher | C | 0 | 0 | 0 | 0 | 0 | 1 | 11:14 | 06:33 | 04:46 | 22:33 |
| 13 N. Spaling | L | 0 | 1 | 1 | 2 | 0 | 0 | 08:15 | 00:09 | 06:25 | 14:49 |
| 18 B. Yip | R | 0 | 1 | 1 | 1 | 2 | 0 | 05:01 | 00:08 | 00:00 | 05:09 |
| 20 R. Suter | D | 0 | 0 | 0 | 0 | 2 | 4 | 12:52 | 08:11 | 07:31 | 28:34 |
| 24 M. Halischuk | R | 0 | 1 | 1 | 2 | 0 | 0 | 05:24 | 00:05 | 00:25 | 05:54 |
| 27 P. Hornqvist | R | 0 | 1 | 1 | 1 | 2 | 2 | 06:42 | 06:52 | 00:00 | 13:34 |
| 28 P. Gaustad | C | 1 | 0 | 1 | 1 | 0 | 1 | 05:04 | 00:00 | 06:27 | 11:31 |
| 38 J. Hillen | D | 0 | 0 | 0 | 1 | 2 | 0 | 07:22 | 00:00 | 00:58 | 08:20 |
| 46 A. Kostitsyn | L | 0 | 0 | 0 | 0 | 0 | 3 | 10:08 | 03:14 | 00:00 | 13:22 |
| 47 A. Radulov | R | 0 | 0 | 0 | 0 | 0 | 1 | 11:51 | 03:22 | 00:10 | 15:23 |
| 51 F. Bouillon | D | 0 | 1 | 1 | 2 | 0 | 2 | 12:33 | 00:57 | 00:20 | 13:50 |
| 57 G. Bourque | L | 2 | 0 | 2 | 2 | 2 | 4 | 09:44 | 00:05 | 00:00 | 09:49 |
| 59 R. Josi | D | 0 | 0 | 0 | 2 | 4 | 2 | 15:04 | 02:13 | 03:08 | 20:25 |
| 74 S. Kostitsyn | L | 0 | 0 | 0 | 0 | 0 | 1 | 10:10 | 01:19 | 04:14 | 15:43 |
Other Facts
| | |
| --- | --- |
| Attendance | 17113 |
| Referees | Chris Rooney, Brad Meier |
| Linesmen | Scott Driscoll, Brad Kovachik |
Sections
Sports
Topics
Barry Trotz, Brandon Yip, Bridgestone Arena, Coach Badcock, Detroit Red Wings, Gabriel Bourque, henrik zetterberg, Jay Levin, Matt Halischuk, Nashville Predators, Nashville TN, National Hockey League, NHL, Nick Spaling, Patric Hornqvist, Paul Gaustad, Pekka Rinne, Predators, Ryan Suter, Shea Weber, Smashville, Stanley Cup Playoffs