Nashville Predators take on the Detroit Redwings in Game Two of the NHL Western Conference Quarterfinals
Detroit Red Wings vs. Nashville Predators
Friday, April 13th, 2012 at 6:30pm CT
Nashville, TN | Bridgestone Arena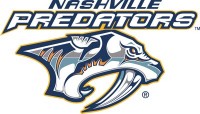 Nashville, TN – Rookie forward Gabriel Bourque notched two goals in his NHL playoff debut on Wednesday in Game One making him just the third player in the last 14 playoff years to score two goals in his NHL postseason debut; the others were Alexander Radulov in 2007 and Washington's Mike Green in 2008.
He tallied his first goal at 12:29 of the second period when he tipped a Matt Halischuk shot past goaltender Jimmy Howard to put the Predators up 2-1, then scored the eventual game-winner just past the midway point of the final frame.
Bourque has been impressive in both his professional playoff debuts. In his American Hockey League playoff debut a season ago with the Milwaukee Admirals, Bourque tallied five points (2g-3a) in Game One of the club's Western Conference Semifinals series against the Texas Stars (April 14th, 2011).
This is the third Western Conference Quarterfinals series between the Nashville Predators and the Detroit Red Wings. The Red Wings have won both of the previous series – 4-2 in 2004 and 4-2 in 2008.  Nashville has played more playoff games (13) against Detroit that any other teams in their seven trips to the postseason.
Ten of the 13 postseason games between the Predators and Red Wings have been decided by two goals or fewer.
Nashville is returning 14 players from last season's playoff team – Martin Erat, Mike Fisher, Matt Halischuk, Patric Hornqvist, Kevin Klein, Sergei Kostitsyn, David Legwand, Anders Lindback, Pekka Rinne, Nick Spaling, Suter, Jordin Tootoo, Shea Weber and Colin Wilson. Francis Bouillon was injured and did not play during the 2011 playoffs.
Martin Erat is tied with Legwand for the most career postseason assists (12) in club history. He ranks second to David Legwand in points (19), goals (7) and games played (37).
Mike Fisher led all Predators with six points (3g-3a) against the Anaheim Ducks in the Western Conference Quarterfinals last year.  He finished the 2011 Stanley Cup Playoffs with seven points (3g-4a). Fisher leads all Predators with 35 career postseason points (17g-18a).
Hal Gill – who missed Game One – ranks sixth among active defensemen in postseason games played.  He has skated in 105 career playoff games, making him the most experienced Predator in the postseason. Sixty-nine of those games have come in the past four seasons.
Legwand is the Predators' franchise leader in every postseason offensive category; he has posted 22 points (10g-12a) in 38 postseason games with Nashville. Legwand posted nine points (6g-3a) during the playoffs last season, including a four-game points streak (4g-1a) to close out Nashville's Western Conference Semifinals series with the Vancouver Canucks.
Ryan Suter (30gp) and Shea Weber (30gp) have each taken the ice in every Predators' playoff game over the last three seasons – they are the only players to do so.
Last Time Out
Predators 3, Detroit 1 at Bridgestone Arena
The Predators played in their first playoff series opener on home ice since April 11th, 2007, when they hosted the San Jose Sharks. They posted their first victory in a playoff home opener since the 2006 WCQ – a 4-3 victory over San Jose (April 21st, 2006).
Paul Gaustad opened the scoring for Nashville at 6:59 of the first. It was his first career playoff goal and his first goal as a Predator. He has posted nine points (1g-8a) in 39 career playoff games. Gaustad also led the Preds in the faceoff circle, winning 12-of-20 draws (60 percent) on the night.
Brandon Yip tallied the primary assist on the Gaustad's goal. He has five points (2g-3a) in seven career playoff games.
Matt Halischuk posted the only assist on Gabriel Bourque's first goal of the game.
Patric Hornqvist added an assist on Bourque's second marker. He has posted points in back-to-back WCQ Game Ones – he had an assist in Nashville's opening game against Anaheim last season.
Ryan Suter logged a game‐high 28:34 of ice time. He led the League in average ice time per game (28:51) during the 2011 playoffs.
The Predators were shorthanded the third‐most times (eight) in franchise playoff history. They were shorthanded 10 times in Game Two of the WCQ vs. San Jose (April 23rd, 2006) and shorthanded nine times in Game Three of the same series (April 25th, 2006).
Nashville is now 4‐3 all‐time in Western Conference Quarterfinal openers, including three straight wins in WCQ Game Ones (2010 at Chicago and 2011 at Anaheim).
Three Predators made their NHL playoff debuts in Game One – Bourque, Jack Hillen and Roman Josi.
Spaling In The Clutch
Nick Spaling notched an assist on Bourque's game-winner in Game One of the series on Wednesday. He has now posted at least an assist on four of Nashville's last five postseason game-winning goals dating back to Game Five of the Predators' Western Conference Quarterfinals series against Anaheim last season.
He notched the primary assist on Matt Halischuk's double-overtime game-winner in Game Two of Nashville's Western Conference Semifinals series against Vancouver last season. Prior to that he record two goals – including the game-winner – as Nashville defeated the Ducks in Game Six of the 2011 Western Conference Quarterfinals.
His goal secured the Predators first-ever playoff series win. In Game Five against Anaheim, he helped set up Jerred Smithson's overtime game-winner as the Predators' recorded their first postseason overtime victory and first Game Five win. Spaling has now posted seven points (2g-5a) in his last nine postseason contests.
Pekka In The Playoffs
On Wednesday night, Pekka Rinne turned aside 35-of-37 shots on goal to record his ninth career postseason victory. His 37 shots against were the second‐highest of his playoff career – he faced 47 shots in Game Three of the Western Conference Semifinals vs. Vancouver last season (May 3rd, 2011). Rinne continued his solid performance in games where he makes at least 35 saves; during the regular season, he went 14-0-2 when making 35 saves or more.
The Kempele, Finland native is the franchise's all-time leader in nearly every postseason goaltending category including games played (19) and wins (nine). He posted a franchise-record for goals-against average in a series (1.94) along with a .932 save percentage in the Western Conference Semifinals vs. Vancouver. Dating back to Game One of Nashville's series against the Canucks, Rinne has turned aside 212-of-227 shots against (.933).
Game 2
The Nashville Predators and the Detroit Red Wings will play Game 2 of the Western Conference Quarterfinals tomorrow night at Bridgestone Arena. The puck drops at 6:30pm.