Winter Storm Watch In Effect ... [Click here for more information]
APSU Sports: Austin Peay Softball

Clarksville, TN – Austin Peay's softball team battled Southeast Missouri even for five innings, Sunday afternoon at Cheryl Holt Field, but the Redhawks scored four times in the top of the sixth inning to come away with a 6-2 win and sweep the three-game Ohio Valley Conference series.

The game was tied 2-2 heading into the top of the sixth inning when Southeast Missouri (19-24, 10-12 OVC) got a home run from Renee Kertz, after Austin Peay's sophomore starting pitcher Taylor Mills (1-5) had gotten the first batter out.

The home run was the first of three straight hits for the Redhawks, as SEMO took a 3-0 lead and had runners in scoring position at second and third base, with just one out.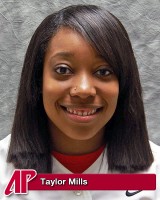 Xia Wilson would drive in SEMO's fourth run of the game with a sacrifice fly to deep center field, while the fifth run came in on a single by Simone Patterson.
The Redhawks final run came in off an error by Austin Peay's left fielder freshman Sarah Rasmussen, when a single by Kaitlin Wallace got away from her allowing Patterson to score all the way around from first base.
Those fours runs would be all that Southeast Missouri starter Alora Marble (11-11) would need, as she only allowed two base runners over the last two innings to seal away the win.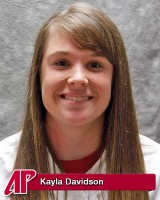 Overall, Marble allowed five hits and two walks, while striking out three.

Mills took the loss, going six innings overall, while giving up seven hits, two walks and striking out five.

Austin Peay (12-25, 6-15 OVC) scored its two runs in the bottom of the third inning to tie the game 2-2.

Sophomore Kayla Davidson got things going for the Lady Govs by drawing a one-out walk and moved to second base on a bunt single by senior Catie Cozart.

Sophomore Lauren de Castro followed with a single through the right side of the Redhawks infield, driving in Davidson with the first run for the Lady Govs, while Cozart moved around to third base.

The Lady Govs would tie the game on a double steal, with Cozart coming in with the tying run on the back side of double steal with de Castro.

Southeast Missouri had taken a 2-0 lead in the top of the second inning on a two-out RBI single by Shelby Stein, driving in pinch runner Renee Terry and Patterson.
Davidson, senior Amy Mills and junior Morgan Brewer also had hits for the Lady Govs.
Lady Govs Softball heads down to Huntsville, Alabama Wednesday, April 18th to take on the Alabama A&M Bulldogs in a double header starting at 2:00pm.
Sections
Sports
Topics
Alabama A&M, Alora Marble, Amy Mills, APSU, APSU Athletics, APSU Softball, APSU Sports, APSU Women's Softball, Austin Peay State University, Bulldogs, Catie Cozart, Cheryl Holt Field, Clarksville TN, Huntsville AL, Kaitlin Wallace, Kayla Davidson, Lady Govs, Lauren de Castro, Morgan Brewer, Ohio Valley Conference, OVC, Redhawks, Renee Kertz, Renee Terry, Sarah Rasmussen, SEMO, Shelby Stein, Simone Patterson, Southeast Missouri, Taylor Mills, Xia Wilson