Ice Storm Warning In Effect ... [Click here for more information]
Nashville Predators at Detroit Red Wings
Tuesday, April 17th, 2012 at 6:00pm CT
Detroit, MI | Joe Louis Arena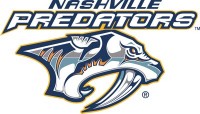 Detroit, MI – The Nashville Predators return to the Joe Louis Arena to face the Detroit Red Wings in game 4 of the Western Conference Quarterfinal, Tuesday night at 6:00pm central time.  The Predators lead the series 2-1 after surviving a furious Red Wing attack on Sunday, winning 3-2 in Detroit.
Pekka Rinne notched his 10th career postseason victory on Sunday afternoon, turning aside 41-of-43 shots. Detroit's 43 shots were the second-highest shot total Rinne has seen in his postseason career. He faced 47 shots in Game Three of the Western Conference Semifinals against the Vancouver Canucks last season (May 3rd, 2011).
During the regular season, Rinne was 5-0-2 with a 1.66 goal-against average and .958 save percentage in the seven games in which he faced 40-or-more shots on goal, including a 4-3 win over the Red Wings in Nashville on December 15th. He improved to 2-0 this postseason when making 35 saves or more. During the regular season, Rinne was 14-0-2 when stopping at least 35 shots.
The Kempele, Finland native is the franchise's all-time leader in nearly every postseason goaltending category including games played (21) and wins (10). He posted a franchise-record for goals-against average in a series (1.94) along with a .932 save percentage in the Western Conference Semifinals vs. Vancouver.  Dating back to Game One of Nashville's WCS series against the Canucks, Rinne has turned aside 267-of-287 shots against (.930).
Last Time Out
Nashville Predators 3, Detroit Red Wings 2 at Joe Louis Arena
Andrei Kostitsyn has points in back-to-back games after posting an assist on Shea Weber's first period power-play goal.  He has 21 points (12g-9a) in 44 career postseason games.
Alexander Radulov posted an assist on Weber's goal, giving him a pair of helpers in the series.
Nashville won 55 percent (32 of 58) of the face-offs in Game Three. The team was led by Nick Spaling, who won three of four draws (75 percent), while Paul Gaustad won 12 of 19 (63 percent).  Gaustad leads the team, winning 59.6 percent of his face-offs this postseason.
The Predators blocked 19 shots to Detroit's nine in Game Three.
Nashville weathered a late attack by Detroit on Sunday afternoon to hold on for the 3-2 victory. The Predators were outshot 43-22 in Game Three, but improved to 2-0 when being outshot this postseason. Nashville led the NHL during the regular season, going 32-18-4 when being outshot.  Nashville's minus-21 shot differential in Game Three was the highest in the playoffs since being outshot by 23 in Game Six of the 2008 WCQ vs. Detroit (April 20th, 2008).

Detroit fired 19 shots on goal in the final frame on Sunday – surpassing their shot total for all of Game Two (17).  The Wings were led by Henrik Zetterberg, who fired six shots in the third, giving him a total of nine for the game.  Both those totals tied franchise-highs for most shots against in a period and in a game by a single player.

There were several key moments and a few firsts for this series that helped the Predators regain home ice advantage with their victory in game three.  The Predators won their first playoff game in Detroit.  They were 0-6 in the Motor City in their two previous Western Conference Quarterfinal series against the Red Wings.  Shea Weber netted the Predators' first power-play goal of the series 2:48 into the first period.  Nashville's captain now has goals in back-to-back games.

Kevin Klein notched his first-career multiple point playoff outing.  Klein put the Predators ahead 2-0 early in the second period.  He then added an assist on Sergei Kostitsyn's game winning goal.  Each member of the Martin Erat-Mike Fisher-Sergei Kostitsyn line recorded their first points of the series.

Defenseman Hall Gill who missed the first three games this series, is tied for sixth among active defensemen in postseason games played.  He has skated in 105 career playoff games, making him the most experienced Predator in the postseason.  Sixty-nine of those games have come in the past four seasons.  Gill has been hampered by injury so far in the playoffs, and is doubtful for game 4 Tuesday night.

The Predators return to Nashville Friday night for game five and depending on the outcome of game four, they could win the series at home in "Smashville."



About Hank Bonecutter
Hank Bonecutter is a forty year broadcast veteran and former radio station owner. His career included, talk-show host, journalist, writer, and producer.  He is president of Bonehead Promotions, an advertising consulting and media firm. He is the owner of www.clarksvillesportsnetwork.com and www.nashvillesportsnetwork.com, and is a contributing author/journalist for Clarksville Online.

Hank worked at several Nashville radio stations, including WKDF, WLAC, WKQB and WKDA.

He hosted and produced Clarksville's longest running morning talk-show, "The Bone Show," from 1994-2012.

Hank is also a stand-up comedian, having performed at some of the top comedy clubs in Tennessee, Kentucky and Georgia.

Hank produced a series of stand-up comedy shows, "Comedy on the Cumberland, " in Clarksville to benefit local charities.

You can follow Hank on Facebook and Twitter, @bonecutter01 and @boneheadnews.

Web Site: http://www.clarksvillesportsnetwork.com/
Email: hbonecutter@clarksvilleonline.com
Sections
Sports
Topics
Alexander Radulov, Andrei Kostitsyn, Detroit MI, Detroit Red Wings, Hall Gill, henrik zetterberg, Joe Louis Arena, kempele finland, Kevin Klein, Martin Erat, Mike Fisher, Nashville Predators, Nashville Tennessee, Nashville TN, National Hockey League, NHL, NHL Western Conference Quarterfinals, Nick Spaling, Paul Gaustad, Pekka Rinne, Predators, Sergei Kostitsyn, Shea Weber, Smashville, Stanley Cup Playoffs, Vancouver Canucks, western conference quarterfinal