Winter Storm Watch In Effect ... [Click here for more information]
Written by Jay Levin
Nashville Predators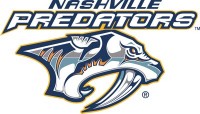 Detroit, MI – The Nashville Predators played rope-a-dope for the first two periods and then broke out with three goals in the third period to claim a 3-1 win in Game 4 over the Detroit Red Wings and a 3-1 series lead heading back to Nashville for Game 5 on Friday.
The Predators rotated forward combinations all game, trying to find the right mix of players, before hitting with a Gabriel Bourque – David Legwand – Alexander Radulov trio (accounted for the game's first goal and Legwand added the insurance goal on the power-play).
Shots Don't Tell The Story – Detroit held a major edge in shots on goal, but the scoring chances were fairly even through the game. In the first two periods, some of Nashville's best scoring chances didn't end up in shots on goal, while the overwhelming majority of Detroit's shots on goal were from low percentage areas with an unobstructed view for Pekke Rinne.
Exorcising the Demons of Playoffs Past – When Nashville went on the power-play with under a minute left in regulation holding a one-goal lead, it had to trigger flashbacks to Game 5 of the 2010 series vs the Chicago Blackhawks. This time the Preds – with a similar grouping of players on the ice – managed the puck better behind the Detroit net and ended up with an insurance goal to seal the win.
Martin Erat commented in the locker room after the game that this is what this year's team has been all about, learning from past mistakes and making the most of the current moment.
Late TV Break – Because of the penalties and icings in the middle of the frame, there were back-to-back television timeouts late in the period, which benefitted Nashville greatly. The Preds were hemmed in their own end by a pair of icings and strong cycle by the Wings, but Predators Head Coach Barry Trotz called his timeout to trigger the first television break with 3:10 left and allow an extended rest for the embattled group on the ice.
Then 23 seconds later after Rinne held a save off a Franzen shot, the next television timeout was triggered, allowing further rest for Nashville's top defensive players.
Three Stars
1) NSH G Pekka Rinne – 40 saves
2) DET F Henrik Zetterberg – 5 shots on goal, 23:42 ice time, was consistently dangerous
3) NSH F Martin Erat – 1 assist; outstanding in the third period; created the game-winning goal with a strong one-on-three move; made a handful of strong defensive plays on the backcheck
Next Game
The Nashville Predators back head home to Bridgestone Arena Friday, April 20th for Game 5 of the NHL Western Conference Quarterfinals against the Detroit Red Wings. Leading the series 3-1, the Predators can clinch the series with a win in smashville. The puck hits the ice at 7:00pm.
Box Score
Nashville Predators 3 – 1 Detroit Red Wings
Tuesday, April 17th, 2012
| | | | | |
| --- | --- | --- | --- | --- |
| FINAL | 1 | 2 | 3 | T |
| Nashville Predators | 0 | 0 | 3 | 3 |
| Detroit Red Wings | 0 | 0 | 1 | 1 |
Scoring Summary
Penalty Summary
1st Period
07:38
NSH
Roman Josi : Interference – 2 min
11:37
DET
Todd Bertuzzi : Elbowing – 2 min
12:18
NSH
Alexander Radulov : Tripping – 2 min
14:27
NSH
Roman Josi : Cross checking – 2 min
15:08
DET
Pavel Datsyuk : Tripping – 2 min
2nd Period
14:01
NSH
Francis Bouillon : Hooking – 2 min
3rd Period
02:44
NSH
Andrei Kostitsyn : Too many men/ice – bench – 2 min
07:15
NSH
Andrei Kostitsyn : Interference – 2 min
13:41
NSH
Matt Halischuk : Interference – 2 min
19:04
DET
Henrik Zetterberg : Hi-sticking – 2 min
Shots on Goal
| | | | | |
| --- | --- | --- | --- | --- |
| | 1st | 2nd | 3rd | T |
| Nashville | 7 | 3 | 7 | 17 |
| Detroit | 11 | 17 | 13 | 41 |
Saves
Skater Stats
| | | | | | | | | | | | |
| --- | --- | --- | --- | --- | --- | --- | --- | --- | --- | --- | --- |
| Nashville | Pos | G | A | P | +/- | PIM | Shots | EV TOI | PP TOI | SH TOI | TOI |
| 6 S. Weber | D | 0 | 0 | 0 | 1 | 0 | 4 | 24:44 | 00:35 | 06:01 | 31:20 |
| 8 K. Klein | D | 1 | 0 | 1 | 1 | 0 | 1 | 18:01 | 00:00 | 02:59 | 21:00 |
| 10 M. Erat | R | 0 | 1 | 1 | 1 | 0 | 2 | 14:16 | 00:39 | 01:57 | 16:52 |
| 11 D. Legwand | C | 1 | 0 | 1 | 1 | 0 | 2 | 14:06 | 01:17 | 00:50 | 16:13 |
| 12 M. Fisher | C | 0 | 1 | 1 | 1 | 0 | 1 | 16:33 | 00:22 | 02:47 | 19:42 |
| 13 N. Spaling | L | 0 | 0 | 0 | 0 | 0 | 0 | 14:04 | 00:00 | 04:47 | 18:51 |
| 18 B. Yip | R | 0 | 0 | 0 | 0 | 0 | 0 | 09:15 | 00:00 | 00:18 | 09:33 |
| 20 R. Suter | D | 0 | 0 | 0 | 0 | 0 | 2 | 23:31 | 00:17 | 06:53 | 30:41 |
| 24 M. Halischuk | R | 0 | 0 | 0 | 0 | 2 | 0 | 06:14 | 00:00 | 00:36 | 06:50 |
| 27 P. Hornqvist | R | 0 | 0 | 0 | 1 | 0 | 2 | 10:02 | 00:22 | 00:00 | 10:24 |
| 28 P. Gaustad | C | 0 | 0 | 0 | 0 | 0 | 0 | 10:05 | 00:00 | 06:07 | 16:12 |
| 46 A. Kostitsyn | L | 0 | 0 | 0 | 0 | 2 | 1 | 12:27 | 00:47 | 00:00 | 13:14 |
| 47 A. Radulov | R | 0 | 1 | 1 | 1 | 2 | 0 | 12:39 | 01:00 | 00:00 | 13:39 |
| 51 F. Bouillon | D | 0 | 0 | 0 | 1 | 2 | 0 | 13:13 | 00:41 | 00:40 | 14:34 |
| 57 G. Bourque | L | 1 | 0 | 1 | 1 | 0 | 1 | 09:42 | 00:00 | 00:00 | 09:42 |
| 59 R. Josi | D | 0 | 0 | 0 | 0 | 4 | 0 | 13:28 | 01:04 | 03:11 | 17:43 |
| 74 S. Kostitsyn | L | 0 | 0 | 0 | 0 | 0 | 0 | 13:13 | 00:17 | 02:22 | 15:52 |
| Detroit | Pos | G | A | P | +/- | PIM | Shots | EV TOI | PP TOI | SH TOI | TOI |
| 5 N. Lidstrom | D | 0 | 0 | 0 | -1 | 0 | 6 | 19:06 | 06:41 | 00:00 | 25:47 |
| 8 J. Abdelkader | L | 0 | 0 | 0 | -1 | 0 | 4 | 11:12 | 00:09 | 00:37 | 11:58 |
| 11 D. Cleary | R | 0 | 0 | 0 | 0 | 0 | 3 | 13:57 | 00:09 | 00:59 | 15:05 |
| 13 P. Datsyuk | C | 0 | 0 | 0 | 0 | 2 | 4 | 15:20 | 06:05 | 00:22 | 21:47 |
| 14 G. Nyquist | C | 0 | 0 | 0 | 0 | 0 | 0 | 06:06 | 00:00 | 00:00 | 06:06 |
| 18 I. White | D | 0 | 0 | 0 | -1 | 0 | 0 | 15:54 | 05:41 | 00:00 | 21:35 |
| 20 D. Miller | L | 0 | 0 | 0 | -1 | 0 | 1 | 10:09 | 00:00 | 00:55 | 11:04 |
| 23 B. Stuart | D | 0 | 0 | 0 | -1 | 0 | 1 | 14:10 | 00:00 | 01:39 | 15:49 |
| 26 J. Hudler | C | 1 | 0 | 1 | -1 | 0 | 1 | 16:32 | 03:38 | 00:00 | 20:10 |
| 27 K. Quincey | D | 0 | 1 | 1 | 0 | 0 | 4 | 16:21 | 03:32 | 00:00 | 19:53 |
| 40 H. Zetterberg | L | 0 | 0 | 0 | -1 | 2 | 5 | 17:33 | 06:01 | 00:08 | 23:42 |
| 44 T. Bertuzzi | R | 0 | 0 | 0 | -1 | 2 | 3 | 11:48 | 00:23 | 00:00 | 12:11 |
| 48 C. Emmerton | C | 0 | 0 | 0 | 0 | 0 | 1 | 04:50 | 00:00 | 00:00 | 04:50 |
| 51 V. Filppula | C | 0 | 0 | 0 | -1 | 0 | 3 | 16:35 | 03:27 | 00:17 | 20:19 |
| 52 J. Ericsson | D | 0 | 0 | 0 | 0 | 0 | 0 | 15:35 | 00:00 | 01:39 | 17:14 |
| 55 N. Kronwall | D | 0 | 1 | 1 | -1 | 0 | 1 | 15:52 | 03:50 | 00:00 | 19:42 |
| 93 J. Franzen | R | 0 | 0 | 0 | 0 | 0 | 2 | 14:47 | 03:46 | 00:00 | 18:33 |
| 96 T. Holmstrom | L | 0 | 0 | 0 | 0 | 0 | 2 | 04:42 | 05:58 | 00:00 | 10:40 |
Other Facts
| | |
| --- | --- |
| Attendance | 20066 |
| Referees | Kelly Sutherland, Kevin Pollock |
| Linesmen | Derek Amell, Scott Cherrey |
Sections
Sports
Topics
Alexander Radulov, Barry Trotz, Bridgestone Arena, Chicago Blackhawks, David Legwand, Detroit MI, Detroit Red Wings, Gabriel Bourque, Henrik Zetterbert, Jay Levin, Jiri Hudler, Kevin Klein, Martin Erat, Mike Fisher, Nashville Predators, Nashville TN, Natoinal Hockey League, NHL, NHL Western Conference Quarterfinals, Pekke Rinne, Predators, Smashville, Stanley Cup Playoffs