Special Weather Statement In Effect ... [Click here for more information]
Nashville Predators advance to Round Two of the 2012 Stanley Cup Playoffs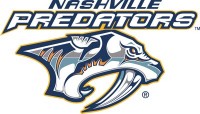 Nashville, TN – The David Legwand, Alexander Radulov, Gabriel Bourque line connected for a pair of goals and Pekka Rinne stopped 21-of-22 shots as the Nashville Predators edged the Detroit Red Wings, 2-1, in Game 5 of the Western Conference Quarterfinals to win the series four games to one.
Nashville becomes the first team this playoff season to advance to the second round (opponent still to be determined by results in the other three Western Conference series).
Full Team Effort – All four of Nashville's lines contributed to the effort tonight. The Legwand line created the first two goals, but the Mike Fisher line was dangerous (especially in the first and third periods) and easily could have had two or three goals if not for great saves and some unlucky bounces, the Nick Spaling and Paul Gaustad lines gave great energy and created scoring chances of their own.
Gaustad, Craig Smith and Brandon Yip, while only seeing around seven minutes of even strength time, had some creative offensive shifts, particularly in the first period, which allowed the Predators to roll four lines early and save the top lines for later in the game.
Original Pred Shining — David Legwand was excellent tonight. In all three zones. Coach Barry Trotz even commented that he thought Legwand could be a difference maker in the series and stressed that tonight he was just that. The goal and assist were highly noticeable, but beyond that he was great in one-on-one battles, was strong defensively, and used his speed to create chances through the neutral zone, finishing with a game-high 5 shots on goal. He also won 6-of-8 faceoffs and had 3 defensive takeaways.
Closing Instinct – With an additional off day between Game 4 and Game 5, the Preds had two days to hear about how tough the Red Wings were going to be to finish off; that the fourth win would be the toughest. Nashville showed tremendous team growth finishing the series in its first try.
And tonight might have been the team's best performance from start to finish, never trailing all night and controlling the pace of the play for the majority of the time. Even post-game was zeroed in, last year the team was jubilant after knocking off the Ducks; this year it was business-like and focused.
Post Game Quotes
Nashville Head Coach Barry Trotz
On holding off Detroit after taking the lead in the third period…
The great thing I liked about our team is that we didn't sit back and say "Hey, we've got the lead, now let's protect it." We protected it the right way; we protected it by going after them and reloading and taking away their time and space and making them work for their inches. To me, we handled that really well.

On the play of David Legwand…
Leggy was a guy that I knew at some point could break out in the series a be a difference maker, and today he was. David Legwand had his A‐game tonight. I think it's really fitting that being a Detroit native… and Detroit's really the gold standard for the Central Division, especially for us.

For David to seal the deal tonight with the way he played was great. David played with fierce competitiveness, lots of detail in his game, and he was using his assets – that speed and hockey sense. I thought he was really good. He and Rad and Bourquey were dangerous all night.

On the importance of beating Detroit…
We got tested. We got measured by the Detroit Red Wings – they're a great hockey team. They check so well; they manage the puck so well; they've got great experience; they've got great character. It hasn't really sunk in. We used to look up at Detroit, feeling that we were a little inferior in terms of talent or whatever it may be. We were maybe a little bit in awe of them.

I think we've grown to the point where we have a great respect for the Detroit Red Wings, but we're not in awe of them. That's the stepping stone that we've taken. Obviously, beating Detroit in the first round is a step in the right direction. But I'll tell you what – they're a good hockey team. I marvel at how they are so resilient. It was a series of inches and battles.

On the make‐up of the team with Alexander Radulov…
A guy like Rads spent four years over playing in the KHL, and now he's in playoff hockey where there's zero space out there. It's a big adjustment for him, in dealing with the emotions and intensity of the NHL versus the KHL. I'm sure it was emotional over there, but you're in confined quarters over here.

There's a lot more of the subtleties and the nastiness over here than over there – those are things that he's learning to deal with. I thought our leadership group did a really good job trying to integrate him, and Andrei Kostitsyn, and all the new players – Gaustad, Hal Gill. I just think that shows a lot of maturity in our young leadership group – the Webs and the Sutes, and Leggy, Leggy's a leader and he played like one tonight.

On getting contributions from throughout the lineup…
Trust me, you want your stars. We have a few stars, and we're emerging as a team where when you think about your stars, ours are on the defensive side of the puck – Peks, and Sutes, and Webs. A guy like Marty Erat doesn't get enough credit, but he's a star, and so is Leggy.
Goaltender Pekka Rinne
On the impact of winning this series for the franchise…
It's huge. They have such a great team, great organization with a lot of history with a lot of success. It was a great chance for us to play against the Detroit Red Wings and beat them in five games. It's great. It tells something about this team. We have a lot of talent in this locker room and [we're] having a great time playing right now.
On playing calm during one‐goal games…
We are used to playing one goal games. We always are pretty comfortable playing in those situations. [Based] on how the game was going tonight, we knew that it was going to be a tight game. They got that 1‐1 tying goal in the second period.
I thought that we had a lot of scoring chances at times. Horny [Patric Hornqvist] hit the post and a few other great chances. Howard made some good saves. They made some good defensive plays. We knew it was going to come down to the last 10 minutes. They always have a great push and we were ready for it.
Center David Legwand
On the increase in puck possession compared to the games in Detroit…
I think we had the puck a little more tonight and playing with the puck‐ that's a big thing. They didn't have the puck as much as they did in Detroit. I think we had the puck a little more tonight and that limited their chances.
On the first goal…
I think he [Kyle Quincey] just tried to push it to [Jonathan] Ericsson and he [Ericsson] just kind of whiffed on it. Obviously, I knew Rads [Alexander Radulov] was coming down the slot there, and I just kind of put it out there for him to skate into.
On what winning this series means to him being a Detroit native…
It's special obviously to beat those guys. Great organization. Great team. They've had their fair share of wins and series wins and those types of things. So they're obviously going to back strong. We're excited to get this one and move on to Round Two and get to see who we get to play now.
Defensemen Shea Weber
On the adjustments the team made from Games Three and Four…
I think we wanted to tighten it up. They're a good team. We saw the way they threw pucks at us in Games Three and Four. We sat a little bit back too much on our heels. I think tonight we did a pretty good job of going at them and creating some chances and playing on their end.
On what the team talked about in the intermission between the second and third period…
We just talked about 20 minutes to win a series. Guys were calm in here. We knew it wasn't going to be easy, but obviously Dave [David Legwand] got out there – their line got out, got a good chip and got through the middle and Dave made a great play and got us a goal.
On Radulov's play…
He's been great. He's been creating a lot this series. Every time he's got the puck on his stick, he has the capability to make something happen. Tonight he and his line were great. They were buzzing. They played on Detroit's end a lot and obviously generated a couple of huge goals for us.
Three Stars Of The Game
1) NSH F David Legwand – 1 goal, 1 assist; game-high 5 shots on goal; great in one-on-one battles
2) DET G Jimmy Howard – 23saves; more so than the number was the quality of the saves, Nashville strongly out-chanced the Wings and Howard was the prime reason it wasn't more than a one-goal game
3) NSH F Alexander Radulov – 1 goal, 1 assist; 4 shots on goal; game-high 8 shot attempts; was dangerous with the puck on his stick all night
Three Stars Of The Series
1) NSH G Pekka Rinne — was a difference maker in all 4 Preds wins, especially the 2 in Detroit
2) NSH F Gabriel Bourque — all series every line combination got better when Bourque joined them
3) NSH D Kevin Klein — key goals, excellent defensive coverage, was very strong in one-on-one battles
Next Game
Opponent, dates and start times for the Predators Western Conference Semifinals matchup will be confirmed with the NHL after the completion of all Western Conference Quarterfinal series. An update will be announced at that time.
Box Score
Detroit Red Wings 1 – 2 Nashville Predators
Friday, April 20th, 2012
| | | | | |
| --- | --- | --- | --- | --- |
| FINAL | 1 | 2 | 3 | T |
| Detroit Red Wings | 0 | 1 | 0 | 1 |
| Nashville Predators | 1 | 0 | 1 | 2 |
Scoring Summary
Penalty Summary
1st Period
00:15
DET
Danny Cleary : Interference – 2 min
00:31
NSH
Mike Fisher : Interference – 2 min
11:55
DET
Jonathan Ericsson : Hooking – 2 min
18:26
NSH
Brandon Yip : Interference on goalkeeper – 2 min
2nd Period
08:09
DET
Tomas Holmstrom : Tripping – 2 min
3rd Period
none
Shots on Goal
| | | | | |
| --- | --- | --- | --- | --- |
| | 1st | 2nd | 3rd | T |
| Detroit | 8 | 6 | 8 | 22 |
| Nashville | 10 | 8 | 7 | 25 |
Saves
Skater Stats
| | | | | | | | | | | | |
| --- | --- | --- | --- | --- | --- | --- | --- | --- | --- | --- | --- |
| Detroit | Pos | G | A | P | +/- | PIM | Shots | EV TOI | PP TOI | SH TOI | TOI |
| 5 N. Lidstrom | D | 0 | 0 | 0 | 0 | 0 | 1 | 20:34 | 01:51 | 00:00 | 22:25 |
| 8 J. Abdelkader | L | 0 | 0 | 0 | -1 | 0 | 0 | 11:35 | 00:16 | 00:50 | 12:41 |
| 11 D. Cleary | R | 0 | 0 | 0 | 0 | 2 | 1 | 15:15 | 00:16 | 01:39 | 17:10 |
| 13 P. Datsyuk | C | 0 | 0 | 0 | 0 | 0 | 1 | 15:35 | 01:09 | 01:46 | 18:30 |
| 14 G. Nyquist | C | 0 | 0 | 0 | 0 | 0 | 0 | 12:48 | 00:00 | 00:00 | 12:48 |
| 18 I. White | D | 0 | 0 | 0 | 0 | 0 | 3 | 17:28 | 01:51 | 01:26 | 20:45 |
| 20 D. Miller | L | 0 | 0 | 0 | -1 | 0 | 2 | 09:20 | 00:00 | 01:56 | 11:16 |
| 23 B. Stuart | D | 0 | 0 | 0 | 0 | 0 | 0 | 18:32 | 00:00 | 02:01 | 20:33 |
| 26 J. Hudler | C | 1 | 0 | 1 | 0 | 0 | 1 | 16:01 | 00:51 | 00:00 | 16:52 |
| 27 K. Quincey | D | 0 | 0 | 0 | -1 | 0 | 2 | 14:46 | 00:25 | 01:23 | 16:34 |
| 40 H. Zetterberg | L | 0 | 1 | 1 | 0 | 0 | 2 | 18:43 | 01:35 | 01:29 | 21:47 |
| 44 T. Bertuzzi | R | 0 | 0 | 0 | -1 | 0 | 1 | 12:33 | 00:16 | 00:00 | 12:49 |
| 48 C. Emmerton | C | 0 | 0 | 0 | 0 | 0 | 0 | 08:10 | 00:00 | 00:00 | 08:10 |
| 51 V. Filppula | C | 0 | 1 | 1 | 0 | 0 | 2 | 17:15 | 00:51 | 00:52 | 18:58 |
| 52 J. Ericsson | D | 0 | 0 | 0 | -1 | 2 | 1 | 16:38 | 00:00 | 01:11 | 17:49 |
| 55 N. Kronwall | D | 0 | 0 | 0 | 0 | 0 | 2 | 18:57 | 00:25 | 02:31 | 21:53 |
| 93 J. Franzen | R | 0 | 0 | 0 | 0 | 0 | 3 | 12:36 | 01:09 | 00:00 | 13:45 |
| 96 T. Holmstrom | L | 0 | 0 | 0 | 0 | 2 | 0 | 10:03 | 00:25 | 00:00 | 10:28 |
| Nashville | Pos | G | A | P | +/- | PIM | Shots | EV TOI | PP TOI | SH TOI | TOI |
| 6 S. Weber | D | 0 | 0 | 0 | 0 | 0 | 2 | 23:31 | 03:15 | 00:41 | 27:27 |
| 8 K. Klein | D | 0 | 0 | 0 | 0 | 0 | 1 | 23:24 | 00:00 | 01:35 | 24:59 |
| 10 M. Erat | R | 0 | 0 | 0 | 0 | 0 | 0 | 13:56 | 02:18 | 00:00 | 16:14 |
| 11 D. Legwand | C | 1 | 1 | 2 | 2 | 0 | 5 | 16:34 | 01:47 | 00:00 | 18:21 |
| 12 M. Fisher | C | 0 | 0 | 0 | 0 | 2 | 1 | 15:52 | 02:18 | 01:09 | 19:19 |
| 13 N. Spaling | L | 0 | 0 | 0 | 0 | 0 | 1 | 15:19 | 00:00 | 01:16 | 16:35 |
| 15 C. Smith | C | 0 | 0 | 0 | -1 | 0 | 1 | 07:20 | 00:00 | 00:00 | 07:20 |
| 18 B. Yip | R | 0 | 0 | 0 | -1 | 2 | 0 | 06:44 | 00:00 | 00:00 | 06:44 |
| 20 R. Suter | D | 0 | 0 | 0 | 0 | 0 | 2 | 23:02 | 03:38 | 00:41 | 27:21 |
| 27 P. Hornqvist | R | 0 | 0 | 0 | 0 | 0 | 3 | 14:23 | 01:10 | 00:00 | 15:33 |
| 28 P. Gaustad | C | 0 | 0 | 0 | -1 | 0 | 0 | 09:04 | 00:00 | 01:07 | 10:11 |
| 46 A. Kostitsyn | L | 0 | 0 | 0 | 0 | 0 | 2 | 14:15 | 00:48 | 00:00 | 15:03 |
| 47 A. Radulov | R | 1 | 1 | 2 | 2 | 0 | 4 | 17:10 | 02:29 | 00:00 | 19:39 |
| 49 R. Ellis | D | 0 | 0 | 0 | 1 | 0 | 1 | 07:05 | 00:38 | 00:00 | 07:43 |
| 51 F. Bouillon | D | 0 | 0 | 0 | 1 | 0 | 0 | 13:51 | 00:00 | 00:00 | 13:51 |
| 57 G. Bourque | L | 0 | 1 | 1 | 2 | 0 | 0 | 14:27 | 00:00 | 00:00 | 14:27 |
| 59 R. Josi | D | 0 | 0 | 0 | 0 | 0 | 0 | 16:03 | 01:01 | 01:35 | 18:39 |
| 74 S. Kostitsyn | L | 0 | 0 | 0 | 0 | 0 | 2 | 13:39 | 01:58 | 01:00 | 16:37 |
Other Facts
| | |
| --- | --- |
| Attendance | 17113 |
| Referees | Eric Furlatt, Francois StLaurent |
| Linesmen | Steve Barton, Greg Devorski |
Sections
Sports
Topics
Alexander Radulov, Andrei Kostitsyn, Barry Trotz, Brandon Yip, Craig Smith, David Legwand, Detroit Red Wings, Gabriel Bourque, hal gill, Jimmy Howard, Jonathan Ericsson, Kevin Klein, Kyle Quincey, Martin Erat, Mike Fisher, Nashville Predators, Nashville TN, National Hockey League, NHL, NHL Western Conference Quarterfinals, Nick Spaling, Patric Hornqvist, Paul Gaustad, Pekka Rinne, Predators, Shea Weber, Stanley Cup Playoffs